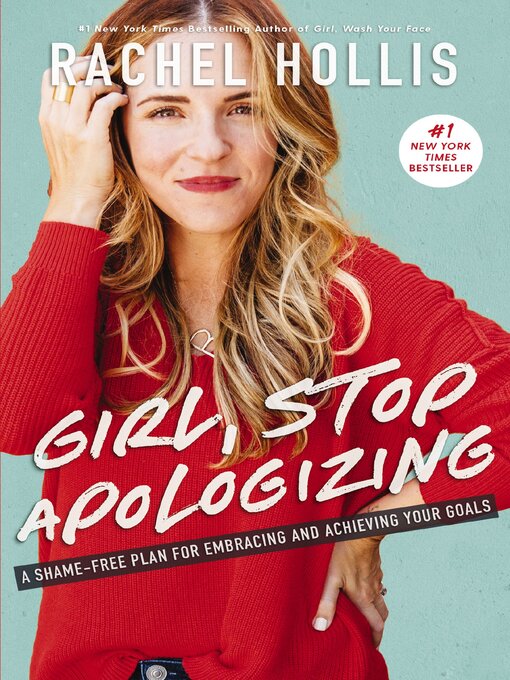 Girl, stop apologizing a shame-free plan for embracing and achieving your goals
Format:

Kindle Book

2019

2019

Adobe EPUB ebook

OverDrive Read

Availability:

Unavailable

0 of 23 copies
3 people on waitlist
Summary
Rachel Hollis is sounding a wake-up call. She knows that many women have been taught to define themselves in light of other people--whether as wife, mother, daughter, or employee instead of learning how to own who they are and what they want. With a challenge to women everywhere to stop talking themselves out of their dreams, Hollis identifies the excuses to let go of, the behaviors to adopt, and the skills to acquire on the path to growth, confidence, and believing in yourself.

Contents
Introduction: What if...
Excuses to let go of. That's not what other women do ; I'm not a goal-oriented person - I don't have time ; I'm not enough to succeed ; I can't pursue my dream and still be a good mom/daughter/employee ; I'm terrified of failure ; It's been done before ; What will they think? ; Good girls don't hustle
Behaviors to adopt. Stop asking permission ; Choose one dream and go all in ; Embrace your ambition ; Ask for help! ; Build foundations for success ; Stop allowing them to talk you out of it ; Learn to say no
Skills to acquire. Planning ; Confidence ; Persistence ; Effectiveness ; Positivity ; Lead-her-ship
Conclusion: Believe in your dang self!
Published Reviews
Booklist Review:
"Hollis has built a successful empire on motivating women to take charge of their lives and live their dreams. In this inspiring book, she shares her strategies and serves as a personal coach. Hollis begins by lambasting excuses women commonly use for their lack of success. Not goal-oriented? You can learn the skill. Not enough time? You can make time for your aspirations by eliminating less-important tasks. What will other people think? Your life is your concern. Hollis is painfully honest about her own choices and admits to needing help to balance her family and work lives. But these choices reflect her clear priorities and goals. She stresses adopting such behaviors as learning to stop asking for permission, embracing ambition, and practicing saying no. And, finally, she describes necessary skills, such as planning, persistence, and positivity, emphasizing that these can be learned by anyone willing to put in the effort. Hollis' straightforward advice is both practical and inspiring. Any female reader, from high-school student to senior citizen, will be boosted by her enthusiasm. Judging by the popularity of her social-media posts, seminars, and other books, this one will fly off the shelf.--Candace Smith Copyright 2019 Booklist"
From Booklist, Copyright (c) American Library Association. Used with permission.
Publisher's Weekly Review:
"Hollis (Girl, Wash Your Face) presents strategies for women to pursue their ambitions in this passionate guide to building confidence. She wants readers to know that she "did not wake up" motivated and organized and relates stories of personal struggle to illustrate how lies can hold women back; particularly revealing is her discussion of her decision to undergo breast augmentation, which she originally believed was "artificial and vapid" but later realized "would make me feel more confident." Being open about her own priorities (herself, her marriage, her kids, and her work, in that order), Hollis writes with an authority that feels grounded and tested: "So stop waiting for someday; someday is a myth. Don't wait to have the time; start planning to make the time." Hollis's plan comes in three phases: letting go of excuses (such as being unworthy of success or paralyzed by fear of failure), adopting new practices (asking for help, learning to say no), and honing new skills (organization, and optimism). She also provides a list of practices she calls the "five to thrive": proper hydration, waking up earlier, giving up one unhealthy food for 30 days, daily movement, and daily faith-based gratitude practices. Hollis's writing is beautifully blunt, and she humbly thanks her fans for her success. Her actionable ideas and captivating voice will encourage women to believe in themselves. (Mar.) © Copyright PWxyz, LLC. All rights reserved."
(c) Copyright PWxyz, LLC. All rights reserved
Additional Information