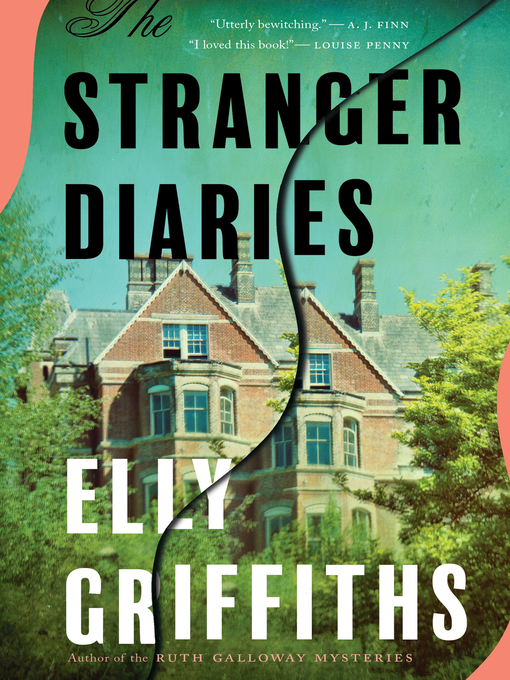 The stranger diaries
Format:

OverDrive Read

2019.

Adobe EPUB ebook

Kindle Book

Availability:

Unavailable

0 of 8 copies
28 people on waitlist
Summary
"This lively whodunit keeps you guessing until the end." -- People

"Utterly bewitching...As unforgettable as it is original." -- A.J. Finn

"Goose-bump spooky, smart, and haunting...I loved this book!" -- Louise Penny

Death lies between the lines when the events of a dark story start coming true in this haunting modern gothic mystery, perfect for fans of Magpie Murders and The Lake House.

Clare Cassidy is no stranger to murder. A high school English teacher specializing in the Gothic writer R. M. Holland, she teaches a course on it every year. But when one of Clare's colleagues and closest friends is found dead, with a line from R. M. Holland's most famous story, "The Stranger," left by her body, Clare is horrified to see her life collide with the storylines of her favorite literature.

To make matters worse, the police suspect the killer is someone Clare knows. Unsure whom to trust, she turns to her closest confidant, her diary, the only outlet she has for her darkest suspicions and fears about the case. Then one day she notices something odd. Writing that isn't hers, left on the page of an old diary :

Hallo Clare. You don't know me.

Clare becomes more certain than ever: "The Stranger" has come to terrifying life. But can the ending be rewritten in time?
Published Reviews
Booklist Review:
"*Starred Review* In a departure from her acclaimed Ruth Galloway and Magic Men mystery series, Griffiths has gifted readers with a gripping homage to the gothic novel. Clare Cassidy teaches a course on the fictional eighteenth-century writer R. M. Holland, author of the grim but beloved story, The Stranger. Her colleague and good friend is murdered and a line from the story is left by the body. Someone has begun writing in her diary, starting off with an ominous Hallo Clare. You don't know me. Wilkie Collins' The Woman in White opens This is the story of what a Woman's patience can endure. Like Collins, who wove his tale with multiple voices, Griffiths uses three different narrators here, none of whom is entirely reliable. This is an entrancing literary tour de force in which Shakespeare's line, Hell is empty, from The Tempest, cleverly connects past and present. Georgette Heyer fans will relish this, as will readers who enjoyed Diane Setterfield's The Thirteenth Tale (2006) and Anthony Horowitz's Magpie Murders (2017).--Jane Murphy Copyright 2018 Booklist"
From Booklist, Copyright (c) American Library Association. Used with permission.
Publisher's Weekly Review:
"In the wake of a divorce, Clare Cassidy, the heroine of this gripping standalone from Mary Higgins Clark Award winner Griffiths (the Ruth Galloway mysteries), accepts a job teaching English at Talgarth High, whose West Sussex campus includes the home of Victorian writer R.M. Holland, best known for his chilling story "The Stranger." Five years later, Clare and her 15-year-old daughter, Georgia, have settled into local life, and Clare has started work on a Holland biography. Then colleagues begin dying in violent ways reminiscent of "The Stranger," and Clare discovers mysterious notes written in her personal diaries. Alternating among the voices of Clare, Georgia, and Det. Sgt. Harbinder Kaur, who investigates the killings, Griffiths weaves a tale replete with ghosts, the occult, forbidden desire, and murder. Excerpts from "The Stranger" build the eerie atmosphere, though the tale's denouement and the killer's identity may disappoint some readers. Still, aficionados of such gothic classics as Wilkie Collins's The Woman in White, which the killer may have read, will find this a satisfying novel for a rainy night. Agent: Kirby Kim, Janklow & Nesbit. (Mar.) © Copyright PWxyz, LLC. All rights reserved."
(c) Copyright PWxyz, LLC. All rights reserved
Additional Information