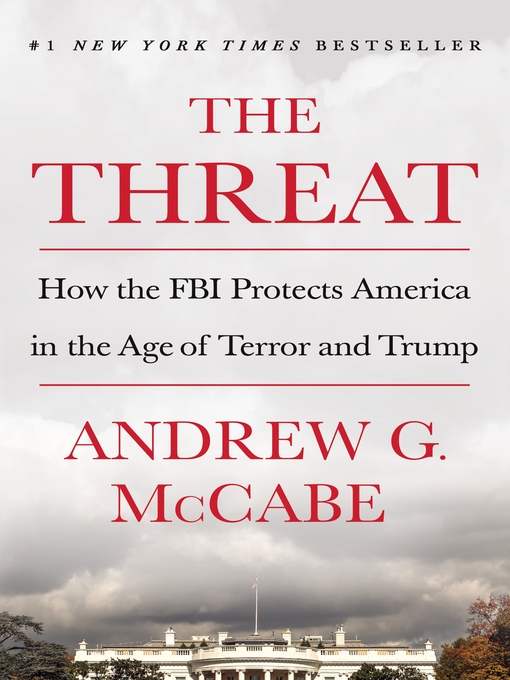 The threat how the FBI protects America in the age of terror and Trump
Format:

OverDrive Read

2019.

Adobe EPUB ebook

Kindle Book

Availability:

Unavailable

0 of 6 copies
12 people on waitlist
Summary
On March 16, 2018, just twenty-six hours before his scheduled retirement from the organization he had served with distinction for more than two decades, Andrew G. McCabe was fired from his position as deputy director of the FBI. President Donald Trump celebrated on Twitter: "Andrew McCabe FIRED, a great day for the hard working men and women of the FBI - A great day for Democracy."
In The Threat: How the FBI Protects America in the Age of Terror and Trump , Andrew G. McCabe offers a dramatic and candid account of his career, and an impassioned defense of the FBI's agents, and of the institution's integrity and independence in protecting America and upholding our Constitution.
McCabe started as a street agent in the FBI's New York field office, serving under director Louis Freeh. He became an expert in two kinds of investigations that are critical to American national security: Russian organized crime--which is inextricably linked to the Russian state--and terrorism. Under Director Robert Mueller, McCabe led the investigations of major attacks on American soil, including the Boston Marathon bombing, a plot to bomb the New York subways, and several narrowly averted bombings of aircraft. And under James Comey, McCabe was deeply involved in the controversial investigations of the Benghazi attack, the Clinton Foundation's activities, and Hillary Clinton's use of a private email server when she was secretary of state.
The Threat recounts in compelling detail the time between Donald Trump's November 2016 election and McCabe's firing, set against a page-turning narrative spanning two decades when the FBI's mission shifted to a new goal: preventing terrorist attacks on Americans. But as McCabe shows, right now the greatest threat to the United States comes from within, as President Trump and his administration ignore the law, attack democratic institutions, degrade human rights, and undermine the U.S. Constitution that protects every citizen.
Important, revealing, and powerfully argued, The Threat tells the true story of what the FBI is, how it works, and why it will endure as an institution of integrity that protects America.
Published Reviews
Booklist Review:
"The hottest disclosures from former FBI acting director McCabe were revealed in his 60 Minutes interview two days before this book was even released. After that, McCabe has seemed to be everywhere, discussing the disconcerting nature of the Trump presidency, comparing it to the Mob (many of whose members he has investigated). On television and in the book, he has chronicled what it felt like for him and his wife to be the butt of Trump's withering tweets and the shock of being fired a day before he was to retire with benefits. But this is so much more than the airing of a personal vendetta (though it's also that). McCabe brings readers along as he gets the urge to join the FBI and undergoes the intense training, and then he offers an almost ""you-are-there"" account of the stress that working cases like the Boston Marathon bombing puts on an agent. Along the way, he offers insight into many people with whom he has worked, including former FBI directors James Comey and, intriguingly, Robert Mueller. Most important, this book is a primer on how the FBI works and why its independence is an essential part of the American justice system. In a chapter entitled ""The Attorney General Guidelines,"" McCabe goes step-by-step through how a case is investigated, documented, and reviewed, noting the high bar for authorizing surveillance and warrants. McCabe's pride in process seems almost quaint, considering the times, but the case he makes for maintaining norms is both solid and thoughtful. Significantly, he doesn't hesitate to acknowledge mistakes, like the Comey press conference on the Clinton emails.--Ilene Cooper Copyright 2019 Booklist"
From Booklist, Copyright (c) American Library Association. Used with permission.
Publisher's Weekly Review:
"This polished combination career retrospective, manifesto about the FBI's value, and rebuttal to Donald Trump's smears tells former FBI director McCabe's side of the story. The narrative toggles between stirring descriptions of McCabe's career as an FBI agent (one of what he calls the "t-crossing, i-dotting, shoe-leather-destroying beasts") and his stint as acting FBI director after President Trump fired James Comey, concluding that the "work of the FBI is being undermined by the current president." Highlights of McCabe's career include taking down Russian mobsters (teeing him up for commentary about interference in the 2016 election), tracking down terrorists, and responding to the Boston Marathon bombing. Of those in Trump's administration, McCabe describes attorney general Jeff Sessions as obsessed with finding a nonexistent "immigration angle" on counterterrorism and, worse still, berating the FBI for things that were actually the Justice Department's remit; he also recounts deputy attorney general Rod Rosenstein's agitated denials that firing Comey was his idea. The account is laced with sharp, amusing characterizations (special counsel Robert Mueller "is not-and I think he would admit this, probably while feigning slight resistance for comic effect-Mr. Casual") and pleasingly idiosyncratic turns of phrase ("a clownfish-crammed saltwater aquarium of a situation"). McCabe comes off as levelheaded and principled; while his views about the "danger" posed by digital privacy protections may put off some readers, fans of police procedurals will love his descriptions of FBI culture, and critics of the current administration will find his denouncements satisfying. This is one of the better Trump-related tell-alls. (Feb.) © Copyright PWxyz, LLC. All rights reserved."
(c) Copyright PWxyz, LLC. All rights reserved
Additional Information