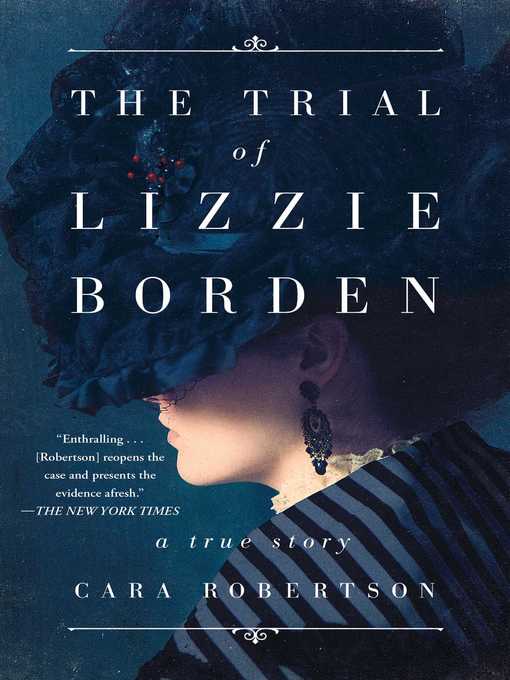 The trial of Lizzie Borden a true story
Format:

Kindle Book

2019

2019

Adobe EPUB ebook

OverDrive Read

Availability:

Available from OverDrive

1 of 1 copy
Summary
"The remarkable new account of an essential piece of American mythology--the trial of Lizzie Borden--based on twenty years of research and recently unearthed evidence. The Trial of Lizzie Borden tells the true story of one of the most sensational murder trials in American history. When Andrew and Abby Borden were brutally hacked to death in Fall River, Massachusetts, in August 1892, the arrest of the couple's younger daughter Lizzie turned the case into international news and her trial into a spectacle unparalleled in American history. Reporters flocked to the scene. Well-known columnists took up conspicuous seats in the courtroom. The defendant was relentlessly scrutinized for signs of guilt or innocence. Everyone--rich and poor, suffragists and social conservatives, legal scholars and laypeople--had an opinion about Lizzie Borden's guilt or innocence. Was she a cold-blooded murderess or an unjustly persecuted lady? Did she or didn't she? The popular fascination with the Borden murders and its central enigmatic character has endured for more than one hundred years. Immortalized in rhyme, told and retold in every conceivable genre, the murders have secured a place in the American pantheon of mythic horror, but one typically wrenched from its historical moment. In contrast, Cara Robertson explores the stories Lizzie Borden's culture wanted and expected to hear and how those stories influenced the debate inside and outside of the courtroom. Based on transcripts of the Borden legal proceedings, contemporary newspaper accounts, unpublished local accounts, and recently unearthed letters from Lizzie herself, The Trial of Lizzie Borden offers a window onto America in the Gilded Age, showcasing its most deeply held convictions and its most troubling social anxieties"--

Contents
Somebody will do something
An incredible crime
The web tightens
A most remarkable woman
The curtain ascends
Under fire
A signal victory
Intent, deliberation, and preparation
Short, busy, and very important
Last words in the great trial
The old place
The enduring enigma
Coda: the defense file.
Published Reviews
Booklist Review:
"*Starred Review* Was Lizzie Borden really an ax murderer? Robertson brings her expertise as a lawyer and legal adviser to her 20 years of research on the Borden case in her first book. Using transcripts from the trial, newspaper articles, unpublished local reports, and Borden's recently discovered letters, Robertson analyzes not only the trial, but also nineteenth-century attitudes about women and crime. She points out how the police bungled the investigation, how the prosecution miscalculated its case, and how the defense attorney's brilliant strategy helped Lizzie. Even more revealing, she shows how prejudices about women and the feelings of the people of Fall River, Massachusetts, toward the Bordens affected the way the police, lawyers, judges, and press looked at Lizzie. Robertson weaves the facts and her analysis into a fast-paced, page-turning read. While she speculates on who the real murderer was, she lets readers make up their own minds, tantalizing them with one final surprise that will leave readers wondering. More than 60 pages of footnotes and an extensive bibliography round out this must-purchase for public libraries, and a must-read for fans of Kate Summerscale's The Wicked Boy (2016).--Merle Jacob Copyright 2019 Booklist"
From Booklist, Copyright (c) American Library Association. Used with permission.
Publisher's Weekly Review:
"Lawyer Robertson debuts with the definitive account to date of one of America's most notorious and enduring murder mysteries. In August 1892, the bodies of Lizzie Borden's father, Andrew, and her stepmother, Abby, were found hacked to death in their home in Fall River, Mass. As the murders were committed during daylight, when the house was occupied by Lizzie, who lived there along with her sister, she became an obvious person of interest. Strong circumstantial evidence showing that Lizzie alone had the opportunity to commit the crimes-along with testimony that she'd attempted to buy prussic acid the day before and that she'd burned a dress after the killings-led to her arrest. The absence of a clear motive, any prior history of violence, and the difficulty many had in viewing the respectable churchgoing Lizzie as a savage killer proved obstacles to widespread acceptance of the prosecution's case, and Lizzie was acquitted after a trial. Robertson methodically rebuts the numerous theories advanced at the time and since, some of which pointed to other members of the household. The end result is a superior, page-turning true crime narrative that will leave most readers believing that the jury got it wrong. Agent: Tina Bennett, WME. (Mar.) © Copyright PWxyz, LLC. All rights reserved."
(c) Copyright PWxyz, LLC. All rights reserved
Additional Information