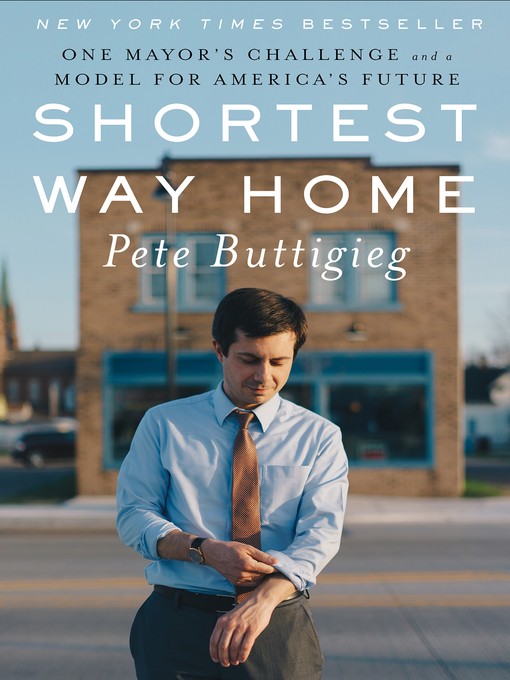 Shortest way home one mayor's challenge and a model for America's future
Format:

OverDrive Read

2019.

Adobe EPUB ebook

Kindle Book

Availability:

Unavailable

0 of 14 copies
58 people on waitlist
Summary
Once described by the Washington Post as "the most interesting mayor you've never heard of," Pete Buttigieg, the thirty-seven-year-old mayor of South Bend, Indiana, has now emerged as one of the nation's most visionary politicians. With soaring prose that celebrates a resurgent American Midwest, Shortest Way Home narrates the heroic transformation of a "dying city" (Newsweek) into nothing less than a shining model of urban reinvention.Interweaving two narratives--that of a young man coming of age and a town regaining its economic vitality--Buttigieg recounts growing up in a Rust Belt city, amid decayed factory buildings and the steady soundtrack of rumbling freight trains passing through on their long journey to Chicagoland. Inspired by John F. Kennedy's legacy, Buttigieg first left northern Indiana for red-bricked Harvard and then studied at Oxford as a Rhodes Scholar, before joining McKinsey, where he trained as a consultant--becoming, of all things, an expert in grocery pricing. Then, Buttigieg defied the expectations that came with his pedigree, choosing to return home to Indiana and responding to the ultimate challenge of how to revive a once-great industrial city and help steer its future in the twenty-first century.Elected at twenty-nine as the nation's youngest mayor, Pete Buttigieg immediately recognized that "great cities, and even great nations, are built through attention to the everyday." As Shortest Way Home recalls, the challenges were daunting--whether confronting gun violence, renaming a street in honor of Martin Luther King Jr., or attracting tech companies to a city that had appealed more to junk bond scavengers than serious investors. None of this is underscored more than Buttigieg's audacious campaign to reclaim 1,000 houses, many of them abandoned, in 1,000 days and then, even as a sitting mayor, deploying to serve in Afghanistan as a Navy officer. Yet the most personal challenge still awaited Buttigieg, who came out in a South Bend Tribune editorial, just before being reelected with 78 percent of the vote, and then finding Chasten Glezman, a middle-school teacher, who would become his partner for life.While Washington reels with scandal, Shortest Way Home, with its graceful, often humorous, language, challenges our perception of the typical American politician. In chronicling two once-unthinkable stories--that of an Afghanistan veteran who came out and found love and acceptance, all while in office, and that of a revitalized Rust Belt city no longer regarded as "flyover country"--Buttigieg provides a new vision for America's shortest way home.
Contents
Contents
Remembering
The South Bend i grew up in
Learning
City on a hill
Analytics
Campaigning
The volunteers
"Meet Pete"
A fresh start for South Bend
Governing
A monday morning
The celebrant and the mourner
A plan, and not quite enough time
Talent, purpose, and the smartest
Sewers in the world
Subconscious operations
Meeting
Brushfire on the silicon prairie
Hitting home
Becoming
Dirt sailor
"The war's over"
Becoming one person
Becoming whole
Building
Slow- motion chase
Not "again"
Acknowledgments
Notes
Index.
Published Reviews
Booklist Review:
"*Starred Review* Born in South Bend, Indiana, in 1982, Buttigieg was an eager student at Harvard and a Rhodes Scholar before landing a prestigious job with a premier management-consulting firm, working on national-level political campaigns, and even running for state treasurer. He found his niche as mayor back in his hometown, a typical Rust Belt city beset by diminishing population, the loss of its income base, and urban blight. Relying on every aspect of his education and work experience, Buttigieg fought his way from political underdog to innovative public servant to popular second-term mayor. His successes have been credited to introducing data-based decision making, concentrating on current assets instead of bemoaning what used to be, and forming coalitions by reaching out to community groups, across the aisle, and up through state and federal levels. Readers will find telling insights into the events that shaped Buttigieg's biggest decisions and share a typical day in the mayor's office; relive Buttigieg's tour of duty in Afghanistan (while he was still acting mayor); and understand his angst over being a young, gay public figure trying to get a date (spoiler alert: there's a happy ending!). First and foremost a great, engaging read, this is also an inspiring story of a millennial making a difference.--Kathleen McBroom Copyright 2018 Booklist"
From Booklist, Copyright (c) American Library Association. Used with permission.
Publisher's Weekly Review:
"Buttigieg, mayor and native of South Bend, Ind., manifests a decent, positive, and reflective presence in this upbeat and readable memoir, which follows a career path that recently landed him on the short list for chair of the Democratic National Committee at the age of 36. In seven sections, the narrative retraces his life so far: after Catholic school, Buttigieg attended Harvard, where the Institute of Politics afforded him the chance to observe some leaders and public servants up close, and was awarded a Rhodes Scholarship to Oxford. These academic credentials led to a job with McKinsey & Company after a stint campaigning for John Kerry in 2004, during which he cultivated a taste for public office and enlisted in the Navy Reserves. Three years into his first mayoral term, he was called up for a seven-month deployment in Afghanistan in 2013, which spurred new insights on being of service and on foreign relations. After his service, he came out to his parents and then the city (via a newspaper editorial) and met and married his husband, Chasten, about whose family he writes warmly. In the final section, he discusses how "obvious" it seems to him that "economic fairness and racial inclusion could resonate very well in the industrial Midwest." Buttigieg's memoir is an appealing introduction of its author to a larger potential constituency. (Jan.) © Copyright PWxyz, LLC. All rights reserved."
(c) Copyright PWxyz, LLC. All rights reserved
Additional Information