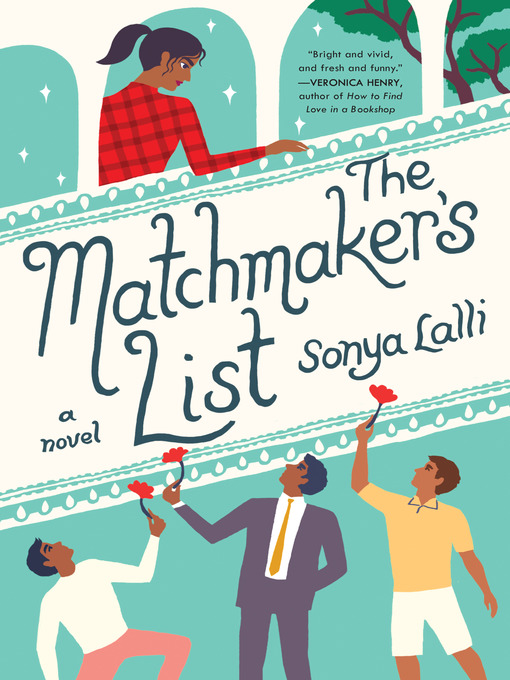 The matchmaker's list
Format:

Kindle Book

2019

2019

Adobe EPUB ebook

OverDrive Read

Availability:

Unavailable

0 of 2 copies
4 people on waitlist
Summary
One devoted modern girl + a meddlesome, traditional grandmother = a heartwarming multicultural romantic comedy about finding love where you least expect it. Raina Anand may have finally given in to family pressure and agreed to let her grandmother play matchmaker, but that doesn't mean she has to like it--or that she has to play by the rules. Nani always took Raina's side when she tried to push past the traditional expectations of their tight-knit Indian-immigrant community, but now she's ambushing Raina with a list of suitable bachelors. Is it too much to ask for a little space? Besides, what Nani doesn't know won't hurt her... As Raina's life spirals into a parade of Nani-approved bachelors and disastrous blind dates, she must find a way out of this modern-day arranged-marriage trap without shattering her beloved grandmother's dreams.

Published Reviews
Booklist Review:
"*Starred Review* Straddling the cusp of Western culture and Eastern values is where we find Raina Anand: a successful investment analyst living the single life in Toronto while trying her hardest to please her traditional Indian grandmother. Nani is desperate to see her granddaughter get married and start a family, but Raina's heart is held captive by her first love, who keeps her dangling by a string. As she nears her thirtieth birthday, Raina declares that she's done waiting and is now ready to meet the eligible men on her grandmother's pre-approved list, which represents everything her culture tells her she ought to want but that she doesn't have the stomach to live with. The stress of disappointing her family wreaks havoc with her emotions, and when the pressure gets too strong, she hides behind Nani's false assumption that Raina might be gay. At first, Raina's lies buy her some time but not enough to avoid a fight with her best friend, a rift in their conservative community, and a romantic catastrophe with Mr. Right. Lalli's debut is a delightful, multicultural romantic comedy full of humorous banter and loads of life lessons about family, happiness, love, honesty, and acceptance.--Kristina Giovanni Copyright 2018 Booklist"
From Booklist, Copyright (c) American Library Association. Used with permission.
Publisher's Weekly Review:
"Lalli's debut is a skillful exploration of how the younger generation in an immigrant Indian community in Toronto bristles at tradition while discovering comfort and strength in family and community. Raina, 29, works at a multinational bank and agrees to check out a list of eligible Indian men her grandmother has vetted for an arranged marriage. But the bachelors all fall short of Dev, the dashing, globe-trotting banker from Raina's past whom she fell in love with, but who couldn't commit. The pressure mounts as Raina's best-friend Shaya, a pediatric resident, prepares for her own wedding-on Raina's 30th birthday-to white Catholic pediatrician Julian. After a series of hilarious dating misfires, a desperate Raina lets her grandmother believe she's a lesbian to stop the matchmaking pressure-a duplicity that isolates her from her grandmother, Shaya, and Asher, a white groomsman who recognizes Raina as a "lost soul." Raina's ultimate appreciation of her grandmother's loyalty, the joy of her community and culture, and a man with whom she "could be the woman who didn't lose herself to love" helps her claim a life of her own. Lalli's sharp-eyed tale of cross-cultural dating, family heartbreak, the strictures of culture, and the exuberance of love is both universal and timeless. (Jan.) © Copyright PWxyz, LLC. All rights reserved."
(c) Copyright PWxyz, LLC. All rights reserved
Additional Information