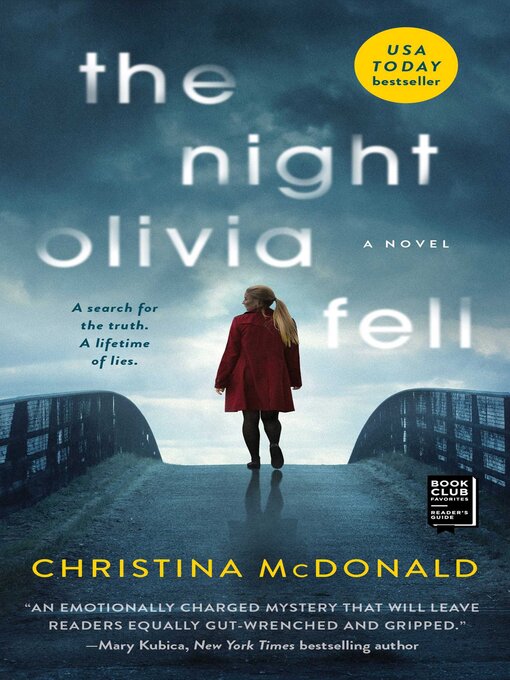 The night Olivia fell a novel
Format:

Kindle Book

2019

2019

Adobe EPUB ebook

OverDrive Read

Availability:

Available from OverDrive

5 of 6 copies
Summary
"In the small hours of the morning, Abi Knight is startled awake by the phone call no mother ever wants to get: her teenage daughter Olivia has fallen off a bridge. Not only is Olivia brain dead, she's pregnant and must remain on life support to keep her baby alive. And then Abi sees the angry bruises circling Olivia's wrists. When the police unexpectedly rule Olivia's fall an accident, Abi decides to find out what really happened that night. Heartbroken and grieving, she unravels the threads of her daughter's life. Was Olivia's fall an accident? Or something far more sinister? Christina McDonald weaves a suspenseful and heartwrenching tale of hidden relationships, devastating lies, and the power of a mother's love. With flashbacks of Olivia's own resolve to uncover family secrets, this taut and emotional novel asks: how well do you know your children? And how well do they know you?"--Amazon.com.

Published Reviews
Booklist Review:
"*Starred Review* Single mom Abi Knight receives a call that her teenage daughter, Olivia, is clinging to life after plummeting from a bridge into a fast-moving river. Then, at the hospital, Abi receives another shock: Olivia is pregnant. While the detectives investigating the incident believe it was an accident, Abi suspects foul play, and she begins looking carefully at her daughter's life. The deeper Abi digs, the more difficult it becomes to trust anyone. Is it the paranoia of a grieving mother, or is Olivia's absentee father, a rising star politician, making good on a past promise? In alternating chapters, Olivia tells her own story, which includes a love triangle, a friendship gone sour, and an encounter with a young woman who looks uncannily like Olivia. McDonald ratchets up the suspense with every chapter, including plenty of gasp-worthy twists and turns as Abi and Olivia's story pushes towards its devastating conclusion. The suspense is supplemented by relationships of surprising depth and tenderness, providing balance and nuance to the story. A worthy debut from an up-and-coming domestic-suspense author; readers who enjoy mother-daughter stories in the genre should line up for this one.--Nanette Donohue Copyright 2019 Booklist"
From Booklist, Copyright (c) American Library Association. Used with permission.
Publisher's Weekly Review:
"Abigail Knight, the protagonist of McDonald's complex, emotionally intense first novel, is determined to get answers after her 17-year-old daughter, Olivia, who recently seemed unusually distracted and moody, is found, brain-dead and pregnant, at the bottom of an embankment below a bridge in her hometown of Portage Point, Wash. Meanwhile, Abi manages the grief of seeing Olivia being maintained on life support just long enough to allow her granddaughter to live. The chapters told from Olivia's viewpoint in the months leading up to the accident, during which she struggles with friendships and romantic relationships while piecing together the truth about her absent father, convey the cadence and the awkward urgency of teenage thought and behavior without exaggerating it. Every carefully fleshed-out character behaves authentically, yielding a satisfying sense of tragedy rather than one of villainy. McDonald dives into the mother-daughter conflict without compromising the reader's compassion for either of them. Fans of twisty domestic suspense novels will be rewarded. Agent: Carly Watters, P.S. Literary (Canada). (Feb.) © Copyright PWxyz, LLC. All rights reserved."
(c) Copyright PWxyz, LLC. All rights reserved
Additional Information