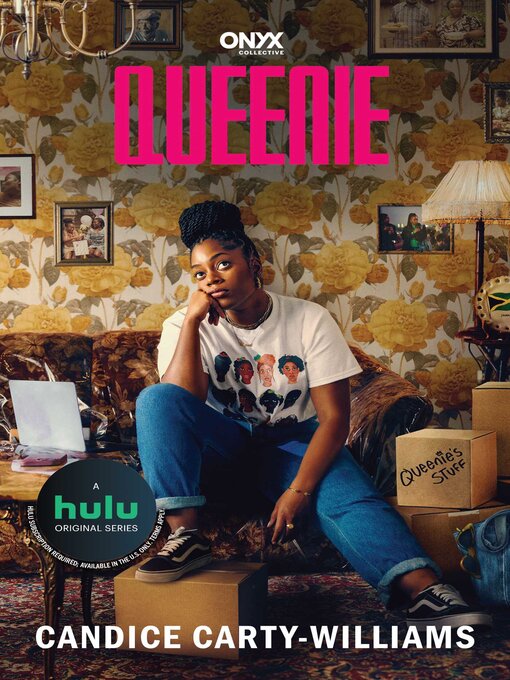 Queenie
Format:

OverDrive Read

2019.

Adobe EPUB ebook

Kindle Book

Availability:

Unavailable

0 of 7 copies
33 people on waitlist
Summary
NAMED ONE OF THE MOST ANTICIPATED BOOKS OF 2019 BY WOMAN'S DAY , NEWSDAY , PUBLISHERS WEEKLY , BUSTLE , AND BOOK RIOT !

"[B]rilliant, timely, funny, heartbreaking." --Jojo Moyes, #1 New York Times bestselling author of Me Before You

Bridget Jones's Diary meets Americanah in this disarmingly honest, boldly political, and truly inclusive novel that will speak to anyone who has gone looking for love and found something very different in its place.

Queenie Jenkins is a 25-year-old Jamaican British woman living in London, straddling two cultures and slotting neatly into neither. She works at a national newspaper, where she's constantly forced to compare herself to her white middle class peers. After a messy break up from her long-term white boyfriend, Queenie seeks comfort in all the wrong places...including several hazardous men who do a good job of occupying brain space and a bad job of affirming self-worth.

As Queenie careens from one questionable decision to another, she finds herself wondering, "What are you doing? Why are you doing it? Who do you want to be?"--all of the questions today's woman must face in a world trying to answer them for her.

With "fresh and honest" (Jojo Moyes) prose, Queenie is a remarkably relatable exploration of what it means to be a modern woman searching for meaning in today's world.
Published Reviews
Booklist Review:
"Asked by her boyfriend, Tom, to move out, estranged from her mother, and beyond bored at work, Jamaican British Queenie is having a rough go. Add to that the miscarriage she just went through, thoroughly alone, and it's no wonder she needs her best friends to hold her up right now, in the form of an active group text. When Tom continues to ignore her and she attempts to mute her sorrows with the attention of altogether disappointing men, Queenie soon finds herself suffering panic attacks and forced to move in with her strict grandparents. London-based publishing executive Carty-Williams creates an utterly knowable character in Queenie, who's as dimensional and relatable as they come as she tries to balance her own desires with what everyone else seems to want for her. Flashbacks show the dissolution of her and Tom's love and why it's so hard for her to accept and reveal the reasons for her distance from her mother. Fast moving and with a strong sense of Queenie's London, this entertains while tackling topics like mental health and stigma, racism and tokenism, gentrification, and the isolation of social-media and dating-app culture. This smart, funny, and tender debut embraces a modern woman's messiness.--Annie Bostrom Copyright 2010 Booklist"
From Booklist, Copyright (c) American Library Association. Used with permission.
Publisher's Weekly Review:
"Carty-Williams's smart, fearless debut follows Queenie Jenkins, a Jamaican-British woman, after her longtime white boyfriend, Tom, asks for a "break." Queenie's impulsive behavior (promiscuity; distancing herself from friends) begins to unearth memories of childhood abuse, causing her to make more bad choices in an effort to alleviate her pain. When her career as a newspaper reporter begins to suffer and she's issued her final warning before being fired, she decides to confront her demons head on. To emerge from her crisis, Queenie begins psychotherapy, much to the consternation of her grandmother, who sees Queenie's mental health issues as a weakness she need only be strong to overcome. The result is a novel that stares directly into the pitfalls of being black in white spaces and (through flashbacks with Tom) the challenges of interracial relationships. Carty-Williams doesn't shy from the messiness of sexual relationships, racial justice issues such as police brutality, or Queenie's promiscuity, and the narrative is all the more effective for its boldness. This is an essential depiction of life as a black woman in the modern world, told in a way that makes Queenie dynamic and memorable. Agent: Deborah Schneider, Gelfman Schneider/ICM Partners. (Mar.) © Copyright PWxyz, LLC. All rights reserved."
(c) Copyright PWxyz, LLC. All rights reserved
Additional Information