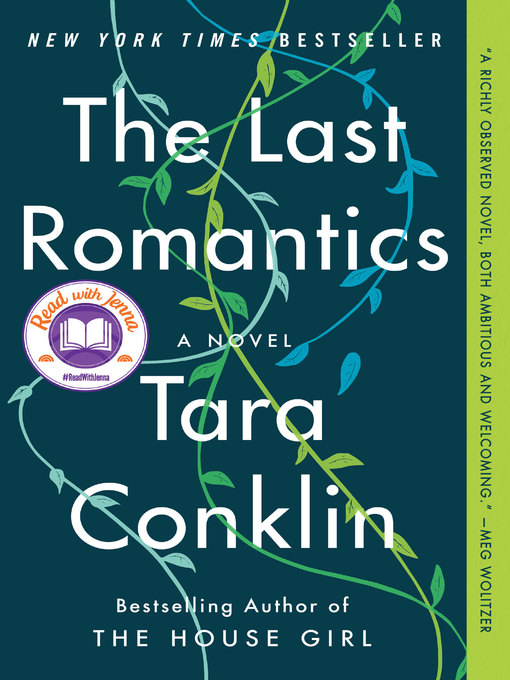 The last romantics : a novel
Format:

OverDrive Read

2019.

Adobe EPUB ebook

Kindle Book

Availability:

Unavailable

0 of 19 copies
91 people on waitlist
Summary
A READ WITH JENNA * TODAY SHOW BOOK CLUB PICK
"A richly observed novel, both ambitious and welcoming." -- Meg Wolitzer
An Instant New York Times Bestseller
NAMED A BEST BOOK OF THE MONTH BY:
Goodreads * Lithub * Refinery29 * InStyle * HelloGiggles * Real Simple * Parade * PureWow * Apple Books * Bustle
"Conklin examines her characters' lives with generosity and an unflinching eye for the complexities of love and family.... Fans of Jonathan Franzen's The Corrections will find similar pleasures in the intelligence and empathy on display here." -- USA Today (four stars)
When the renowned poet Fiona Skinner is asked about the inspiration behind her iconic work, The Love Poem, she tells her audience a story about her family and a betrayal that reverberates through time.
It begins in a big yellow house with a funeral, an iron poker, and a brief variation forever known as the Pause: a free and feral summer in a middle-class Connecticut town. Caught between the predictable life they once led and an uncertain future that stretches before them, the Skinner siblings--fierce Renee, sensitive Caroline, golden boy Joe and watchful Fiona--emerge from the Pause staunchly loyal and deeply connected. Two decades later, the siblings find themselves once again confronted with a family crisis that tests the strength of these bonds and forces them to question the life choices they've made and ask what, exactly, they will do for love.
A sweeping yet intimate epic about one American family, The Last Romantics is an unforgettable exploration of the ties that bind us together, the responsibilities we embrace and the duties we resent, and how we can lose--and sometimes rescue--the ones we love. A novel that pierces the heart and lingers in the mind, it is also a beautiful meditation on the power of stories--how they navigate us through difficult times, help us understand the past, and point the way toward our future.


Published Reviews
Booklist Review:
"No family is perfect. No one truly knows what's happening behind closed doors unless they're there, a part of it from the beginning. Conklin (The House Girl, 2013) captures these truths with honesty and seeming ease in her second novel, a beautifully written story of four siblings' love for one another across their entire lives. Sibling relationships are exposed in their truest forms as Renee, Caroline, Joe, and Fiona Skinner fall in and out of love with each other over a lifetime. Bound together early in life by both blood and tragedy, they find solace and security in childhood summers spent at a neighborhood pond. These early memories shape their lives and future relationships, and when tragedy strikes again years later, the siblings are once again forced to either sink or swim together. Despite spanning almost a century, The Last Romantics never feels rushed. Conklin places readers in the center of the Skinner family, moving back and forth in time and allowing waves of emotion to slowly uncurl. Perfectly paced, affecting fiction.--Melissa Norstedt Copyright 2018 Booklist"
From Booklist, Copyright (c) American Library Association. Used with permission.
Publisher's Weekly Review:
"The accomplished second novel by the author of The House Girl throws a few unexpected twists into the well-worn story of evolving relationships among siblings. In the year 2079, 102-year-old poet Fiona Skinner looks back on a childhood marked by the sudden death of her father and the emotional withdrawal of her mother. During the years that her mother spent almost entirely in her room in their middle-class Connecticut neighborhood-a period that Fiona and her three siblings call the Pause-the siblings essentially raised each other, with observant, dreamy youngest child Fiona taking note of driven oldest daughter Renee, bubbly Caroline, and sweet, athletic Joe. As the years go on, the increasingly troubled Joe becomes the focus of both the novel and the attention of the other siblings. While Fiona-who works at a nonprofit and publishes a blog, sardonically titled The Last Romantic, wryly detailing her sexual experiences with one man after another-is the novel's key voice, it expands out to peek into the minds of the others, including the mother who becomes a staunch feminist after emerging from her cocoon. Conklin's plot avoids the predictable, and adds a new mystery each time an old one is solved, resulting in a clever novel. (Feb.) © Copyright PWxyz, LLC. All rights reserved."
(c) Copyright PWxyz, LLC. All rights reserved
Additional Information