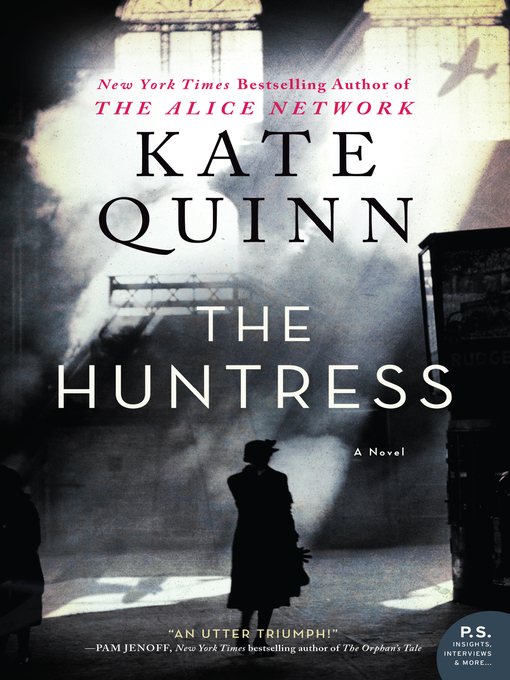 The huntress
Format:

OverDrive Read

2019.

Adobe EPUB ebook

Kindle Book

Availability:

Unavailable

0 of 22 copies
131 people on waitlist
Summary
"...compulsively readable historical fiction...[a] powerful novel about unusual women facing sometimes insurmountable odds with grace, grit, love and tenacity." - Kristin Hannah, The Washington Post
Named one of best books of the year by Marie Claire and Bookbub
"If you enjoyed "The Tattooist of Auschwitz," read "The Huntress," by Kate Quinn." The Washington Post
From the author of the New York Times and USA Today bestselling novel, THE ALICE NETWORK, comes another fascinating historical novel about a battle-haunted English journalist and a Russian female bomber pilot who join forces to track the Huntress, a Nazi war criminal gone to ground in America.
In the aftermath of war, the hunter becomes the hunted...
Bold and fearless, Nina Markova always dreamed of flying. When the Nazis attack the Soviet Union, she risks everything to join the legendary Night Witches, an all-female night bomber regiment wreaking havoc on the invading Germans. When she is stranded behind enemy lines, Nina becomes the prey of a lethal Nazi murderess known as the Huntress, and only Nina's bravery and cunning will keep her alive.
Transformed by the horrors he witnessed from Omaha Beach to the Nuremberg Trials, British war correspondent Ian Graham has become a Nazi hunter. Yet one target eludes him: a vicious predator known as the Huntress. To find her, the fierce, disciplined investigator joins forces with the only witness to escape the Huntress alive: the brazen, cocksure Nina. But a shared secret could derail their mission unless Ian and Nina force themselves to confront it.
Growing up in post-war Boston, seventeen-year-old Jordan McBride is determined to become a photographer. When her long-widowed father unexpectedly comes homes with a new fiancée, Jordan is thrilled. But there is something disconcerting about the soft-spoken German widow. Certain that danger is lurking, Jordan begins to delve into her new stepmother's past--only to discover that there are mysteries buried deep in her family . . . secrets that may threaten all Jordan holds dear.
In this immersive, heart-wrenching story, Kate Quinn illuminates the consequences of war on individual lives, and the price we pay to seek justice and truth.
Published Reviews
Booklist Review:
"*Starred Review* Quinn follows up her breakout book, The Alice Network (2017), with an impressive historical novel sure to harness WWII-fiction fans' attention. Each subplot in its triple-stranded structure thrums with tension that intensifies as they braid together. By 1950, the public's appetite for tracking war criminals has diminished, but British former war correspondent Ian Graham and his American partner still pursue this painstaking and honorable work. Their ultimate target is die Jägerin (the Huntress), an elusive Nazi murderess, and, for Ian, the mission is personal. As they follow her trail, along with Nina Markova, the sole person to escape her clutches, Nina's life story unfolds with tangible realism. A distinctly memorable, prickly, razor-wielding heroine, Nina flees remote Siberia in 1937 and trains as a pilot, eventually joining the sisterhood of female bombers known as the Night Witches. Lastly, in 1946 Boston, 17-year-old aspiring photographer Jordan McBride grows suspicious of her father's elegant new Austrian wife. The secondary characters, from Nina's anti-Stalinist father to Jordan's pilot boyfriend, feel three-dimensional, and the coldhearted Huntress is a complex villain. Laced with Russian folklore allusions and deliciously witty banter, Quinn's tale refreshingly avoids contrived situations while portraying three touching, unpredictable love stories; the suspenseful quest for justice; and the courage involved in confronting one's greatest fears. HIGH-DEMAND BACK STORY: Prepub excitement is running high with a substantial first print run and major, multiplatform publicity campaigns.--Sarah Johnson Copyright 2018 Booklist"
From Booklist, Copyright (c) American Library Association. Used with permission.
Publisher's Weekly Review:
"Quinn (The Alice Network) delivers a suspenseful WWII tale of murder and revenge. During the last days of the war in Poland and Austria, a female Nazi known as the Huntress commits unspeakable war crimes and then vanishes into the maelstrom of postwar chaos. A trio of Nazi hunters-an Englishman, an American, and a female Russian bomber pilot who is the only person alive who can identify the Huntress-embark on a search for the Huntress. Each is obsessed with the Huntress for different reasons. Several years later, in Boston, teenager Jordan McBride welcomes a pretty Austrian woman into her family as her new stepmother, but she soon becomes suspicious of the woman's background, then finally confronts her. Meanwhile, the Nazi hunters' investigation leads them to Boston, with one member vowing to kill the Huntress. They learn the Huntress's real name, and subtle clues bring them to Jordan's family, resulting in a tense climactic showdown. Though it's longer than it needs to be, this exciting thriller vividly reveals how people face adversity and sacrifice while chasing justice and retribution. (Feb.) © Copyright PWxyz, LLC. All rights reserved."
(c) Copyright PWxyz, LLC. All rights reserved
Additional Information
Subjects
Electronic books.
Mystery fiction

Publisher

[Place of publication not identified] :HarperCollins2019.



Edition
First Edition.
Contributors
OverDrive, Inc.

Language

English



System Details

Mode of access: World Wide Web.




Format: Adobe EPUB eBook




Format: OverDrive Read




Requires Adobe Digital Editions



Description

1 online resource



ISBN
9780062740380
9780062740380

Other
Classic View