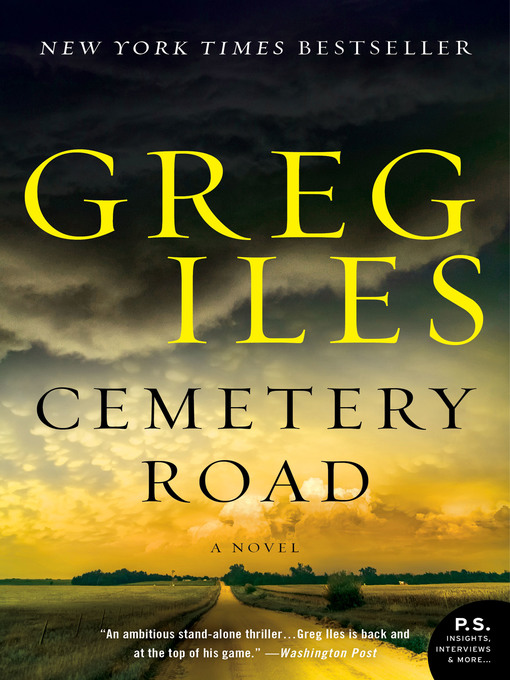 Cemetery Road a novel
Format:

Kindle Book

2019

2019

Adobe EPUB ebook

OverDrive Read

Availability:

Available from OverDrive

5 of 20 copies
2 people on waitlist
Summary
"The #1 New York Times bestselling author of the Natchez Burning trilogy returns with an electrifying tale of friendship, betrayal, and shattering secrets that threaten to destroy a small Mississippi town.When Marshall McEwan left his hometown at age eighteen, he vowed never to return. The trauma that drove him away ultimately spurred him to become one of the most successful journalists in Washington D.C. But just as the political chaos in the nation's capital lifts him to new heights, Marshall is forced to return home in spite of his boyhood vow. His father is dying, his mother is struggling to keep the family newspaper from failing, and the town is in the midst of an economic rebirth that might be built upon crimes that reach into the state capitol--and perhaps even to Washington. More disturbing still, Marshall's high school sweetheart, Jet, has married into the family of Max Matheson, patriarch of one of the families that rule Bienville through a shadow organization called the Bienville Poker Club. When archeologist Buck McKibben is murdered at a construction site, Bienville is thrown into chaos. The ensuing homicide investigation is soon derailed by a second crime that rocks the community to its core. Power broker Max Matheson's wife has been shot dead in her own bed, and the only other person in it at the time was her husband, Max. Stranger still, Max demands that his daughter-on-law, Jet, defend him in court. As a journalist, Marshall knows all too well how the corrosive power of money and politics can sabotage investigations. Without telling a soul, he joins forces with Jet, who has lived for fifteen years at the heart of Max Matheson's family, and begins digging into both murders. With Jet walking the dangerous road of an inside informer, they soon uncover a web of criminal schemes that undergird the town's recent success. But these crimes pale in comparison to the secret at the heart of the Matheson family. When those who have remained silent for years dare to speak to Marshall, pressure begins to build like water against a crumbling dam. Marshall loses friends, family members, and finally even Jet, for no one in Bienville seems willing to endure the reckoning that the Poker Club has long deserved. And by the time Marshall grasps the long-buried truth, he would give almost anything not to have to face it"--

Published Reviews
Booklist Review:
"After the remarkable trifecta of Iles' magnificent, perhaps career-defining Natchez Burning trilogy, readers couldn't help but speculate about what the author would do next. After three thick novels, would he go with something shorter, sleeker, less freighted with dramatic import? Nope. His new book, coming in at more than 750 pages is another big one, but as with the Natchez Burning novels it contains not an ounce of fat. The story starts simply: in Bienville, Mississippi, a man is murdered. Marshall McEwan, a journalist who was closer to the murdered man than he is to his own father, vows to expose the killer, but to do that, he must go up against the most powerful men in Bienville, who are part of a conspiracy that goes much deeper than McEwan could possibly have imagined. Iles sits alongside the icons at the top of today's crime-fiction mountain. He has made Mississippi his own in the same way that James Lee Burke has claimed Cajun country and Michael Connelly has remapped contemporary Los Angeles. Readers who have been eagerly awaiting his first post-Natchez novel needn't have worried; they will be talking about this one for a quite a while.HIGH-DEMAND BACKSTORY: Another big, intense tale from a heavy-hitter.--David Pitt Copyright 2010 Booklist"
From Booklist, Copyright (c) American Library Association. Used with permission.
Publisher's Weekly Review:
"Marshall McEwan, the star of this compulsively readable thriller from bestseller Iles (Mississippi Blood), returns to his hometown of Bienville, Miss., for two good reasons: his father's getting old and rickety, and the woman he loves still lives there. McEwan, who spent years as a top-flight investigative journalist in Washington, D.C., takes the helm of his family's failing 150-year-old newspaper, The Watchman, and is soon immersed in the biggest news in town: the impending arrival of a Chinese-financed paper mill that will supposedly get Bienville back on its feet. Meanwhile, rumors of corruption, back-dealing, and murder swirl around the project and won't go away. Lurking in the background is the Poker Club, a cabal of businessmen who have run the town from behind the scenes since the Civil War. And the slinky Jet Matheson, the love of McEwan's youth, keeps putting off divorcing her husband, Poker Club heir-in-waiting Paul Matheson, though she's perfectly willing to see McEwan on the side. Iles once again delivers a sweeping tale of family dysfunction, sexually charged secrets, and the power of wealth, with an overlay of violence and Southern sensibility. Despite the novel's length, it all goes by in a flash. Author tour. Agents: Dan Conaway and Simon Lipskar, Writers House. (Mar.) © Copyright PWxyz, LLC. All rights reserved."
(c) Copyright PWxyz, LLC. All rights reserved
Additional Information