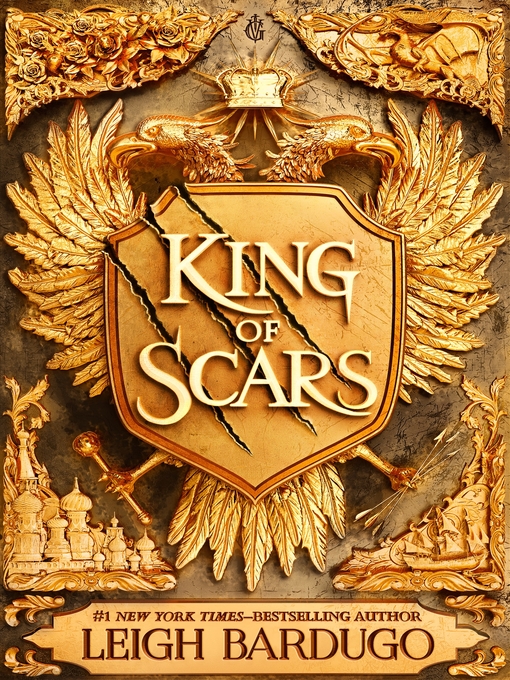 King of scars King of Scars Series, Book 1.
Format:

OverDrive Read

2019.

Adobe EPUB ebook

Kindle Book

Availability:

Unavailable

0 of 6 copies
30 people on waitlist
Summary
Enter the Grishaverse with the instant #1 New York Times -bestseller King of Scars by Leigh Bardugo.
"[Bardugo] touches on religion, class, family, love -- all organically, all effortlessly, all cloaked in the weight of a post-war reckoning with the cost (literal and figurative) of surviving the events that shape both people and nations." -- NPR
"The story exists at an intersection of past and future selves, and in the dawning understanding that what you most fear may be what you most need." -- Washington Post
Face your demons...or feed them. The dashing young king, Nikolai Lantsov, has always had a gift for the impossible. No one knows what he endured in his country's bloody civil war--and he intends to keep it that way. Now, as enemies gather at his weakened borders, Nikolai must find a way to refill Ravka's coffers, forge new alliances, and stop a rising threat to the once-great Grisha Army.
Yet with every day a dark magic within him grows stronger, threatening to destroy all he has built. With the help of a young monk and a legendary Grisha general, Nikolai will journey to the places in Ravka where the deepest magic survives to vanquish the terrible legacy inside him. He will risk everything to save his country and himself. But some secrets aren't meant to stay buried--and some wounds aren't meant to heal.
An Imprint Book
"Dark, beautifully written, and full of characters who instantly get inside of your head, the first book in this new duology is an instant classic." -- PopSugar
"Why You'll Love It: ... Leigh Bardugo continues to breathe new life into her lush fantasy world, and it's impossible to resist reading every single one.
For Fans of: Fantasy authors like Susan Dennard and Sabaa Tahir." -- Paste
"A richly detailed and refreshingly diverse world inhabited by individuals who, for all their magical talents, are resonantly human." -- The Washington Post
"Deadly clever political intrigue, heart-stopping adventure, memorable characters, and several understated, hinted-at romances (how will we wait?!) come together in one glorious, Slavic-folklore infused package. Bardugo's star continues to rise." -- Booklist , starred review
"The sharp dialogue and lovable characters continue to enthrall and bewitch long past the final chapter. With twists and revelations cleverly dispersed up until the very last page, this novel is a must-have for any book shelf." -- School Library Journal , starred review
The Grishaverse will be coming to Netflix soon with Shadow and Bone , an original series!
Praise for the Grishaverse
"A master of fantasy." -- The Huffington Post
"Utterly, extremely bewitching." -- The Guardian
"The best magic universe since Harry Potter." -- Bustle
"This is what fantasy is for." -- The New York Times Book Review
"[A] world that feels real enough to have its own passport stamp." --NPR
"The darker it gets for the good guys, the better." -- Entertainment Weekly
"Sultry, sweeping and picturesque. . . . Impossible to put down." -- USA Today
"There's a level of emotional and historical sophistication within Bardugo's original epic fantasy that sets it apart." -- Vanity Fair
"Unlike anything I've ever read." --Veronica Roth, bestselling author of Divergent
"Bardugo crafts a first-rate adventure, a poignant romance, and an intriguing mystery!" --Rick Riordan, bestselling author of the Percy Jackson series
"This is a great choice for teenage fans of George R.R. Martin and J.R.R. Tolkien." -- RT Book Reviews
Published Reviews
Booklist Review:
"Though the nation of Ravka survived a brutal civil war, it was left ravaged and scarred, and no one knows this better than its king. Infected with traces of dark magic at the end of Ruin and Rising (2014), the concluding volume to Bardugo's first foray into the Grishaverse, Nikolai Lantsov weathers uncontrollable transformations in this duology starter, as he, charming king by day, becomes without warning a vicious beast in the night. With Ravka in desperate need of stabilization and delegations of princesses potential brides on their way, Nikolai and his Grisha general, the unshakable Zoya Nazyalensky, set off on a journey that, futile though it may be, takes them deep into the history of their country as they search for a cure. Meanwhile, in Fjerda, to the north, Grisha soldier Nina Zenik is on a mission of her own, one that's part spy assignment on Nikolai's orders, part a deeply personal journey through grief. This is Bardugo's third series in the Grishaverse, and while it draws from both the Grisha trilogy and the Six of Crows duology, both Bardugo's skill and Nikolai's appeal are such that readers new to the world should have no problem joining in. Deadly clever political intrigue, heart-stopping adventure, memorable characters, and several understated, hinted-at romances (how will we wait?!) come together in one glorious, Slavic-folklore-infused package. Bardugo's star continues to rise. HIGH-DEMAND BACKSTORY: Shadow and Bone (2012) was a New York Times best-seller; Six of Crows (2015) went nuclear. Batten down the hatches.--Maggie Reagan Copyright 2019 Booklist"
From Booklist, Copyright (c) American Library Association. Used with permission.
Publisher's Weekly Review:
"In this sweeping dramatic fantasy, Bardugo returns to her Grishaverse and the events in both the Shadow and Bone trilogy and the Six of Crows duology. Young King Nikolai struggles to maintain order in the kingdom of Ravka following war against the malevolent Darkling. Nikolai's efforts are complicated by the nocturnal emergence of a demon residing within him, and only his trusted confidante Zoya can help him maintain control. Meanwhile, Grisha-turned-spy Nina, still mourning the death of her beloved Matthias, works in secret to protect Grisha fugitives while investigating strange occurrences in the countryside. When Nikolai and Zoya vanish during an attempt to rid the king of his demon, it's up to his closest friends to protect the country in his absence, little realizing that the chain of events might lead to the resurgence of a great evil. This duology opener strongly relies on at least a passing familiarity with the previous series, making it less than ideal for newcomers. But Bardugo's portrayal of flawed, mentally and physically scarred protagonists is sympathetic and insightful, while the strong mixture of political intrigue, worldbuilding, and fantastical elements helps to drive the various story lines. Ages 14-up. Agent: Joanna Volpe, New Leaf Literary. (Jan.) © Copyright PWxyz, LLC. All rights reserved."
(c) Copyright PWxyz, LLC. All rights reserved
Additional Information