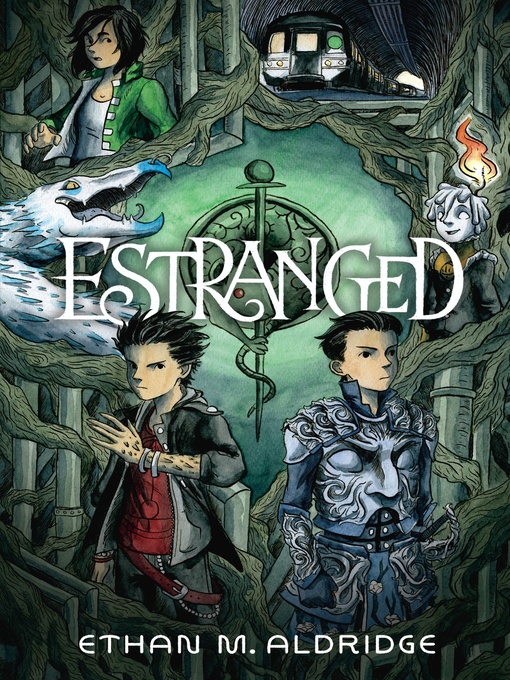 Estranged
Format:

Kindle Book

2018

2018

OverDrive Read

Availability:

Available from OverDrive

1 of 1 copy
Summary
Enduring lives where their differences render them outcasts, a changeling and a human child must unite when a cruel sorceress ascends the throne, placing the fates of both worlds in their hands.

Published Reviews
Booklist Review:
"In the World Below, the fay king and queen have stolen a human, named Childe, from the World Above and replaced him with a changeling. When the evil Hawthorne takes over the kingdom, Childe has to get out before he's killed. Along with his golem, Whick, Childe escapes to the World Above to find Edmund, the fay living with his family. Things take a turn for the worse when Hawthorne sends a terrifying group of soldiers to kill Edmund, and in the ensuing fight, Edmund's sister, Alexis, finds herself caught up in the drama. Together, the four journey back into the World Below to face off against Hawthorne and her otherworldly army. Aldridge's lavish, fine-lined, painterly artwork makes great work of the fantasy creatures (though there's barely any variety in body shape and skin tone), and the detailed backgrounds, both above and below, cultivate a rich sense of place that will be sure to capture the imaginations of readers. The deliciously captivating start to this adventure series will leave readers hungry for more.--Rob Bittner Copyright 2018 Booklist"
From Booklist, Copyright (c) American Library Association. Used with permission.
Publisher's Weekly Review:
"Stolen at birth and replaced with a fae changeling, Edmund grows up as a human spectacle, called only the Childe, in the fae World Below. When he escapes a coup that leaves the only family he has ever known dead, he flees to the human world-the World Above-in hopes of finding his changeling, the one true heir to the fae throne. Accompanied by his only friend, Whick, a candlestick golem, the two locate the changeling, who has recently realized that he does not belong in the human world. To navigate a world of assassins and magic and determine who they really are, the two must learn to trust one another and somehow live in each other's worlds. Newcomer Aldridge delivers a fun, daring, and dark take on the classic switched-at-birth narrative, with themes and art that fall into the realm of Neil Gaiman, Michael Ende, and Jim Henson. Coupled with the beautifully toned watercolor art, the interdependence of and tension between the two protagonists makes this book stand out. Ages 8-12. Agent: Stephen Barbara, Inkwell Management. (Aug.) © Copyright PWxyz, LLC. All rights reserved."
(c) Copyright PWxyz, LLC. All rights reserved
Additional Information