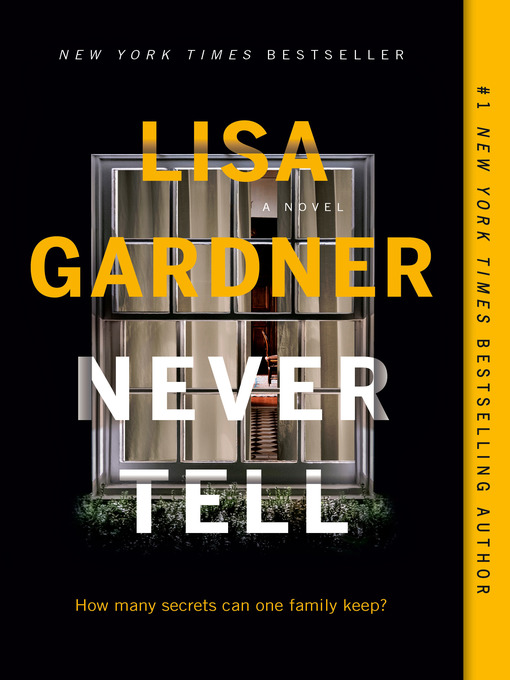 Never tell A Novel.
Format:

OverDrive Read

2019.

Adobe EPUB ebook

Kindle Book

Availability:

Unavailable

0 of 22 copies
60 people on waitlist
Summary
#1 New York Times bestseller Lisa Gardner returns with an unpredictable thriller that puts fan favorites D.D. Warren and Flora Dane on a shocking new case that begins with a vicious murder and gets darker from there.

A man is dead, shot three times in his home office. But his computer has been shot twelve times, and when the cops arrive, his pregnant wife is holding the gun.

D.D. Warren arrives on the scene and recognizes the woman--Evie Carter--from a case many years back. Evie's father was killed in a shooting that was ruled an accident. But for D.D., two coincidental murders is too many.

Flora Dane sees the murder of Conrad Carter on the TV news and immediately knows his face. She remembers a night when she was still a victim--a hostage--and her captor knew this man. Overcome with guilt that she never tracked him down, Flora is now determined to learn the truth of Conrad's murder.

But D.D. and Flora are about to discover that in this case the truth is a devilishly elusive thing. As layer by layer they peel away the half-truths and outright lies, they wonder: How many secrets can one family have?
Published Reviews
Booklist Review:
"Veteran Boston PD detective D. D. Warren, still on her game, returns in the tenth book (after Look for Me, 2018) in an outstanding series by New York Times best-selling Gardner. When a man is found dead with his laptop shot to pieces, the police arrive to find the victim's pregnant wife holding the gun. Flora Dane, working for D. D. as an informer, recognizes the victim, Conrad Carter, on the news and remembers a terrifying encounter she had with him during her captivity by a sadistic killer. D. D. recognizes the accused, Conrad's pregnant wife, Evie Carter, from a case years ago when Evie shot and killed her father. That shooting was ruled an accident, but D. D. finds herself reconsidering that earlier judgment. The investigation unfolds, in turn, in the separate narratives of D. D., Evie, and Flora; and the suspense builds as the truth about each of their experiences emerges. The wrap-up here is just a bit too neat, but Gardner's fans will not be disappointed by this insightful look into the impact of crime on its victims.--Jane Murphy Copyright 2018 Booklist"
From Booklist, Copyright (c) American Library Association. Used with permission.
Publisher's Weekly Review:
"In Thriller Award winner Gardner's nailbiting ninth novel featuring Boston PD Sgt. Det. D.D. Warren (after 2017's Look For Me), police break into the home of pregnant math teacher Evelyn Carter, who's standing over her husband Conrad's dead body with a freshly fired gun in her hand. Though Evie claims her innocence, D.D. pegs her as the killer. She remembers investigating Evie 16 years earlier for the accidental shooting and murder of her own father, Earl Hopkins, and concludes that two pointblankrange shootings aren't coincidental. Once the news of Conrad's murder goes public, kidnapping survivorturnedvigilante and D.D.'s unofficial informant, Flora Dane, asserts that she recognizes Conrad as a man who was acquainted with her kidnapper, Jacob Ness. Flora revisits her dark, disturbing past with the help of a true crime blogger in an effort to connect the two men. As readers unravel secrets that tie these two murders together, Gardner questions how well anyone can truly know spouses and families. The conclusion may not come as a shock, but Gardner's commendable storytelling will keep fans eagerly waiting for the next outing for D.D. and Flora. Author tour. Agent: Meg Ruley, Jane Rotrosen Agency. (Feb.) © Copyright PWxyz, LLC. All rights reserved."
(c) Copyright PWxyz, LLC. All rights reserved
Additional Information