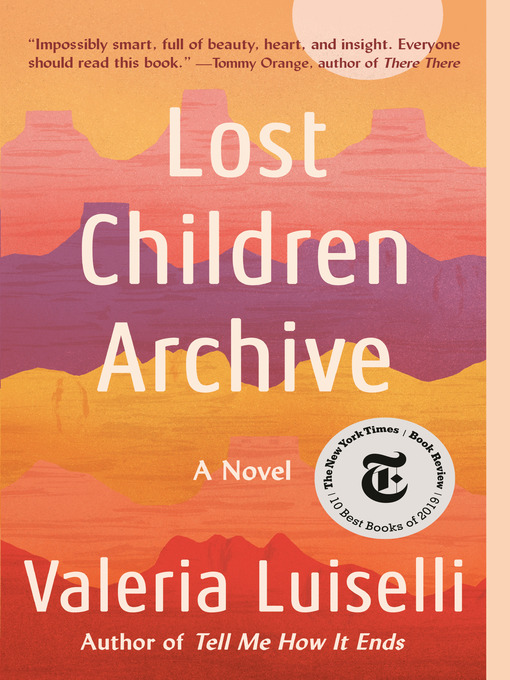 Lost children archive a novel
Format:

OverDrive Read

2019.

Adobe EPUB ebook

Kindle Book

Availability:

Available from OverDrive

1 of 12 copies
Summary
"The novel truly becomes novel again in Luiselli's hands--electric, elastic, alluring, new." --Parul Sehgal, The New York Times

"Impossibly smart, full of beauty, heart and insight . . . Everyone should read this book." --Tommy Orange

Named a "Best Book of 2019 So Far" by Entertainment Weekly , Vanity Fair, Vulture , and TIME

From the two-time NBCC Finalist, an emotionally resonant, fiercely imaginative new novel about a family whose road trip across America collides with an immigration crisis at the southwestern border--an indelible journey told with breathtaking imagery, spare lyricism, and profound humanity.

A mother and father set out with their two children, a boy and a girl, driving from New York to Arizona in the heat of summer. Their destination: Apacheria, the place the Apaches once called home.

Why Apaches? asks the ten-year-old son. Because they were the last of something, answers his father.

In their car, they play games and sing along to music. But on the radio, there is news about an "immigration crisis": thousands of kids trying to cross the southwestern border into the United States, but getting detained--or lost in the desert along the way.

As the family drives--through Virginia to Tennessee, across Oklahoma and Texas--we sense they are on the brink of a crisis of their own. A fissure is growing between the parents, one the children can almost feel beneath their feet. They are led, inexorably, to a grand, harrowing adventure--both in the desert landscape and within the chambers of their own imaginations.

Told through several compelling voices, blending texts, sounds, and images, Lost Children Archive is an astonishing feat of literary virtuosity. It is a richly engaging story of how we document our experiences, and how we remember the things that matter to us the most. With urgency and empathy, it takes us deep into the lives of one remarkable family as it probes the nature of justice and equality today.
Published Reviews
Booklist Review:
"*Starred Review* No stranger to inventive storytelling and the Mexican-American borderlands, Luiselli (The Story of My Teeth, 2015) launches this ultimately harrowing novel with an innocuous enough premise. An unnamed couple and their children embark on a cross-country road trip from New York City to Arizona. Husband and wife both work as audio recording artists, dedicated to capturing the soundscapes of everyday life. Upon their arrival, he plans to investigate the native Apache people who used to populate the Southwest, and she has promised to find a friend's daughters who have been arrested at the border. When the family arrives at their destination, however, the overwhelming scale of the migrant crisis redirects their efforts, and the children eventually lose themselves in the strange, uncertain terrain. As husband and wife rush to recover their own offspring, stories of Latin American asylum seekers and the disappeared Apaches overlap and converge, creating a poignant portrait of current events. Intense and keenly timely, Luiselli's latest work is perhaps her most politically relevant, and themes of translation and migration resonate, making it one of few novels that fully and powerfully convey the urgency of this unsettling situation.--Diego Báez Copyright 2019 Booklist"
From Booklist, Copyright (c) American Library Association. Used with permission.
Publisher's Weekly Review:
"Luiselli's powerful, eloquent novel begins with a family embarking on a road trip and culminates in an indictment of America's immigration system. An unnamed husband and wife drive, with their children in the backseat, from New York City to Arizona, he seeking to record remnants of Geronimo and the Chiricahua Apache, she hoping to locate two Mexican girls last seen awaiting deportation at a detention center. The husband recounts for the 10-year-old son and five-year-old daughter stories about a legendary band of Apache children. The wife explains how immigrant children become separated from parents, losing their way and sometimes their lives. Husband, wife, son, and daughter nickname themselves Cochise, Lucky Arrow, Swift Feather, and Memphis, respectively. When Swift Feather and Memphis go off alone, they become lost, then separated, then intermingled with the Apache and immigrant children, both imagined and all too real. As their parents frantically search, Memphis trades Swift Feather's map, compass, flashlight, binoculars, and Swiss Army knife for a bow and arrow, leaving them with only their father's stories about the area to guide them. Juxtaposing rich poetic prose with direct storytelling and brutal reality and alternating narratives with photos, documents, poems, maps, and music, Luiselli explores what holds a family and society together and what pulls them apart. Echoing themes from previous works (such as Tell Me How It Ends), Luiselli demonstrates how callousness toward other cultures erodes our own. Her superb novel makes a devastating case for compassion by documenting the tragic shortcomings of the immigration process. 31 photos. 75,000-copy announced first printing. (Feb.) c Copyright PWxyz, LLC. All rights reserved."
(c) Copyright PWxyz, LLC. All rights reserved
Additional Information