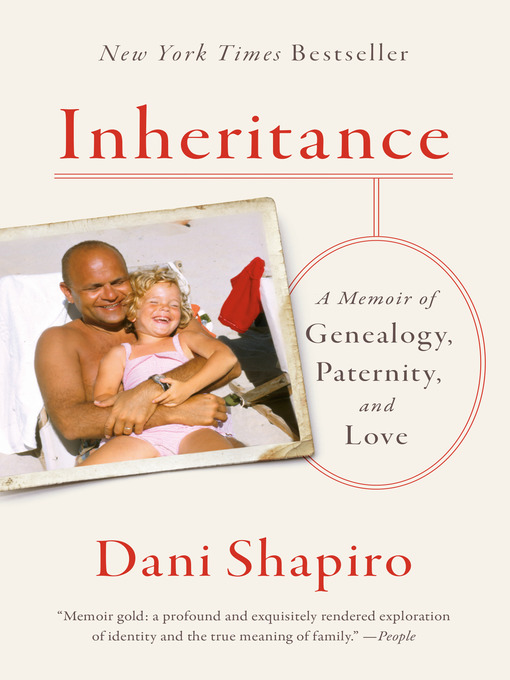 Inheritance a memoir of genealogy, paternity, and love
Format:

OverDrive Read

2019.

Adobe EPUB ebook

Kindle Book

Availability:

Unavailable

0 of 10 copies
41 people on waitlist
Summary
"A gripping genetic detective story, and a meditation on the meaning of parenthood and family." --Jennifer Egan, author of Manhattan Beach

From the acclaimed, best-selling memoirist and novelist--"a writer of rare talent" (Cheryl Strayed)--a memoir about the staggering family secret uncovered by a genealogy test: an exploration of the urgent ethical questions surrounding fertility treatments and DNA testing, and a profound inquiry of paternity, identity, and love.

What makes us who we are? What combination of memory, history, biology, experience, and that ineffable thing called the soul defines us?
In the spring of 2016, through a genealogy website to which she had whimsically submitted her DNA for analysis, Dani Shapiro received the stunning news that her father was not her biological father. She woke up one morning and her entire history--the life she had lived--crumbled beneath her.
Inheritance is a book about secrets--secrets within families, kept out of shame or self-protectiveness; secrets we keep from one another in the name of love. It is the story of a woman's urgent quest to unlock the story of her own identity, a story that has been scrupulously hidden from her for more than fifty years, years she had spent writing brilliantly, and compulsively, on themes of identity and family history. It is a book about the extraordinary moment we live in--a moment in which science and technology have outpaced not only medical ethics but also the capacities of the human heart to contend with the consequences of what we discover.
Published Reviews
Booklist Review:
"*Starred Review* Imagine finding out, after 54 years, that your father is not your father. He may be the man who raised you and helped forge your identity by immersing you in his culture in Shapiro's case, that of an Orthodox Jewish heritage that can be traced back for generations. He may be the one you turned to for emotional support through a confusing adolescence and confounding adulthood. But, as the modern technology of DNA tests confirm, he is not the man who actually sired you. For Shapiro, who adored her father and embraced her Jewish heritage proudly, the results were psychologically devastating and, as an acclaimed memoirist, too astonishing not to pursue. If I'm not my father's daughter, then who am I? With lightning speed and relentless determination, Shapiro tracks down the sperm donor who was her biological father and navigates an emotional and ethical minefield to create a relationship. The notion of identity, once so defined, suddenly becomes amorphous and untrustworthy. Shapiro's anguish over a flawed past is palpable; her anxiety regarding an indeterminate future is paralyzing. Page after page, Shapiro displays a disarming honesty and an acute desire to know the unknowable.--Carol Haggas Copyright 2018 Booklist"
From Booklist, Copyright (c) American Library Association. Used with permission.
Publisher's Weekly Review:
"In this fascinating memoir, Shapiro (Hourglass) writes of how she questioned her identity when a DNA test revealed that she was not, as she believed she was, 100% Jewish. Shapiro grew up in an Orthodox family in suburban New Jersey; blonde-haired and blue-eyed, she often felt out of place in a family of dark-haired Ashkenazi Jews, yet she had shrugged off the physical differences. But when she got the DNA test results, the then-54-year-old began researching her family history, and within months she unraveled a narrative leading back to the 1960s and the early days of artificial insemination. Her own parents had died, but now, with the support of her husband and son, she discovered her biological father, a doctor from Portland. Shapiro realized that her childhood, her ancestral lineage, and the foundation of her world were based on deception. "What potent combination of lawlessness, secrecy, desire, shame, greed, and confusion had led to my conception?" Shapiro writes. With thoughtful candor, she explores the ethical questions surrounding sperm donation, the consequences of DNA testing, and the emotional impact of having an uprooted religious and ethnic identity. This beautifully written, thought-provoking genealogical mystery will captivate readers from the very first pages. (Jan.) © Copyright PWxyz, LLC. All rights reserved."
(c) Copyright PWxyz, LLC. All rights reserved
Additional Information