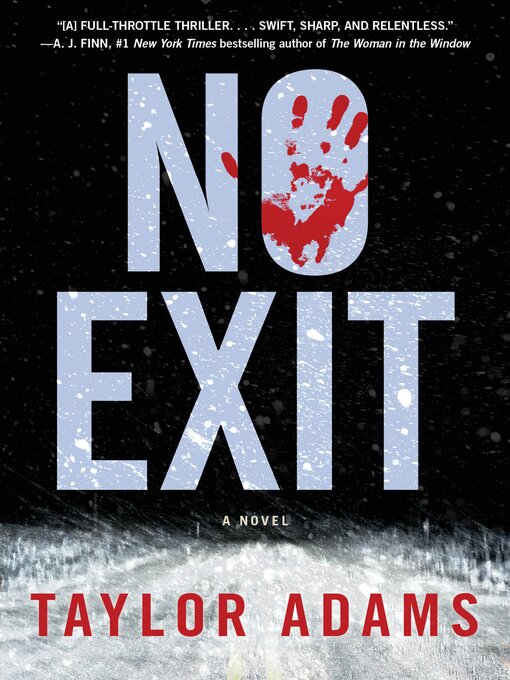 No exit : a novel
Format:

OverDrive Read

2019.

Adobe EPUB ebook

Kindle Book

Availability:

Unavailable

0 of 6 copies
29 people on waitlist
Summary
A determined young woman must unmask and outwit a vicious psychopath in this tense and clever tale of suspense.
On her way to Utah to see her dying mother, college student Darby Thorne gets caught in a fierce blizzard in the Colorado Rockies. With the roads impassable, she's forced to wait out the storm at a remote highway rest stop with no cell phone reception. Inside are some vending machines, a coffee maker, and four complete strangers.
Desperate to find a signal to call home, the exhausted young art student goes back out into the storm . . . and makes a horrifying discovery. In the back of the van parked next to her car is a little girl locked in an animal crate.
Who is the child? Why has she been taken? And how can Darby save her?
There is no way to call for help and no way out. One of her fellow travelers is a kidnapper. But which one?
Trapped in an increasingly dangerous situation on the edge of civilization, with a child's life and her own on the line, Darby must find a way to break the girl out of the van and escape.
But who can she trust?
With exquisitely controlled pacing, Taylor Adams diabolically ratchets up the tension with every page. Full of terrifying blind twists and hairpin turns as treacherous as a slick, snow-covered mountain road, this brilliant thriller will have you on the edge of your seat and leave you breathless.
Published Reviews
Booklist Review:
"Adams' latest thriller opens with a young woman, Darby Thorne, racing through a snowstorm to see her dying mother. She's forced to give in when the roads are shut down, though, and what was shaping up to be a tiresome night at a rest stop turns suddenly into a twisting tale of kidnapping and violence. The unfolding details of why a little girl whom Darby finds trapped in a van in a parking lot came to be there, who is responsible for her situation, and how the various travelers who are thrown together spend the night prove both gripping and terrifying. Adams peppers the tale with twist after twist; these hairpin turns, coupled with a cast of devious characters, drive the narrative and build suspense. At times, one wonders if Darby really can possibly survive yet another perilous situation, but, overall, this is an enthralling tale that features a wonderfully relatable and gutsy heroine. Give it to readers looking for a female-led drama in the mode of The Girl with the Dragon Tattoo and its sibling works.--Henrietta Verma Copyright 2018 Booklist"
From Booklist, Copyright (c) American Library Association. Used with permission.
Publisher's Weekly Review:
"College student Darby Thorne, the heroine of this nail-biting thriller from Adams (Our Last Night), braves a Colorado blizzard to try to reach her mother, who's in the late stages of pancreatic cancer. But the weather is too much for Darby's aged Honda Civic, and she's forced to spend the night at a rest stop visitor's center. The volunteer-run facility is nearly empty, except for four other stranded travelers-a quirky, but seemingly harmless group of strangers. That is, until Darby goes to the parking lot, in search of a cell signal, and finds nine-year old Jamie "Jay" Nissen-mouth duct taped, in a dog crate, locked inside a van. With no cell service and no prospect of the roads being cleared until dawn at the earliest, Darby has to figure out a way to save Jay. The only problem, she doesn't know which traveler is the kidnapper or who can be trusted. The action drives to a climatic and emotionally charged ending. Only a predictable twist and moments when Jay's maturity feels beyond her years mar this otherwise satisfying page-turner. Agent: Lorella Belli, Lorella Belli Literary. (Jan.) © Copyright PWxyz, LLC. All rights reserved."
(c) Copyright PWxyz, LLC. All rights reserved
Additional Information