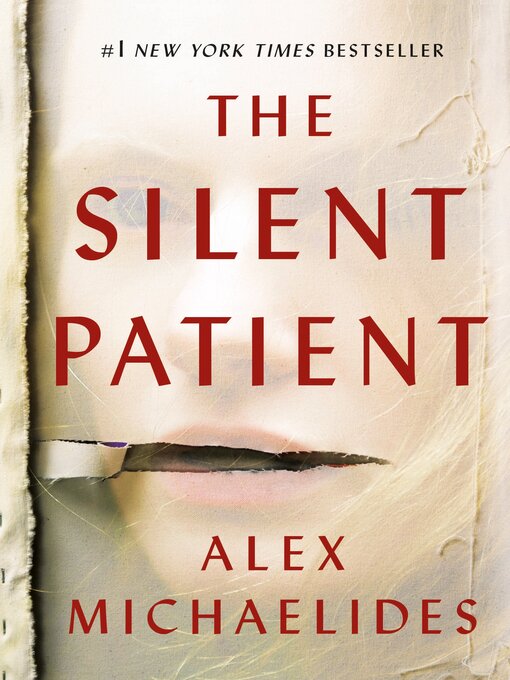 The silent patient.
Format:

OverDrive Read

2019.

Adobe EPUB ebook

Kindle Book

Availability:

Unavailable

0 of 70 copies
430 people on waitlist
Summary
The instant #1 New York Times bestseller
"An unforgettable--and Hollywood-bound--new thriller... A mix of Hitchcockian suspense, Agatha Christie plotting, and Greek tragedy."
-- Entertainment Weekly
The Silent Patient is a shocking psychological thriller of a woman's act of violence against her husband--and of the therapist obsessed with uncovering her motive.
Alicia Berenson's life is seemingly perfect. A famous painter married to an in-demand fashion photographer, she lives in a grand house with big windows overlooking a park in one of London's most desirable areas. One evening her husband Gabriel returns home late from a fashion shoot, and Alicia shoots him five times in the face, and then never speaks another word.
Alicia's refusal to talk, or give any kind of explanation, turns a domestic tragedy into something far grander, a mystery that captures the public imagination and casts Alicia into notoriety. The price of her art skyrockets, and she, the silent patient, is hidden away from the tabloids and spotlight at the Grove, a secure forensic unit in North London.
Theo Faber is a criminal psychotherapist who has waited a long time for the opportunity to work with Alicia. His determination to get her to talk and unravel the mystery of why she shot her husband takes him down a twisting path into his own motivations--a search for the truth that threatens to consume him....
Published Reviews
Booklist Review:
"Alicia Berenson is a famous painter, living a life that many envy with her handsome fashion-photographer husband, Gabriel. With a gorgeous house, complete with a painting studio, and that perfect marriage, Alicia couldn't be happier. Until one day Gabriel comes home late from work, and Alicia shoots him in the face. In the brutal aftermath that leads to an indefinite stay in a psychiatric hospital, Alicia mutely accepts her punishment. Forensic psychotherapist Theo Faber is put in charge of her therapy; however, since the night of the shooting, she hasn't spoken a word. With a nod to Greek mythology, art, and love, debut novelist Michaelides effectively blurs the lines between psychosis and sanity. Multiple story lines are told with a writing style that combines past diary entries with present-day prose, becoming more tangled as they weave together, keeping readers on edge, guessing and second-guessing. The Silent Patient is unputdownable, emotionally chilling, and intense, with a twist that will make even the most seasoned suspense reader break out in a cold sweat.--Erin Holt Copyright 2018 Booklist"
From Booklist, Copyright (c) American Library Association. Used with permission.
Publisher's Weekly Review:
"Psychotherapist Theo Faber, the emotionally fragile narrator of Michaelides's superb first novel, finagles his way to a job at the Grove, a "secure forensic unit" in North London, where artist Alicia Berenson has been housed for six years since she was convicted of murdering her prominent fashion photographer husband, Gabriel. The evidence against Alicia was clear-Gabriel was tied to a chair and shot several times in the face with a gun that had only her fingerprints. Since the day of her arrest, Alicia has never said a word. Before the murder, Alicia painted a provocative self-portrait entitled Alcestis, based on a Greek myth that seemed to echo her life. Her current therapists reluctantly agree to let Theo treat the heavily drugged Alicia to get her to speak. The boundary between doctor and patient blurs as Theo, who admits he became a therapist "because I was fucked-up," seeks to cure his own emotional problems in the course of treating Alicia. This edgy, intricately plotted psychological thriller establishes Michaelides as a major player in the field. 200,000-copy announced first printing. Agent: Sam Copeland, Rogers, Coleridge & White (U.K.). (Feb.) © Copyright PWxyz, LLC. All rights reserved."
(c) Copyright PWxyz, LLC. All rights reserved
Additional Information