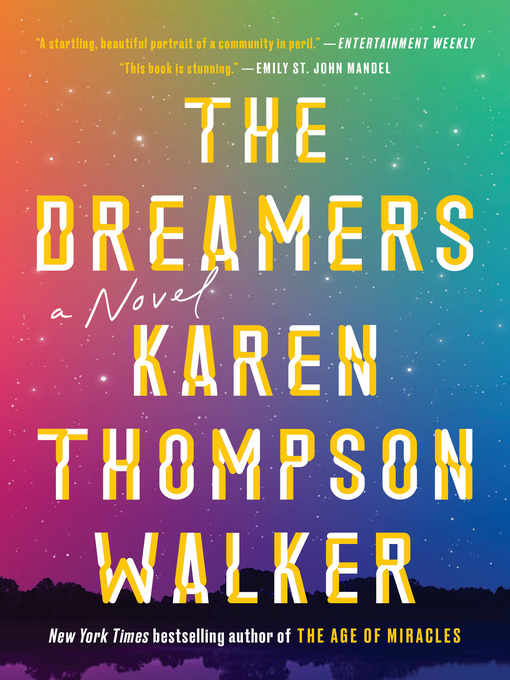 The dreamers A novel.
Format:

OverDrive Read

2019.

Adobe EPUB ebook

Kindle Book

Availability:

Unavailable

0 of 10 copies
21 people on waitlist
Summary
NEW YORK TIMES BOOK REVIEW EDITORS' CHOICE * An ordinary town is transformed by a mysterious illness that triggers perpetual sleep in this mesmerizing novel from the bestselling author of The Age of Miracles .

"Stunning."--Emily St. John Mandel, author of Station Eleven * "A startling, beautiful portrait of a community in peril."-- Entertainment Weekly

One night in an isolated college town in the hills of Southern California, a first-year student stumbles into her dorm room, falls asleep--and doesn't wake up. She sleeps through the morning, into the evening. Her roommate, Mei, cannot rouse her. Neither can the paramedics, nor the perplexed doctors at the hospital. When a second girl falls asleep, and then a third, Mei finds herself thrust together with an eccentric classmate as panic takes hold of the college and spreads to the town. A young couple tries to protect their newborn baby as the once-quiet streets descend into chaos. Two sisters turn to each other for comfort as their survivalist father prepares for disaster.

Those affected by the illness, doctors discover, are displaying unusual levels of brain activity, higher than has ever been recorded before. They are dreaming heightened dreams--but of what?

Written in luminous prose, The Dreamers is a breathtaking and beautiful novel, startling and provocative, about the possibilities contained within a human life--if only we are awakened to them.

Praise for The Dreamers

"Walker's roving fictive eye by turns probes characters' innermost feelings and zooms out to coolly parse topics like reality versus delusion. . . . [It has] the perfect ambiguous frame for a tense and layered plot." -- O: The Oprah Magazine

"[Walker's] gripping, provocative novel should come with a warning: may cause insomnia." -- People (Book of the Week)

"Powerful and moving . . . written with symphonic sweep." -- The New York Times Book Review

"2019's first must-read novel . . . Alternately terrifying and moving . . . The Dreamers is overflowing with humanity." -- Jezebel

"This is an exquisite work of intimacy. Walker's sentences are smooth, emotionally arresting--of a true, ethereal beauty. . . . This book achieves [a] dazzling, aching humanity." -- Entertainment Weekly
Published Reviews
Booklist Review:
"Walker's highly anticipated follow-up to The Age of Miracles (2012) is a similar modern fantasy in which strange things that change the course of the world start to happen to everyday people. In this novel, a sleeping sickness slowly overcomes students at a small Southern California college. By the time anyone recognizes a pattern, it's too late to quarantine the campus (though they try), and the odd malady spreads to the surrounding town. Those stricken suddenly fall asleep and cannot be roused. Tests show that while they are not under any physical duress, they are having vivid dreams. The novel follows an assortment of specific victims, including a college freshman with a secret even she doesn't know, a doomsday-prepper-type and single father of two wild girls, and a mother who leaves a newborn baby and a perplexed husband behind. Readers will be drawn in by the telling as Walker manages to create spare prose that nonetheless conveys great detail, an approach that works well to add a bit of tension to this simultaneously languid and lush tale.--Rebecca Vnuk Copyright 2018 Booklist"
From Booklist, Copyright (c) American Library Association. Used with permission.
Publisher's Weekly Review:
"Walker's richly imaginative and quietly devastating second novel (after The Age of Miracles) begins in a college dorm in an isolated town in the hills of Southern California, where a freshman thinks she is coming down with the flu. In fact, she has a mysterious disease that causes its victims to fall into a deep, dream-laden sleep from which they cannot be woken, and which sometimes leads to death. The disease spreads slowly at first, then more rapidly, and soon the whole town is under a quarantine. The perspective moves smoothly in and out of the minds of several of the college students and town residents, drawing back to look at the entire situation from a detached but compassionate point of view and then plunging back into the minds of those attempting to deal with the escalating problems. Among the characters are Mei, a lonely college freshman; 12-year-old Sara, who copes with an unhinged survivalist father; Sara's neighbors, a faculty couple with a newborn baby; and aging biology professor Nathaniel. As the majority of the people of the town fall victim to the disease, neuropsychiatrist Catherine Cohen, separated from her family by the quarantine, tries desperately to find its cause, until arson at a library that's being used as a makeshift hospital has unintended results on the state of some of the dreamers. The relatively large number of central characters makes it likely that some will succumb to the disease, upping the suspense of the story. Walker jolts the narrative with surprising twists, ensuring it keeps its energy until the end. This is a skillful, complex, and thoroughly satisfying novel about a community in peril. (Jan.) © Copyright PWxyz, LLC. All rights reserved."
(c) Copyright PWxyz, LLC. All rights reserved
Additional Information
Subjects
Electronic books.
Fantasy fiction.

Publisher

[Place of publication not identified] :Random House Publishing Group2019.



Contributors
OverDrive, Inc.

Language

English



System Details

Mode of access: World Wide Web.




Format: Adobe EPUB eBook




Format: Kindle Book




Format: OverDrive Read




Requires Adobe Digital Editions or Amazon Kindle



Description

1 online resource



ISBN
9780812994179
9780812994179

Other
Classic View