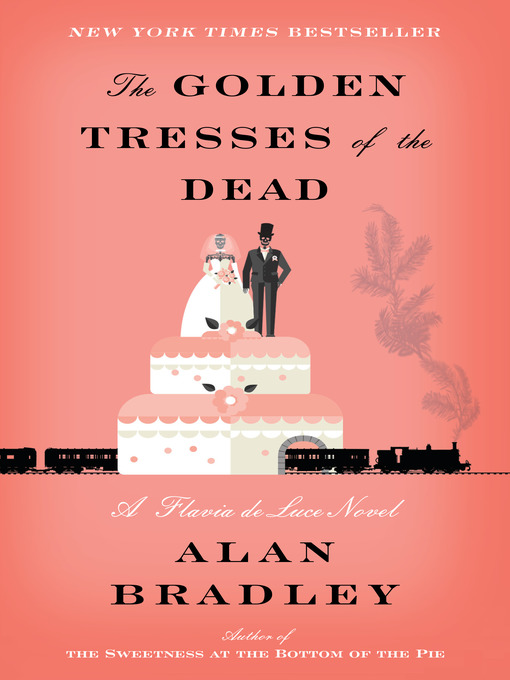 The golden tresses of the dead a Flavia de Luce novel
Format:

Kindle Book

2019

2019

Adobe EPUB ebook

OverDrive Read

Availability:

Available from OverDrive

5 of 6 copies
Summary
"Although it is autumn in the small English town of Bishop's Lacey, the chapel is decked with exotic flowers. Yes, Flavia de Luce's sister Ophelia is at last getting hitched, like a mule to a wagon. "A church is a wonderful place for a wedding," muses Flavia, "surrounded as it is by the legions of the dead, whose listening bones bear silent witness to every promise made at the altar." Flavia is not your normal twelve-year-old girl. An expert in the chemical nature of poisons, she has solved many mysteries, which has sharpened her considerable detection skills to the point where she had little choice but to turn professional. So Flavia and dependable Dogger, estate gardener and sounding board extraordinaire, set up shop at the once-grand mansion of Buckshaw, eager to serve--not so simple an endeavor with her odious, little moon-faced cousin, Undine, constantly underfoot. But Flavia and Dogger persevere. Little does she know that their first case will be extremely close to home, beginning with an unwelcome discovery in Ophelia's wedding cake: a human finger"--

Published Reviews
Booklist Review:
"*Starred Review* Prepare for Arthur Dogger and Associates' first official case, in which 12-year-old Flavia de Luce finally becomes a professional sleuth, with the able help of family gardener and all-around problem solver Dogger. The roller-coaster ride that transpires begins with tears at the wedding of Flavia's sister, Ophelia, prompted by a severed finger in the wedding cake, and extends to death by poisoning (Flavia's special area of expertise), even drawing in some sweet lady missionaries from Africa. Ever self-evaluating, Flavia notes her preteen mood swings, which cleverly mirror the puzzling tangles she and Dogger set out to unravel. The 1950s frame is aptly set with a wealth of period details, including the quaint village of Bishop's Lacey, with its vicarage and altar guild, and Flavia's old-fashioned bicycle named Gladys. Despite the novel's patently improbable plot, Flavia's over-the-top use of alliteration ( ghastly goings-on at the graveside") and proudly precocious, sesquipedalian vocabulary ( I delight in deliquescence ), along with the thoroughly endearing cast of characters, make this series' tenth installment a laugh-out-loud winner. Fans of the brainy Flavia, who dotes on death," will also enjoy the precocious child narrators and mysterious, twisty plots that abound in Annie Hartnett's Rabbit Cake (2017) and Maria Semple's Where'd You Go, Bernadette (2012).--Jen Baker Copyright 2018 Booklist"
From Booklist, Copyright (c) American Library Association. Used with permission.
Publisher's Weekly Review:
"A ghoulish question is at the heart of Bradley's excellent 10th Flavia de Luce novel set in 1950s England (after 2018's The Grave's a Fine and Private Place): "How had an embalmed finger found its way from the hand of a dead woman in a Surrey cemetery into the heart of a wedding cake at Buckshaw?" Though only in her early teens, chemistry prodigy Flavia has formed a private detective agency with Arthur Dogger, her late father's valet, at the family estate of Buckshaw. The discovery at her sister Ophelia's wedding of the severed digit-which turns out to have come from the corpse of a guitar impresario-presents Flavia and Dogger with her first case. Meanwhile, the sleuths get their first client when Anastasia Prill asks for their help in recovering some sensitive stolen letters relating to her father's homeopathic practice, an inquiry that turns into a homicide investigation. Bradley, who has few peers at combining fair-play clueing with humor and has fun mocking genre conventions, shows no sign of running out of ideas. Agent: Denise Bukowski, Bukowski Agency. (Jan.) © Copyright PWxyz, LLC. All rights reserved."
(c) Copyright PWxyz, LLC. All rights reserved
Additional Information