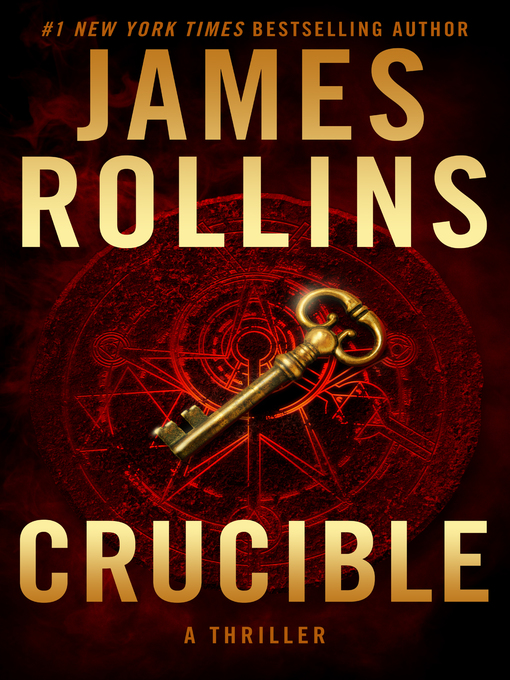 Crucible a thriller
Format:

OverDrive Read

2019.

Adobe EPUB ebook

Kindle Book

Availability:

Unavailable

0 of 6 copies
1 person on waitlist
Summary
In the race to save one of their own, Sigma Force must wrestle with the deepest spiritual mysteries of mankind in this mind-expanding adventure from the #1 New York Times bestselling author, told with his trademark blend of cutting edge science, historical mystery, and pulse-pounding action.
Arriving home on Christmas Eve, Commander Gray Pierce discovers his house ransacked, his pregnant lover missing, and his best friend's wife, Kat, unconscious on the kitchen floor. With no shred of evidence to follow, his one hope to find the woman he loves and his unborn child is Kat, the only witness to what happened. But the injured woman is in a semi-comatose state and cannot speak--until a brilliant neurologist offers a radical approach to "unlock" her mind long enough to ask a few questions.
What Pierce learns from Kat sets Sigma Force on a frantic quest for answers that are connected to mysteries reaching back to the Spanish Inquisition and to one of the most reviled and blood-soaked books in human history--a Medieval text known as the Malleus Maleficarum, the Hammer of Witches. What they uncover hidden deep in the past will reveal a frightening truth in the present and a future on the brink of annihilation, and force them to confront the ultimate question: What does it mean to have a soul?
Published Reviews
Booklist Review:
"Rollins' latest mix of science and history is one of his most exciting and most terrifying books to date. Sigma Force has been attacked, and Commander Gray Pierce and his cohort, Monk, arrive at Pierce's home to find Monk's wife, Kat, comatose on the kitchen floor. Pierce's fiancée and Monk's two kids are nowhere to be found. The team also has its hands full trying to track down the culprits responsible for the murder of several scientists who appeared to have made a breakthrough in the world of artificial intelligence. Add a real-life medieval text known as the Malleus Maleficarum, or Hammer of Witches, which was responsible for countless deaths of people accused of practicing witchcraft, and the result is a fantastic read for those who love high-concept adventure. All of the propulsive narrative elements that Rollins' fans expect are on full display in this guaranteed crowd-pleaser, which offers a deep dive into the scary realm of a future in which technology threatens to run amok. Rollins has truly secured his claim as heir to the best of Michael Crichton.--Jeff Ayers Copyright 2019 Booklist"
From Booklist, Copyright (c) American Library Association. Used with permission.
Additional Information