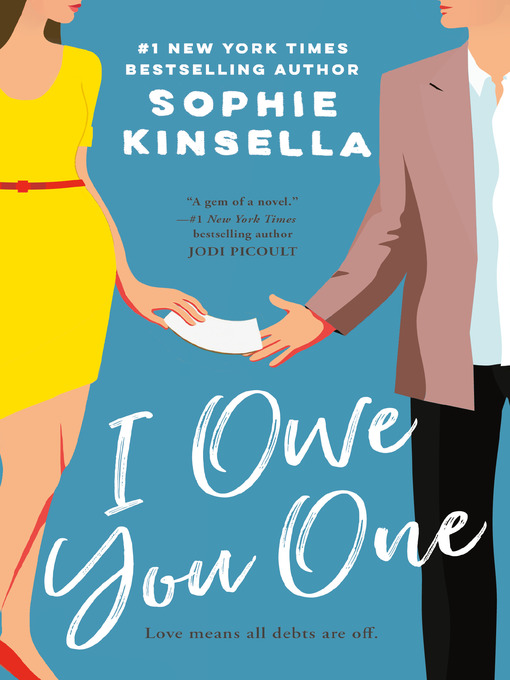 I owe you one a novel
Format:

Kindle Book

2019

2019

Adobe EPUB ebook

OverDrive Read

Availability:

Unavailable

0 of 34 copies
4 people on waitlist
Summary
"From #1 New York Times bestselling author Sophie Kinsella, an irresistible story of love and empowerment about a young woman with a complicated family, a handsome man who might be "the one," and an IOU that changes everything. Fixie Farr has always lived by her father's motto: "Family first." But ever since her dad passed away, leaving his charming kitchen supply store in the hands of his children, Fixie spends all her time picking up the slack from her siblings instead of striking out on her own. The way Fixie sees it, if she doesn't take care of her father's legacy, who will? It's simply not in Fixie's nature to tell people "no." So when a handsome stranger in a coffee shop asks her to watch his laptop for a moment, Fixie not only agrees--she ends up saving it from certain disaster. Turns out the computer's owner is an investment manager named Sebastian. To thank Fixie for her quick thinking, he scribbles an IOU on a coffee sleeve and attaches his business card. But Fixie laughs it off--she'd never actually claim an IOU from a stranger. Would she? Then Fixie's childhood crush Ryan comes back into her life and his lack of a profession pushes all of Fixie's buttons. She wants nothing for herself, but for Seb to give Ryan a job. And Seb agrees, until the tables are turned once more and a new series of IOU's between Seb and Fixie--from small favors to life-changing moments--ensue. Soon Fixie, Ms. Fixit for everyone else, is torn between her family and the life she really wants. Does she have the courage to take a stand for herself? Will she finally grab the life, and love, she really wants?"--

Published Reviews
Booklist Review:
"Kinsella's latest recounts the misadventures of Fixie Farr, a young woman trying to keep her family's home-goods store afloat. When Fixie's mother has to take an extended leave from work, she entrusts the operation to Fixie and her older siblings, slick businessman Jake and flaky yoga aficionado Nicole. While Fixie wants to keep things as they are, Jake and Nicole have grand and expensive plans to modernize. Further complicating matters are two attractive men in Fixie's life: Seb, whose laptop Fixie rescues from certain doom in a coffee shop, and Ryan, her childhood crush, who is newly returned from Los Angeles and finally interested in a relationship with her. Fixie decides to use the titular IOU that Seb gratefully gave her to get him to hire Ryan at his investment company, which she hopes will pave the way for her and Ryan to become a couple. Naturally, nothing goes as planned, leading Fixie to reconsider who and what she really wants. Kinsella (Surprise Me, 2018) again provides a delightful, irresistible romp.--Kristine Huntley Copyright 2018 Booklist"
From Booklist, Copyright (c) American Library Association. Used with permission.
Publisher's Weekly Review:
"Kinsella (Surprise Me) offers another winning novel, this one revolving around Fixie Farr, the youngest of three siblings, and Farrs, the home-goods store her deceased father created. When Fixie's mother, who's been running their West London store primarily with Fixie over the nine years since her husband's death, visits her sister in Spain for a long overdue vacation, everything goes awry-particularly since Fixie has trouble when it comes to facing down her siblings. Oldest brother Jake, dazzled by everything posh, wants to turn the store into an upscale shop of overpriced merchandise, while airheaded Nicole wants to transform it into a yoga destination-both oblivious to the store's bottom line. Then Ryan Chalker, Fixie's forever crush who abandoned her to make it big in L.A., returns to the U.K. and keeps upending her life with on-again/off-again promises of a relationship. In the midst of the mayhem, Fixie does a favor for a handsome investment manager named Seb Marlowe, and the IOU he gives her becomes a back-and-forth transaction between them that starts as a flirtation, then becomes more complicated, and finally deepens into something more substantial. Kinsella's reliable mix of humor and spot-on insights into both romantic and familial relationships adds spice as Fixie finally learns to take charge and speak her mind, making this a surefire hit for Kinsella's fans. (Feb.) © Copyright PWxyz, LLC. All rights reserved."
(c) Copyright PWxyz, LLC. All rights reserved
Additional Information