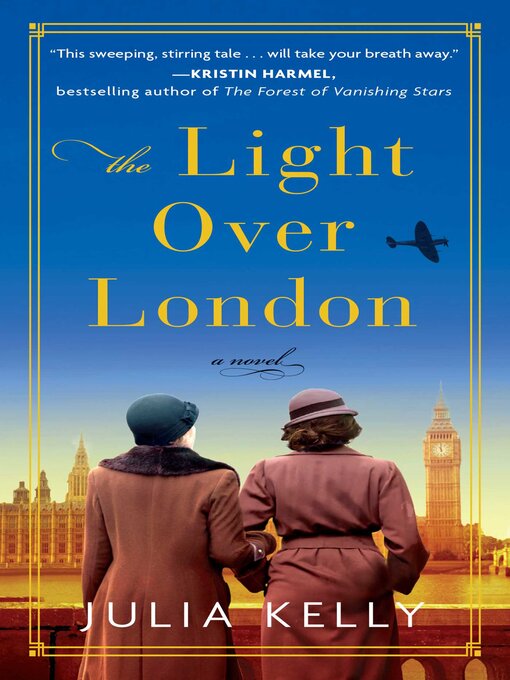 The light over London
Format:

OverDrive Read

2019.

Adobe EPUB ebook

Kindle Book

Availability:

Unavailable

0 of 6 copies
14 people on waitlist
Summary
Reminiscent of Martha Hall Kelly's Lilac Girls and Kristin Hannah's The Nightingale , this sweeping, entrancing story is a must-read for fans of remarkable women rising to challenges they could never have predicted.

It's always been easier for Cara Hargraves to bury herself in the past than confront the present, which is why working with a gruff but brilliant antiques dealer is perfect. While clearing out an estate, she pries open an old tin that holds the relics of a lost relationship: among the treasures, a World War II-era diary and a photograph of a young woman in uniform. Eager to find the author of the hauntingly beautiful, unfinished diary, Cara digs into this soldier's life, but soon realizes she may not have been ready for the stark reality of wartime London she finds within the pages.

In 1941, nineteen-year-old Louise Keene's life had been decided for her--she'll wait at home in her Cornish village until her wealthy suitor returns from war to ask for her hand. But when Louise unexpectedly meets Flight Lieutenant Paul Bolton, a dashing RAF pilot stationed at a local base, everything changes. And changes again when Paul's unit is deployed without warning.

Desperate for a larger life, Louise joins the women's branch of the British Army in the anti-aircraft gun unit as a Gunner Girl. As bombs fall on London, she and the other Gunner Girls relish in their duties to be exact in their calculations, and quick in their identification of enemy planes during air raids. The only thing that gets Louise through those dark, bullet-filled nights is knowing she and Paul will be together when the war is over. But when a bundle of her letters to him are returned unanswered, she learns that wartime romance can have a much darker side.

Illuminating the story of these two women separated by generations and experience, Julia Kelly transports us to World War II London in this heartbreakingly beautiful novel through forgotten antique treasures, remembered triumphs, and fierce family ties.
Published Reviews
Booklist Review:
"In present-day Gloucestershire, recently divorced Cara Hargraves is working for an antiques dealer when she discovers a mysterious journal that tells the story of a wartime romance. Cara enlists the help of her handsome neighbor, Liam, to uncover the identity of the journal's author, while also grappling with her own failed marriage and secrets from her beloved grandmother's past. Meanwhile, in 1941 Cornwall, the journal's author, Louise Keene, is swept into a whirlwind courtship with charming RAF pilot Paul Bolton. When her parents won't support the match, Louise joins the army's antiaircraft-gun unit, before eventually discovering that her desire for a life of her own choosing might be at odds with the future she envisions with Paul. While there is nothing particularly surprising about a couple of big reveals in the final chapters, Kelly has crafted two convincing, conflicted heroines in Cara and Louise, and the resolution of Louise's romance is satisfyingly empowering. Hand this to fans of Jennifer Egan's Manhattan Beach (2017) and other tales of the vital roles played by women in wartime.--Martha Waters Copyright 2018 Booklist"
From Booklist, Copyright (c) American Library Association. Used with permission.
Publisher's Weekly Review:
"Prolific romance writer Kelly (The Look of Love) weaves an intricate, tender, and convincing tale of war and romance with skill and suspense. In 2017 London, assistant antique dealer Cara Hargraves discovers a WWII diary while preparing a manor house for an estate sale. Intrigued, Cara determines to identify the diarist and uncover her story. The diary's entries begin in 1940, written, as Cara discovers, by 19-year-old Cornwall shopgirl Louise Keene. As Cara recovers from a devastating divorce, she and her handsome neighbor Liam McGown, who works with Cara, learn much about the diary's author. Louise falls in love with dashing RAF pilot Paul Bolton, but her mother angrily disapproves, leading Louise to run away to London, join the British army, and become part of the female crew of an antiaircraft gun protecting London during the Blitz. Though Louise has a difficult personal life with Paul, she proves her independence and courage as a "gunner girl" shooting at German bombers. This is a bold story of a young woman's innocence and heartache, and her satisfying discovery of her worth and inner strength. (Jan.) © Copyright PWxyz, LLC. All rights reserved."
(c) Copyright PWxyz, LLC. All rights reserved
Additional Information