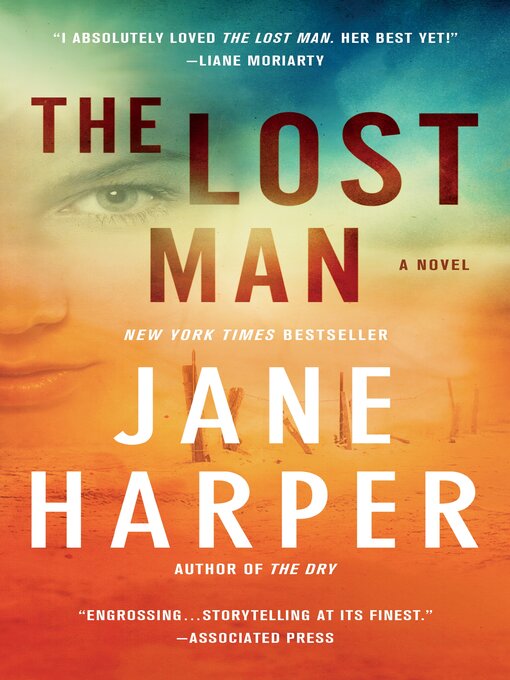 The lost man
Format:

OverDrive Read

2019.

Adobe EPUB ebook

Kindle Book

Availability:

Unavailable

0 of 13 copies
26 people on waitlist
Summary
Two brothers meet in the remote Australian outback when the third brother is found dead, in this stunning new standalone novel from New York Times bestseller Jane Harper
Brothers Nathan and Bub Bright meet for the first time in months at the remote fence line separating their cattle ranches in the lonely outback.
Their third brother, Cameron, lies dead at their feet.
In an isolated belt of Australia, their homes a three-hour drive apart, the brothers were one another's nearest neighbors. Cameron was the middle child, the one who ran the family homestead. But something made him head out alone under the unrelenting sun.
Nathan, Bub and Nathan's son return to Cameron's ranch and to those left behind by his passing: his wife, his daughters, and his mother, as well as their long-time employee and two recently hired seasonal workers.
While they grieve Cameron's loss, suspicion starts to take hold, and Nathan is forced to examine secrets the family would rather leave in the past. Because if someone forced Cameron to his death, the isolation of the outback leaves few suspects.
A powerful and brutal story of suspense set against a formidable landscape, The Lost Man confirms Jane Harper, author of The Dry and Force of Nature, is one of the best new voices in writing today.
Published Reviews
Booklist Review:
"New York Times best-selling Harper's two earlier novels were both constructed around the harsher extremes of the Australian outback, and in this one we experience the isolated and inhospitable desert in Queensland. It is a brutal existence for the ranchers who live and work there, in relentless heat, hours away from any vestige of civilization. When the sun-baked body of Cam Bright, experienced at desert survival, is found by his brothers adjacent to a lone headstone in the middle of nowhere, marking the stockman's grave, they are hard pressed to find an explanation. The answer is found only by revisiting their childhood, which was hobbled by a battered mother and flooded with terror by an abusive father. The atmosphere is so thick you can taste the red-clay dust, and the folklore surrounding the mysterious stockman adds an additional edge to an already dark and intense narrative. The truth is revealed in a surprising ending that reveals how far someone will go to preserve a life worth living in a place at once loathed and loved.--Jane Murphy Copyright 2018 Booklist"
From Booklist, Copyright (c) American Library Association. Used with permission.
Publisher's Weekly Review:
"Australia's outback, with its brutal climate and equally bruising isolation, looms as large as any character in this stark standalone from bestseller Harper (Force of Nature). For years, the three Bright brothers-divorced dad Nathan, the eldest; family man and everybody's favorite, middle child Cameron; and the mentally challenged youngest, Bub-have maintained an uneasy equilibrium on adjacent cattle ranches. That flies out the window the week before Christmas when Cameron goes missing; his desiccated corpse is subsequently discovered a few miles from his perfectly operational truck in the shadow of the eerie headstone known as the stockman's grave. Absent any clear indications of foul play, the local authorities undertake a perfunctory investigation, leaving a troubled Nathan to start asking questions that no one wants to answer. In the grim journey that follows, the surviving members of the Bright family must confront some devastating secrets. Harper's sinewy prose and flinty characters compel, but the dreary story line may cause some readers to give up before the jaw-dropping denouement. Author tour. Agent: Daniel Lazar, Writers House. (Feb.) © Copyright PWxyz, LLC. All rights reserved."
(c) Copyright PWxyz, LLC. All rights reserved
Additional Information