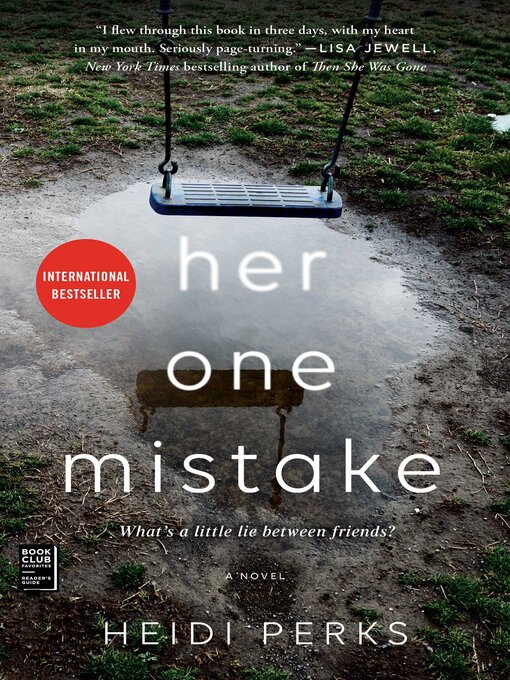 Her one mistake
Format:

OverDrive Read

2019.

Adobe EPUB ebook

Kindle Book

Availability:

Unavailable

0 of 5 copies
14 people on waitlist
Summary
What should have been a fun-filled, carefree day takes a tragic turn for the worse for one mother when her best friend's child goes missing in this "seriously page-turning" (Lisa Jewell, New York Times bestselling author), suspenseful, and darkly twisted psychological thriller.

Charlotte was supposed to be looking after the children, and she swears she was. But while her three kids are all safe and sound at the school fair, Alice, her best friend Harriet's daughter, is nowhere to be found. Frantically searching everywhere, Charlotte knows she must find the courage to tell Harriet that her beloved only child is missing--and admit that she's solely to blame.

Harriet, devastated by this unbearable loss, can no longer bring herself to speak to Charlotte again, much less trust her. Now, more isolated than ever and struggling to keep her marriage afloat, Harriet believes nothing and no one. But as the police bear down on both women, trying to piece together the puzzle of what happened to this little girl, dark secrets begin to surface--and Harriet discovers that trusting Charlotte again may be the only thing that will reunite her with her daughter....

This breathless and fast-paced novel--perfect for fans of Big Little Lies and The Couple Next Door --takes you on a chilling journey that will keep you guessing until the very last page.
Published Reviews
Booklist Review:
"Published earlier this year in the UK as Now You See Her, this domestic suspense debut is sure to be a hit with U.S. readers, as well. Charlotte and Harriet, the best friends who narrate the novel, bonded over losses in their individual pasts Harriet's dead father, Charlotte's divorce and over the daily trials of raising a family. When Harriet wants to take a bookkeeping class, Charlotte jumps at the chance to help her. She takes Harriet's daughter, Alice, to a festival at the local school, and then, in the instant Charlotte looks at her phone, Alice disappears. The novel is divided into two parts, and the primary character in each speaks in first person. The innovative structure bounces around in time, as well, keeping the reader engaged and guessing through the slow-burn beginning as everyone tries to find out where Alice went and who is at fault. Once the pace takes off, the twists come fast. Perks is an author to watch, and this examination of true female friendship will appeal to many.--Cari Dubiel Copyright 2018 Booklist"
From Booklist, Copyright (c) American Library Association. Used with permission.
Publisher's Weekly Review:
"Charlotte Reynolds and Harriet Hodder, the protagonists of Perks's gripping if flawed first novel, have become best friends in their English village of Chiddenford. Their relationship is forged through discussions about their children and Charlotte's recent separation from her husband, Tom. One day, Charlotte jumps at the chance to take Harriet's four-year-old daughter, Alice, to the local fair, since her friend has often helped with Charlotte's youngest child. But within minutes of arriving, Alice disappears while playing on a slide with Charlotte's two older children. Harriet is devastated, as is her controlling husband, Brian. Both women's secrets begin to spill during the intense police investigation. Empathy soars for Harriet, who can barely function without her child, and for Charlotte, who must deal with the scrutiny of her neighbors and the police for not paying attention to the children when Alice vanished. Most of the plot and the denouement are realistic, but a twist inconsistent with one character's persona jars. Still, fans of domestic thrillers will look forward to Perks's second outing. Agent: Nelle Andrew, Peters, Fraser & Dunlop (U.K.). (Jan.) © Copyright PWxyz, LLC. All rights reserved."
(c) Copyright PWxyz, LLC. All rights reserved
Additional Information
Subjects
Electronic books.
Suspense fiction.
Thrillers (Fiction).

Publisher

[Place of publication not identified] :Gallery Books2019.



Contributors
OverDrive, Inc.

Language

English



System Details

Mode of access: World Wide Web.




Format: Adobe EPUB eBook




Format: Kindle Book




Format: OverDrive Read




Requires Adobe Digital Editions or Amazon Kindle



Description

1 online resource



ISBN
9781501194238
9781501194238

Other
Classic View