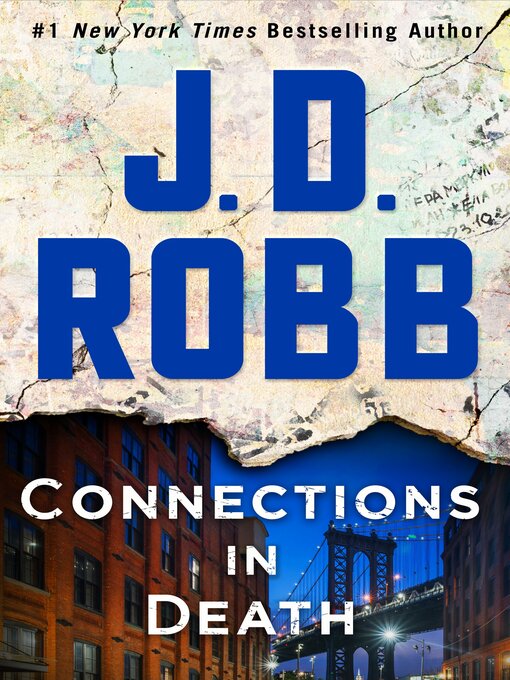 Connections in death an Eve Dallas novel
Format:

Kindle Book

2019

2019

Adobe EPUB ebook

OverDrive Read

Availability:

Available from OverDrive

1 of 19 copies
Summary
In this gritty and gripping new novel in the #1 New York Times bestselling series, Eve Dallas fights to save the innocent--and serve justice to the guilty--on the streets of New York. Homicide cop Eve Dallas and her billionaire husband, Roarke, are building a brand-new school and youth shelter. They know that the hard life can lead kids toward dangerous crossroads--and with this new project, they hope to nudge a few more of them onto the right path. For expert help, they hire child psychologist Dr. Rochelle Pickering--whose own brother pulled himself out of a spiral of addiction and crime with Rochelle's support. Lyle is living with Rochelle while he gets his life together, and he's thrilled to hear about his sister's new job offer. But within hours, triumph is followed by tragedy. Returning from a celebratory dinner with her boyfriend, she finds Lyle dead with a syringe in his lap, and Eve's investigation confirms that this wasn't just another OD. After all his work to get clean, Lyle's been pumped full of poison--and a neighbor with a peephole reports seeing a scruffy, pink-haired girl fleeing the scene. Now Eve and Roarke must venture into the gang territory where Lyle used to run, and the ugly underground world of tattoo parlors and strip joints where everyone has taken a wrong turn somewhere. They both believe in giving people a second chance. Maybe even a third or fourth. But as far as they're concerned, whoever gave the order on Lyle Pickering's murder has run out of chances...

Published Reviews
Booklist Review:
"NYPD Lieutenant Eve Dallas knows that most murderers are not geniuses, but whoever killed Lyle Pickering really was an idiot. Although the killer may have tried to make it look like Lyle died of a self-inflicted overdose, all the clues left behind at the crime scene point to murder. Put this together with the fact that Lyle had been clean and sober for two years, and that his sister, Dr. Rochelle Pickering, believes he had turned his life around completely, and Eve has more than enough ammunition to open a new case. Robb, otherwise known as the best-selling romance star Nora Roberts, takes her Teflon-tough heroine into the dark and dangerous world of New York City gangs in the forty-eighth nail-biting addition to the wildly popular Eve Dallas series. Dallas fans will be eager for a new Robb title, and this gritty, intense, and sexy procedural will have them reading way past their normal bedtimes.--John Charles Copyright 2018 Booklist"
From Booklist, Copyright (c) American Library Association. Used with permission.
Publisher's Weekly Review:
"Set in New York City in 2061, bestseller Robb's 48th thriller featuring Lt. Eve Dallas (after 2018's Leverage in Death) offers an unremarkable plot and a future that includes minor technological advances but no evidence of the impact of such major concerns of today as global warming and cyber terror. Eve's husband, Roarke, a businessman and philanthropist, has decided to offer Rochelle Pickering, a highly qualified doctor whose younger brother, Lyle, has served prison time and has a history of substance abuse, the post of head therapist at a new treatment facility for troubled youth in Hell's Kitchen. But before the paperwork for the job offer is finalized, Lyle turns up dead of an apparent accidental overdose in the apartment that he and Rochelle shared. Eve finds evidence of foul play, and the rest of the story unfolds along standard police procedural lines. Those who like steamy sex scenes ("When his release came, it slashed like blades to open him, to empty him") and don't mind underdeveloped characterizations will be rewarded. 750,000copy announced first printing. Agent: Amy Berkower, Writers House. (Feb.) © Copyright PWxyz, LLC. All rights reserved."
(c) Copyright PWxyz, LLC. All rights reserved
Additional Information