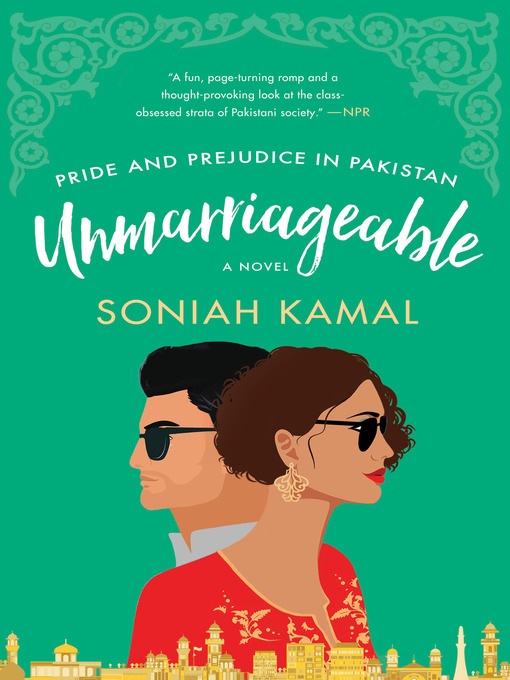 Unmarriageable A Novel
Format:

Kindle Book

2019

2019

Adobe EPUB ebook

OverDrive Read

Availability:

Available from OverDrive

5 of 5 copies
1 person on waitlist
Summary
In this one-of-a-kind retelling of Pride and Prejudice set in modern-day Pakistan, Alys Binat has sworn never to marry—until an encounter with one Mr. Darsee at a wedding makes her reconsider. A scandal and vicious rumor concerning the Binat family have destroyed their fortune and prospects for desirable marriages, but Alys, the second and most practical of the five Binat daughters, has found happiness teaching English literature to schoolgirls. Knowing that many of her students won't make it to graduation before dropping out to marry and have children, Alys teaches them about Jane Austen and her other literary heroes and hopes to inspire the girls to dream of more. When an invitation arrives to the biggest wedding their small town has seen in years, Mrs. Binat, certain that their luck is about to change, excitedly sets to work preparing her daughters to fish for rich, eligible bachelors. On the first night of the festivities, Alys's lovely older sister, Jena, catches the eye of Fahad "Bungles" Bingla, the wildly successful—and single—entrepreneur. But Bungles's friend Valentine Darsee is clearly unimpressed by the Binat family. Alys accidentally overhears his unflattering assessment of her and quickly dismisses him and his snobbish ways. As the days of lavish wedding parties unfold, the Binats wait breathlessly to see if Jena will land a proposal—and Alys begins to realize that Darsee's brusque manner may be hiding a very different man from the one she saw at first glance. Told with wry wit and colorful prose, Unmarriageable is a charming update on Jane Austen's beloved novel and an exhilarating exploration of love, marriage, class, and sisterhood.Advance praise for Unmarriageable "[A] funny, sometimes romantic, often thought-provoking glimpse into Pakistani culture, one which adroitly illustrates the double standards women face when navigating sex, love, and marriage. This is a must-read for devout Austenites."—Publishers Weekly (starred review) "Unmarriageable is a joy to read! It transforms a familiar story into something new and fresh and different, but keeps all of the warmth and intelligence of the original. I loved everything about these characters and spending time in their world."—Jasmine Guillory, author of The Wedding Date "Unmarriageable raises an eyebrow at a society that views marriage as the ultimate prize for women. Crackling with witty dialogue, family tensions, humor, and rich details of life in contemporary Pakistan, it tells an entirely new story about love, luck, and literature."—Balli Kaur Jaswal

Published Reviews
Booklist Review:
"Alys Binat, the second of five daughters, is an independent, forward-thinking English teacher in Pakistan or, as Alys likes to call it, the home of the marriage-industrial complex. When the rich and handsome Bungles becomes smitten with Alys' older sister, her family eagerly awaits an advantageous proposal. The classic plot unfolds, but with rich descriptions of colorful, chiffon anarkalis instead of empire-waist gowns, chai and samosas instead of tea and scones. Kamal's adaptation of Pride and Prejudice is faithful, with scene-by-scene recreations that will inevitably cause the reader to picture Austen's original at the same time. Mrs. Binat beautifies her daughters with chickpea masks; Mari bores her sisters with Islamic preachings. That juxtaposition along with plenty of metareferential allusions are what makes this version so much fun. Even the most devoted Austenites will be surprised with how much they judge Darsee as arrogant in the beginning of the novel yet suddenly adore him in the end. This love letter to Austen reexamines sisterhood, society, and marriage in Pakistani culture and includes a fleshed-out epilogue that will satisfy today's readers.--Biz Hyzy Copyright 2018 Booklist"
From Booklist, Copyright (c) American Library Association. Used with permission.
Publisher's Weekly Review:
"Kamal (An Isolated Incident) masterfully transports Jane Austen's Pride & Prejudice from Regency England to modern-day Pakistan in this excellent retelling. Alys Binat, 30, and her sister, Jena, 32, are teachers at the British School of Dilipabad and are considered spinsters by the standards of their community and their obsessively matchmaking mother, who still grieves the loss of the Binats' wealthy lifestyle years ago after they were bilked by a family member. Upon receiving invitations to the wedding of a family friend, Mrs. Binat turns her considerable talents to preparing her five daughters to land rich husbands to secure their family's future. Enter the handsome, genial Fahad "Bungles" Bengla, who is instantly taken with Jena, and his best friend, the intense Valentine Darsee, who wastes little time offending Alys's pride and earning her scorn. What ensues is a funny, sometimes romantic, often thought-provoking glimpse into Pakistani culture, one which adroitly illustrates the double standards women face when navigating sex, love, and marriage. This is a must-read for devout Austenites. (Jan.) © Copyright PWxyz, LLC. All rights reserved."
(c) Copyright PWxyz, LLC. All rights reserved
Additional Information