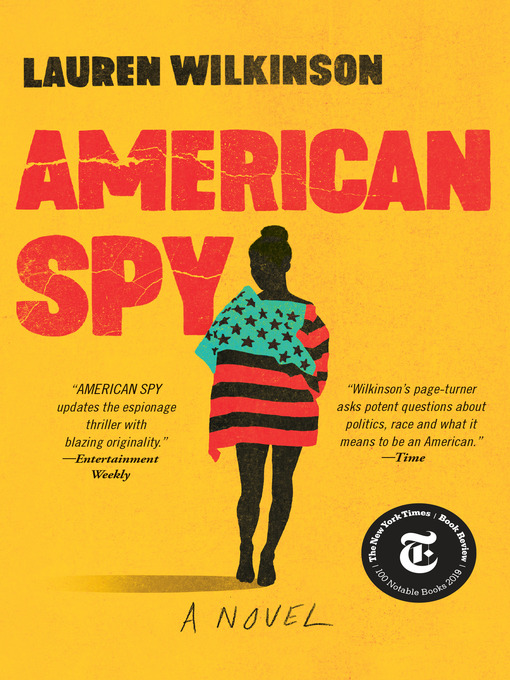 American spy a novel
Format:

Kindle Book

2019

2019

Adobe EPUB ebook

OverDrive Read

Availability:

Unavailable

0 of 16 copies
65 people on waitlist
Summary
"American Spy updates the espionage thriller with blazing originality."—Entertainment Weekly"There has never been anything like it."—Marlon James, GQ"So much fun . . . Like the best of John le Carré, it's extremely tough to put down."—NPRNAMED ONE OF THE TEN BEST BOOKS OF THE YEAR BY CHICAGO TRIBUNE AND ONE OF THE BEST BOOKS OF THE YEAR BY The New York Times Book Review • Time • NPREntertainment Weekly • Esquire • BuzzFeed • Vulture • Real Simple • Good Housekeeping • The New York Public LibraryWhat if your sense of duty required you to betray the man you love? It's 1986, the heart of the Cold War, and Marie Mitchell is an intelligence officer with the FBI. She's brilliant, but she's also a young black woman working in an old boys' club. Her career has stalled out, she's overlooked for every high-profile squad, and her days are filled with monotonous paperwork. So when she's given the opportunity to join a shadowy task force aimed at undermining Thomas Sankara, the charismatic revolutionary president of Burkina Faso whose Communist ideology has made him a target for American intervention, she says yes. Yes, even though she secretly admires the work Sankara is doing for his country. Yes, even though she is still grieving the mysterious death of her sister, whose example led Marie to this career path in the first place. Yes, even though a furious part of her suspects she's being offered the job because of her appearance and not her talent. In the year that follows, Marie will observe Sankara, seduce him, and ultimately have a hand in the coup that will bring him down. But doing so will change everything she believes about what it means to be a spy, a lover, a sister, and a good American. Inspired by true events—Thomas Sankara is known as "Africa's Che Guevara"—American Spy knits together a gripping spy thriller, a heartbreaking family drama, and a passionate romance. This is a face of the Cold War you've never seen before, and it introduces a powerful new literary voice.NOMINATED FOR THE NAACP IMAGE AWARD • Shortlisted for the Center for Fiction First Novel Prize"Spy fiction plus allegory, and a splash of pan-Africanism. What could go wrong? As it happens, very little. Clever, bracing, darkly funny, and really, really good."—Ta-Nehisi Coates"Inspired by real events, this espionage thriller ticks all the right boxes, delivering a sexually charged interrogation of both politics and race."—Esquire "Echoing the stoic cynicism of Hurston and Ellison, and the verve of Conan Doyle, American Spy lays our complicities—political, racial, and sexual—bare. Packed with unforgettable characters, it's a stunning book, timely as it is timeless."—Paul Beatty, Man Booker Prizewinning author of The Sellout

Published Reviews
Booklist Review:
"*Starred Review* As Wilkinson's first novel begins, in 1992, Marie flees her Connecticut home with her four-year-old twin sons after narrowly escaping a murderous intruder. The assailant wasn't altogether unexpected, and her sons, Marie also expects, will want to know more someday. When they reach safety, she begins writing her story for the boys to read when they're older, starting with her Cold War girlhood in Queens with a policeman father and a steely older sister she'd follow into government work. Underrecognized while working for the FBI in 1986, Marie accepts a CIA assignment to get close to Burkina Faso president Thomas Sankara. Operating under an alias in Burkina Faso's capital, Marie is struck by how in New York she always felt her blackness preceded her Americanness, but in Africa she is an American a foreigner first. Brilliant Marie knows that her mission's ostensible goal of ensuring democracy can't be its only one and finds it hard to believe that well-intentioned Thomas is a dangerous dictator. Wilkinson works within the true history of Burkina Faso, blending high-stakes political drama and Marie's contemplation of the sister she lost and what her own choices will mean for her sons. Appealing in its insightful characterizations, well-plotted action, and rich settings, this should find a large audience.--Annie Bostrom Copyright 2019 Booklist"
From Booklist, Copyright (c) American Library Association. Used with permission.
Publisher's Weekly Review:
"Wilkinson's unflinching, incendiary debut combines the espionage novels of John le CarrAc with the racial complexity of Ralph Ellison's Invisible Man. Marie Mitchell, the daughter of a Harlem-born cop and a Martinican mother, is an operative with the FBI in the mid-'80s peak of the Cold War. Marie is languishing in the bureaucratic doldrums of the agency, a black woman stultified by institutional prejudice relegated to running snitches associated with Pan-African movements with Communist links. All this changes when she is tapped by the CIA to insinuate herself with Thomas Sankara, the charismatic new leader of Burkina Faso, in a concerted effort to destabilize his fledgling government and sway them toward U.S. interests. Now the key player in a honeypot scheme to entrap Sankara, Marie finds herself questioning her loyalties as she edges closer to both Sankara and the insidious intentions of her handlers abroad. In the bargain, she also hopes to learn the circumstances surrounding the mysterious death of her elder sister, Helene, whose tragically short career in the intelligence community preceded Marie's own. Written as a confession addressed to her twin sons following an assassination attempt on her life, the novel is a thrilling, razor-sharp examination of race, nationalism, and U.S. foreign policy that is certain to make Wilkinson's name as one of the most engaging and perceptive young writers working today. Marie is a brilliant narrator who is forthright, direct, and impervious to deception-traits that endow the story with an honesty that is as refreshing as it is revelatory. This urgent and adventurous novel will delight fans of literary fiction and spy novels alike. Agent: Kristina Moore, Wylie Agency. (Feb.) © Copyright PWxyz, LLC. All rights reserved."
(c) Copyright PWxyz, LLC. All rights reserved
Additional Information