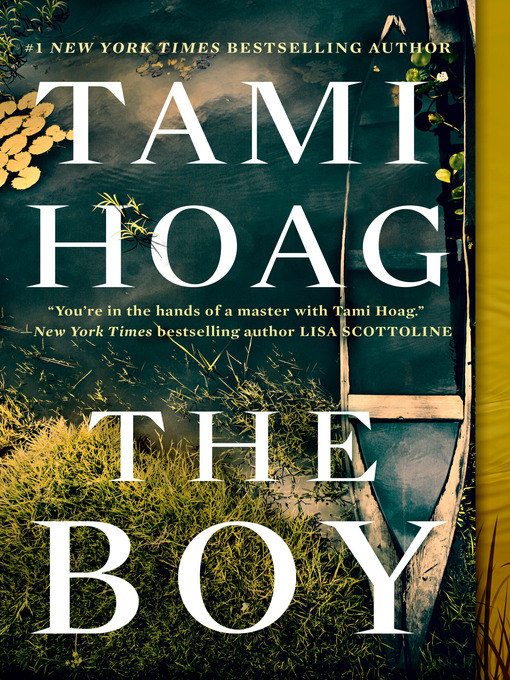 The boy a novel
Format:

Kindle Book

2018

2018

Adobe EPUB ebook

OverDrive Read

Availability:

Unavailable

0 of 11 copies
4 people on waitlist
Summary
"When Detective Nick Fourcade enters the home of Genevieve Gauthier outside the sleepy town of Bayou Breaux, Louisiana, the bloody crime scene that awaits him is both the most brutal and the most confusing he's ever seen. Genevieve's seven-year-old son, KJ, has been murdered by an alleged intruder, yet Genevieve is alive and well, a witness inexplicably left behind to tell the tale. There is no evidence of forced entry, not a clue that points to a motive. Meanwhile, Nick's wife, Detective Annie Broussard, sits in the emergency room with the grieving Genevieve. A mother herself, Annie understands the emotional devastation this woman is going through, but as a detective she's troubled by a story that makes little sense. Who would murder a child and leave the only witness behind? When the very next day KJ's sometimes babysitter, twelve-year-old Nora Florette, is reported missing, the town is up in arms, fearing a maniac is preying on their children. With pressure mounting from a tough, no-nonsense new sheriff, the media, and the parents of Bayou Breaux, Nick and Annie dig deep into the dual mysteries. But sifting through Genevieve Gauthier's tangled web of lovers and sorting through a cast of local lowlifes brings more questions than answers. Is someone from Genevieve's past or present responsible for the death of her son? Is the missing teenager, Nora, a victim, or something worse? Then everything changes when Genevieve's past as a convicted criminal comes to light"--

Published Reviews
Booklist Review:
"Louisiana cops Annie Broussard and Nick Fourcade, whom readers last met in 1997's A Thin Dark Line, return in another cleverly plotted, atmospheric mystery. A young boy has been savagely murdered. His mother somehow escapes the same fate; covered in blood, she turns up at a neighboring house begging for help. While Nick takes charge of the grisly crime scene, Annie is at the hospital with the mother, and it isn't long before doubts start to accumulate: Why is there nothing to indicate that the murderer broke into the house? Why would someone butcher the boy but leave the mother unharmed? Why does the mother's story feel wrong? The day after the murder, the boy's 12-year-old babysitter goes missing. An unrelated crime? Or something far more sinister? Hoag puts on quite the juggling act here, dazzling us with multiple theories about the boy's murder, numerous potential suspects, and plot twists that keep us just slightly off-balance. A welcome return for a compelling investigative duo.--David Pitt Copyright 2018 Booklist"
From Booklist, Copyright (c) American Library Association. Used with permission.
Publisher's Weekly Review:
"Early in bestseller Hoag's thoughtful, character-driven sequel to 1998's A Thin Dark Line, Nick Fourcade, a detective with the Bayou Breaux, La., police department, arrives at "a small, sad rectangle of cheap siding and asphalt shingles squatting on concrete block pilings in a yard of dirt and weeds." Inside is the body of seven-year-old KJ Gauthier. The boy, dressed in Spider-Man pajamas, is lying in a pool of blood in his bedroom, stabbed some 10 times in the chest and face. His 27-year-old mother, Genevieve, escaped from the assailant and is in the hospital being questioned by Nick's wife and fellow detective, Annie Broussard. The detectives wonder: Why kill the boy and let a witness go? The subsequent disappearance of 12-year-old Nora Florette, KJ's babysitter, gives the members of the small community of Bayou Breaux even more reason to be fearful. Meanwhile, tension between Nick and the new sheriff of Partout Parish, Kelvin Dutrow, "an outsider, a usurper; too stiff, too arrogant, too brash," complicates the investigation. Hoag keeps the twists and turns coming all the way to the shocking conclusion. Agent: Andrea Cirillo, Jane Rotrosen Agency. (Dec.) © Copyright PWxyz, LLC. All rights reserved."
Additional Information