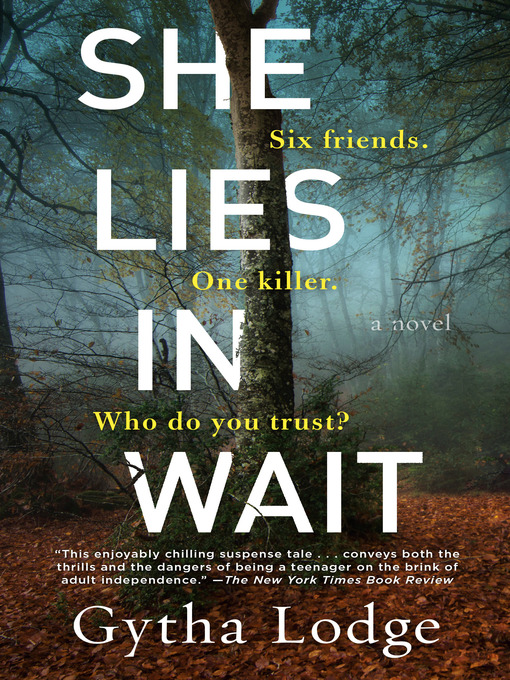 She lies in wait a novel
Format:

Kindle Book

2019

2019

Adobe EPUB ebook

OverDrive Read

Availability:

Available from OverDrive

1 of 5 copies
Summary
"One night during the scorching summer of 1983, a group of teenagers go camping in the forest. The evening starts like any other--they drink, they dance, they fight, they kiss. Some of them slip off into the woods in pairs, others are left jealous and heartbroken. But in the morning, the youngest in the group, Aurora, has disappeared. Her friends claim that she was safe the last time they saw her, right before she went to sleep. An exhaustive investigation is launched but no trace of the teenager is found. The search is eventually called off. Thirty years later Aurora's body is unearthed and Jonah Sheens is the detective put in charge of solving the long-cold case. Back in 1983, he had played a part in the search as a young cop, and their small-town community meant he had known the teenagers--including Aurora--personally. Now, he's determined to finally get to the truth of what happened that night. His investigation brings the members of the camping party back to the forest, where they will be confronted once again with the events of that night--events that left one of them dead, and all of them profoundly and forever changed"--

Published Reviews
Booklist Review:
"There were seven of them, seven teens on a weekend camping trip Brett, Connor, Daniel, JoJo, Coralie, Topaz, and Aurora. After a night of partying, fueled by alcohol and Dexedrine, six of the teens wake up to discover the seventh, Aurora (Topaz's shy, awkward younger sister) missing. And missing she will stay for the next 30 years until her remains are found buried near the campsite, and it is discovered that she had been raped before dying. Enter Detective Chief Inspector Jonah Sheens, who, 30 years earlier, had been at school with the other teens and who now discovers that the surviving six are still a tight-knit group, though one of them is a rapist and murderer. Ah, but which one? This first in a promised series of Jonah Sheens mysteries is a bit anticlimactic, though the story is neatly plotted and nicely atmospheric. And, yes, there is the obligatory, teasing red herring, but the solution to this British import is plausible and eminently satisfying. Encore, please.--Michael Cart Copyright 2018 Booklist"
From Booklist, Copyright (c) American Library Association. Used with permission.
Publisher's Weekly Review:
"On July 22, 1983, bright, beautiful 14-year-old Aurora Jackson, the victim at the heart of British author Lodge's atmospheric debut, disappeared in Brinken Wood in England's New Forest. The discovery of her remains 30 years later near the site where she was camping with her older sister and five other schoolmates catapults Southampton Det. Chief Insp. Jonah Sheens back to one of his first-and most haunting-investigations. The secluded location suggests that the prime suspects remain the same tight circle of family and friends who were in the woods that night-a prospect troubling to the enigmatic Sheens for reasons that will only gradually emerge. Lodge smoothly intercuts the present-day police probe by whip-sharp recent transfer Det. Constable Juliette Hanson and other team members with flashbacks to the last day of Aurora's life as seen through her eyes. In large part due to flip-flops to facilitate the plot, the surviving campers, including a current MP, never become as convincing as the detectives. Nonetheless, this psychological thriller marks a promising start to a planned series. Agent: Felicity Blunt, Curtis Brown (U.K.). (Jan.) © Copyright PWxyz, LLC. All rights reserved."
(c) Copyright PWxyz, LLC. All rights reserved
Additional Information