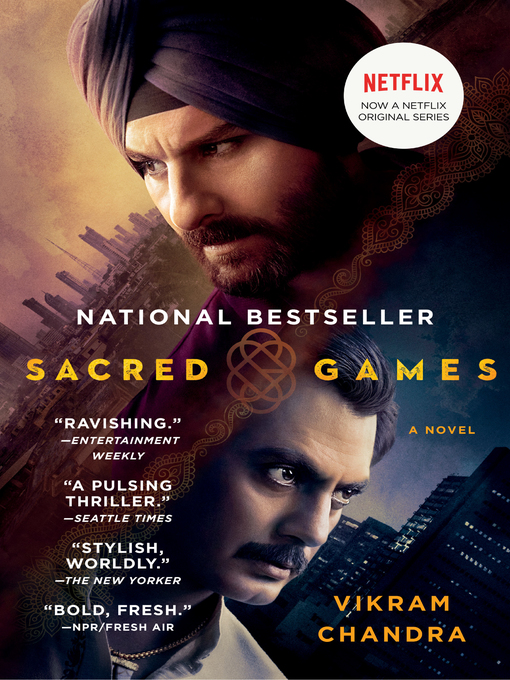 Sacred games
Format:

Kindle Book

2009

2009

Adobe EPUB ebook

OverDrive Read

Availability:

Available from OverDrive

1 of 1 copy
Summary
Receiving an anonymous tip that could lead to the capture of a powerful criminal overlord, Bombay police officer Sartaj Singh is nearing his goal when he realizes that his imminent confrontation with the crime lord is part of a more sinister agenda.

Published Reviews
Booklist Review:
"The game lasts, the game is eternal, the game cannot be stopped, the game gives birth to itself. So muses a veteran Indian intelligence officer on his deathbed, his devoted disciple, Anjila Mathur (one of many tough women characters), at his side. The games that Chandra choreographs in this riveting epic of Mumbai's underworld are far more profane than sacred, yet they do require some form of faith. Sensing that the legendary don Ganesh Gaitonde was involved in something far worse than the usual gangland activities, Anjilia covertly assigns police inspector Sartaj Singh to the case. Seen-it-all-weary yet disciplined, Sartaj is both ruthless and compassionate, and his acute awareness and street wisdom play in counterpoint to Ganesh's naked ambition. Chandra ( Love and Longing in Bombay, 1997) has created a compulsively involving literary thriller by drawing on the Mahabharata and aiming for the amplitude of Victorian novels. He spins webs within webs, portrays a multitude of diverse characters, nets the complexity of a huge metropolis, and takes full measure of how the world really works. Corruption, murder, arms dealing, Bollywood, plastic surgery, and a superstar guru on an apocalyptic mission--all fuel this novel of crime and punishment, survival and annihilation. A splendidly big, finely made book destined to dazzle a big audience. --Donna Seaman Copyright 2006 Booklist"
From Booklist, Copyright (c) American Library Association. Used with permission.
Publisher's Weekly Review:
"Mumbai in all its seedy glory is at the center of Vikram Chandra's episodic novel, which follows the fortunes of two opposing characters: the jaded Sikh policeman, Sartaj Singh, who first appeared in the story "Kama," and Ganesh Gaitonde, a famous Hindu Bhai who "dallied with bejewelled starlets, bankrolled politicians" and whose "daily skim from Bombay's various criminal dhandas was said to be greater than annual corporate incomes." Sartaj, still handsome and impeccably turned out, is now divorced, weary and resigned to his post, complicit in the bribes and police brutality that oil the workings of his city. Sartaj is ambivalent about his choices, but Gaitone is hungry for position and wealth from the moment he commits his first murder as a young man. A confrontation between the two men opens the novel, with Gaitonde taunting Sartaj from inside the protection of his strange shell-like bunker. Gaitonde is the more riveting character, and his first-person narrative voice lulls the reader with his intuitive understanding of human nature and the 1,001 tales of his rise to power, as he collects men, money and fame; creates and falls in love with a movie star; infiltrates Bollywood; works for Indian intelligence; matches wits with his Muslim rival, Suleiman Isa; and searches for fulfillment with the wily Guru Shridhar Shukla. Sartaj traces Gaitonde's movements and motivations, while taking on cases of murder, blackmail and neighborhood quarrels. The two men ruminate on the meaning of life and death, and Chandra connects them as he connects all the big themes of the subcontinent: the animosity of caste and religion, the poverty, the prostitution and mainly, the criminal elite, who organize themselves on the model of corporations and control their fiefdoms from outside the country. Chandra, who's won prizes and praise for his two previous books, Red Earth and Pouring Rain and Love and Longing in Bombay, spent seven years writing this 900-page epic of organized crime and the corruption that spins out from Mumbai into the world of international counterfeiting and terrorism, and it's obvious that he knows what he's talking about. He takes his chances creating atmosphere: the characters speak in the slang of the city ("You bhenchod sleepy son of maderchod Kumbhkaran," Gaitonde chastises). The novel eventually becomes a world, and the reader becomes a resident rather than a visitor, but living there could begin to feel excessive. (Jan.) (c) Copyright PWxyz, LLC. All rights reserved"
(c) Copyright PWxyz, LLC. All rights reserved
Additional Information