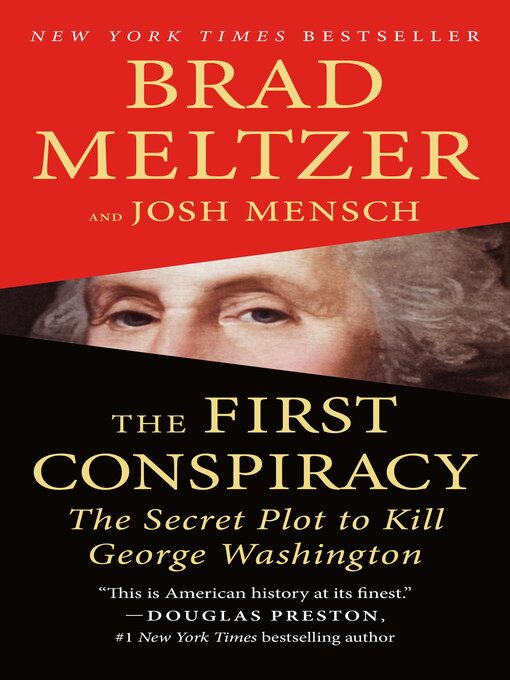 The first conspiracy the secret plot to kill George Washington
Format:

Kindle Book

2019

2019

Adobe EPUB ebook

OverDrive Read

Availability:

Available from OverDrive

2 of 10 copies
Summary
"In 1776, an elite group of soldiers were handpicked to serve as George Washington's bodyguards. Washington trusted them; relied on them. But unbeknownst to Washington, some of them were part of a treasonous plan. In the months leading up to the Revolutionary War, these traitorous soldiers, along with the Governor of New York William Tryon and Mayor David Mathews, launched a deadly plot against the most important member of the military: George Washington himself. This is the story of the secret plot and how it was revealed. It is a story of leaders, liars, counterfeiters, and jailhouse confessors. It also shows just how hard the battle was for George Washington--and how close America was to losing the Revolutionary War. Taking place during the most critical period of our nation's birth, The First Conspiracy tells a remarkable and previously untold piece of American history that not only reveals George Washington's character, but also illuminates the origins of America's counterintelligence movement that led to the modern day CIA"--

Contents
New York, April 1776
The commander
Spies in Boston
"A bloody summer"
A most infernal plot
Sacricide
Aftermath.
Published Reviews
Booklist Review:
"Best-selling novelist and television-host Meltzer (The Escape Artist, 2018) and documentarian Mensch bring the fast pace and sensibility of a thriller to the Hickey Plot, a failed 1776 scheme to kidnap and possibly murder George Washington. They vividly evoke the world of occupied New York City in which the scheme unfolded, describing the tensions within the overcrowded wartime community and the webs of relationships linking powerful backstage plotters with the greedy, desperate, or committed ordinary people designated to carry it out. Hickey itself was hardly a uniquely menacing undertaking, however. As the book makes clear, the Revolutionary War was fraught with conspiracies and plots against key leaders on both sides. What Meltzer and Mensch do bring out is how the scheme helped to inspire American innovations in defensive spycraft, eventually known as counterintelligence, by their juxtaposing the Hickey attempt with the ad hoc nature of the political and military leadership seeking to control the city and prosecute the war. Readers who like their histories full of twists, turns, and cliff-hangers will enjoy this romp through the Revolution.--Sara Jorgensen Copyright 2018 Booklist"
From Booklist, Copyright (c) American Library Association. Used with permission.
Publisher's Weekly Review:
"This protracted history of a conspiracy against the Continental Army before the American colonies had even declared their independence doesn't showcase thriller author Meltzer (The Escape Artist) at his best. Meltzer and television veteran Mensch set the scene of the conspiracy in the prologue-a moonlit night in 1776 in a clearing in Manhattan, as George Washington emerges from a coach into a planned trap. Then the narrative moves back to 1752; after several chapters, Washington and the Continental Army arrive in New York City in early 1776, where the British governor, William Tryon, is already gathering intelligence against them and pays a New York gunsmith, Gilbert Forbes, to recruit Washington's soldiers into a plot on his life. The authors recount the plot's thwarting by a nascent counterintelligence group led by John Jay, later the first Supreme Court Justice. The authors draw out the story a great deal, breaking it into brief chapters ending in often melodramatic statements like "One thing is clear: nothing in this war will be easy." Some readers may find that the choppy structure heightens the work's drama, while others may find it and the simplistic prose off-putting, but the topic is one that will draw interest. Agent: Jennifer Rudolph Walsh, William Morris Agency. (Jan.) © Copyright PWxyz, LLC. All rights reserved."
(c) Copyright PWxyz, LLC. All rights reserved
Additional Information