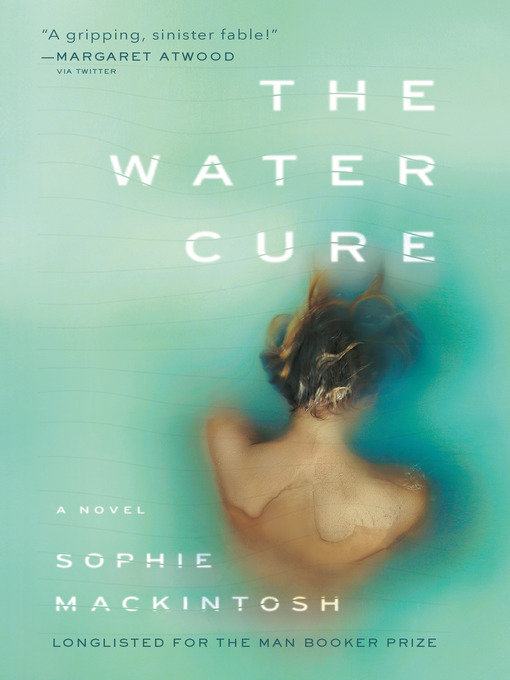 The water cure a novel
Format:

Kindle Book

2019

2019

Adobe EPUB ebook

OverDrive Read

Availability:

Available from OverDrive

3 of 9 copies
1 person on waitlist
Summary
"An extraordinary otherworldly debut... [Mackintosh] is writing the way that Sofia Coppola would shoot the end of the world: everything is luminous, precise, slow to the point of dread." --The Guardian The Handmaid's Tale meets The Virgin Suicides in this dystopic feminist revenge fantasy about three sisters on an isolated island, raised to fear men King has tenderly staked out a territory for his wife and three daughters, Grace, Lia, and Sky. He has lain the barbed wire; he has anchored the buoys in the water; he has marked out a clear message: Do not enter . Or viewed from another angle: Not safe to leave . Here women are protected from the chaos and violence of men on the mainland. The cult-like rituals and therapies they endure fortify them from the spreading toxicity of a degrading world. But when their father, the only man they've ever seen, disappears, they retreat further inward until the day two men and a boy wash ashore. Over the span of one blistering hot week, a psychological cat-and-mouse game plays out. Sexual tensions and sibling rivalries flare as the sisters confront the amorphous threat the strangers represent. Can they survive the men? A haunting, riveting debut about the capacity for violence and the potency of female desire, The Water Cure both devastates and astonishes as it reflects our own world back at us.

Published Reviews
Booklist Review:
"Aptly named patriarch King repairs to an island with his wife and daughters to escape an unnamed cataclysm. Even though for a time they welcomed castaway women, the daughters are taught to fear strangers, especially men, who are considered toxic. This insular, hothouse environment, though meant to protect the girls, also sequesters them from being able to adjudge their parents' stringent "exercises" as little more than torture. When King disappears, the daughters' carefully crafted world begins to crumble, and emotions (which the exercises were meant to curb) bubble up. When three related males arrive in King's wake, the sisters, formerly bound in love-hate lockstep, find their sisterhood weakening as each female sorts out events. The slow unfurling of the truth of their lives parallels the daughters' slow awakening to the realities of the world. In Mackintosh's skilled hands, readers encounter this world as if in a fever dream and float on its characters' disparate and shifting points of view. Book clubs may enjoy discussing the dystopian and feminist themes of Mackintosh's exciting debut.--Joan Curbow Copyright 2018 Booklist"
From Booklist, Copyright (c) American Library Association. Used with permission.
Publisher's Weekly Review:
"Mackintosh's intense, ambitious debut, longlisted for the Man Booker, evokes a feminist dystopia where three sisters live in isolation meant to protect them from a toxic world that has become particularly dangerous for women. At an unspecified time in the future, global warming and pollution have poisoned the planet, making men more violent and women vulnerable. One couple, King and Mother, choose to raise their three daughters surrounded by sea and barbwire; their only visitors are women seeking therapies like the water cure (near-drowning to fortify against toxins and fear). Mother teaches her daughters-caustic 20-something Grace, touch-hungry teenage Lia, and their youngest, Sky-to suppress emotions, love only each other, and prepare for the worst. Then King disappears, and two men and a boy wash ashore. Mother shows her daughters how to use a pistol before she too disappears. Grace, Lia, and Sky are left to fend for themselves as the men grow impatient, proprietary, and threatening. The sisters' impressionistic narratives, presented solo and in chorus, show Lia's self-mutilation in close-up while the world disorder is described indirectly through its aftereffects. Mackintosh's gripping novel is vicious in its depiction of victimhood, vibrant when victims transform into warriors, and full of outrage at patriarchal power, environmental devastation, and the dehumanization of women. (Jan.) c Copyright PWxyz, LLC. All rights reserved."
(c) Copyright PWxyz, LLC. All rights reserved
Additional Information