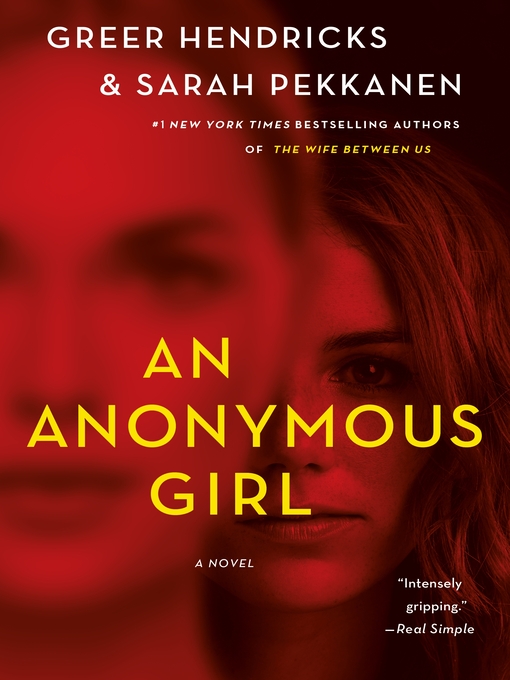 An anonymous girl
Format:

OverDrive Read

2019.

Adobe EPUB ebook

Kindle Book

Availability:

Unavailable

0 of 30 copies
127 people on waitlist
Summary
The instant #1 New York Times bestseller (January 2019)!
Seeking women ages 18-32 to participate in a study on ethics and morality. Generous compensation. Anonymity guaranteed.
When Jessica Farris signs up for a psychology study conducted by the mysterious Dr. Shields, she thinks all she'll have to do is answer a few questions, collect her money, and leave.
Question #1: Could you tell a lie without feeling guilt?
But as the questions grow more and more intense and invasive and the sessions become outings where Jess is told what to wear and how to act, she begins to feel as though Dr. Shields may know what she's thinking...and what she's hiding.
Question #2: Have you ever deeply hurt someone you care about?
As Jess's paranoia grows, it becomes clear that she can no longer trust what in her life is real, and what is one of Dr. Shields' manipulative experiments. Caught in a web of deceit and jealousy, Jess quickly learns that some obsessions can be deadly.
Question #3: Should a punishment always fit the crime?
From the authors of the blockbuster bestseller The Wife Between Us comes an electrifying new novel about doubt, passion, and just how much you can trust someone.
Praise for The Wife Between Us :

"A fiendishly smart cat-and-mouse thriller" -- New York Times Book Review
"[A] seamless thriller that will keep readers on their toes to the very end...Readers will enjoy the dizzying back-and-forth as they attempt to figure out just who to root for and as the suspense ratchets up to one hell of a conclusion. " -- Booklist
Published Reviews
Booklist Review:
"*Starred Review* The coauthors of the mega-best-selling The Wife between Us (2018) return with another spooky tale of psychological seduction. Two main characters (a makeup artist and a psychology professor) try to figure each other out, with the stakes growing ever higher, as in a David Mamet drama. Jessica struggles to make a living as a freelance makeup artist in New York. Her house calls all over the city give her some street smarts; her profession has made her skilled in sizing up people and what they need almost instantaneously. If she weren't so hard up, she probably wouldn't answer the ad from the psychology professor asking for volunteers to take a survey about morality and ethics. We meet the professor as she observes Jessica taking the survey and silently (and creepily) addresses her in the second person ( you ). The action moves from the psychologist's asking Jessica to take more surveys, with more intimate questions, and then instructing her to engage in real-time scenarios. Jessica's financial need propels her, along with the subtle manipulations of the professor, with whom Jessica slowly becomes obsessed. The movement here from small tests to bigger ones masterfully escalates the suspense. The juxtaposed points of view, with reactions of each protagonist to the other, keep the reader guessing until the end. A great follow-up to The Wife between Us.--Connie Fletcher Copyright 2018 Booklist"
From Booklist, Copyright (c) American Library Association. Used with permission.
Publisher's Weekly Review:
"Struggling Manhattan makeup artist Jessica Farris impulsively decides to chase some quick cash by lying her way into an NYU psychiatrist's study-of ethics and morality, no less-in this slickly twisty psychological thriller from bestsellers Hendricks and Pekkanen (The Wife Between Us). Still shaky after a disturbing #MeToo encounter with a top theatrical producer that dashed her dream of doing stage makeup, the 28-year-old laps up the supportive attention from impossibly chic and self-confident Dr. Lydia Shields, whose second-person narrative alternates with Jessica's first person. So when the therapist starts to enlist her in increasingly dicey real-life role-playing assignments, including trying to pick up specific targets, such as a stranger in a hotel bar, Jess pushes aside her doubts and goes along-until she hears some information too alarming to ignore about the fate of Dr. Shields's previous protAcgAc. The page-turner's second half whizzes along at a furious pace, exploiting the dual perspectives for maximum tension. Though some of the gasp-worthy final twists require substantial character flip-flops, it's a relatively minor sacrifice for major league suspense. Agent: Victoria Sanders, Victoria Sanders and Assoc. (Jan.) c Copyright PWxyz, LLC. All rights reserved."
(c) Copyright PWxyz, LLC. All rights reserved
Additional Information