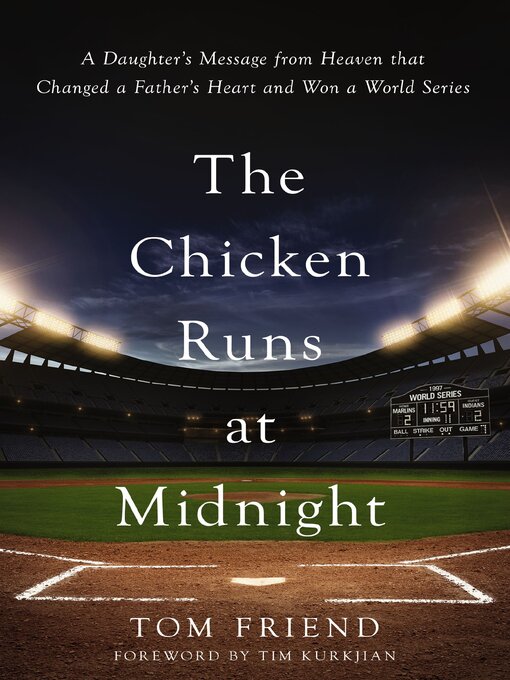 The Chicken Runs at Midnight A Daughter's Message from Heaven That Changed a Father's Heart and Won a World Series
Format:

Kindle Book

2018

2018

Adobe EPUB ebook

OverDrive Read

Availability:

Available from OverDrive

5 of 6 copies
Summary
One of the most inspirational stories of sports and faith ever told, The Chicken Runs at Midnight introduces us to a Major League baseball coach whose dying daughter's words changed his heart for good - and reached him in a surprising way through a World Series sign from heaven.As a Major League Baseball coach, Rich Donnelly was dedicated, hardworking, and successful. But as a husband and father, he was distant, absent, and a failure. He'd let baseball take over his life, and as a result his family suffered. That is, until one day his daughter called with harrowing news."Dad, I have a brain tumor, and I'm sorry." These words from his seventeen-year-old daughter, Amy, turned his world upside-down. Now, more than ever, he was determined to put his family first.The time they spent together in the months before her death will be treasured and remembered forever, but especially the inside joke that became a catchphrase for the Donnelly family as well as the Pittsburgh Pirates team that played in the National League Championship Series that year: "The chicken runs at midnight."This book shares the heartwarming story behind the odd catchphrase - and how it still lives on as a symbol for never giving up—and proves that God can work in the life of any person, even through their mistakes and failures.Weaving baseball history with personal memoir, this book is one that will make you thrill to victory, believe in hope, stand up to cheer for what is good in peoples' lives. It's a powerful story of redemption and faith that reminds us that God can work in our lives even when we think it's too late to change - and sometimes He sends us signs from heaven if we only have eyes to see.

Published Reviews
Publisher's Weekly Review:
"In his debut, Friend, a sports journalist who writes for ESPN, explores the faith journey of Pittsburgh Pirates third base coach Rich Donnelly. Donnelly had a tumultuous childhood in Steubenville, Ohio, living with an abusive, overbearing father who instilled both religion and fear into him as boy-he would whip Donnelly whenever he struck out in Little League. Donnelly eventually became a standout catcher, got married, and rose through the ranks of collegiate and minor-league baseball. Taken in by the temptations of partying that surround the locker room, Donnelly became an absentee father and his marriage ended in a messy divorce. Although his teenage daughter, Amy, confronted him about his troubles after the divorce, it was only when she developed a life-threatening brain tumor that Donnelly began to reconsider his life choices. Amy's death, and a miraculous occurrence (she cryptically told her father "the chicken runs at midnight," predicting a game-winning run in the World Series four years later), pushed Donnelly to regain his faith in God and find peace within. Told through letters, interviews with family members, and Donnelly's own words, Friend's captivating book reads like a novel. Christian fans of baseball will enjoy Friend's evocative telling of Donnelly's journey back to God. (Oct.) c Copyright PWxyz, LLC. All rights reserved."
(c) Copyright PWxyz, LLC. All rights reserved
Additional Information