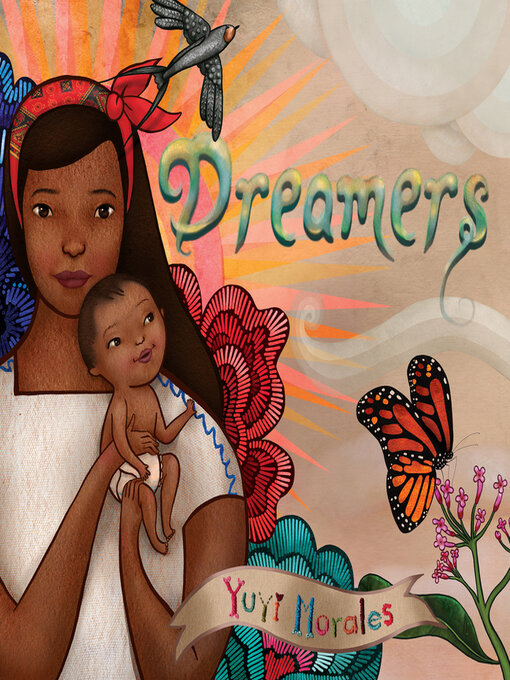 Dreamers
Format:

OverDrive MP3 Audiobook

2018

2018

OverDrive Listen

Availability:

Available from OverDrive

1 of 1 copy
Summary
In 1994, twenty-five-year-old Yuyi Morales traveled from her home in Yelapa, Mexico, to the San Francisco Bay Area with her two-month-old son, Kelly, in order to secure permanent residency in this country. Her passage was not easy, and she spoke no English whatsoever. But due in large measure to help and guidance provided by area children's librarians, she learned English the same way her young son learned to read: through the picture books, they shared together. In spare, lyrical verse, Yuyi has created a lasting testament to the journeys, both physical and metaphorical, that she and Kelly have taken together in the intervening years. Beautiful and powerful at any time-but given particular urgency as the status of our own Dreamers becomes uncertain-this is a story that is both topical and timeless.

Published Reviews
Booklist Review:
"*Starred Review* Yuyi Morales and her son are dreamers the books they read allow them to imagine a new life in a new country that doesn't always welcome them. Based on her own immigration tale, the multi-award-winning Morales' newest picture book recounts the challenges and wonders of living in a new country. She and her son experience discrimination because they don't always know the rules and customs of their new home. English becomes a barrier that makes it difficult for them to fully comprehend the world around them. Despite it all, Morales and her son find hope in the books of their local library, and their voracious reading leads them to create their own books. The narrative text is poetic and full of emotion. The English version is sprinkled with Spanish words like migrantes, caminantes, and amor, which monolingual readers will understand from the context of the story. In classic Morales style, the mixed-media illustrations are breathtaking, created through painting, drawing, photography, and embroidery. The joyous imagination and intricacy of each illustration will make readers of all ages explore them further. The pages with the library, for example, depict the covers of other significant Latinx children's books like Carmen Lomas Garza's In My Family / En mi familia (2000) and Jorge Argueta's A Movie in My Pillow / Una pelicula en mi almohada (2001). This rich offering launches the new Neal Porter Books imprint and can be paired with Duncan Tonatiuh's Undocumented: A Worker's Fight (2018) for its focus on the Latinx immigrant experience.--Sonia Alejandra Rodríguez Copyright 2018 Booklist"
From Booklist, Copyright (c) American Library Association. Used with permission.
Publisher's Weekly Review:
"In warm, sparkling prose that moves easily from English to Spanish and back, Caldecott Honor artist Morales (Viva Frida) traces the journey that she and her small son took in 1994, when they immigrated from Mexico to the United States. ("My Story," included after the text, supplies the details.) A woman and a child struggle to understand the rules as they explore San Francisco. (When the two play in a public fountain, a policeman approaches, hands on hips; "Ay!" the mother cries in dismay.) Then they discover the library: "Suspicious./ Improbable./ Unbelievable./ Surprising." It's a miraculous oasis-countless books to borrow, information about everything in the world. There, she says, "We learned to read,/ to speak,/ to write,/ and/ to make/ our voices heard." As the languages blend, so do the images. Mexican motifs-a genial skeleton, a painted dog, embroidered flowers-dance through the pages, keeping mother and son company on their journey, and the library shelves swoop and curve, embracing them. (Readers will recognize favorite titles among the carefully painted book covers.) Many books about immigration describe the process of making new friends and fitting in; this one describes what it's like to become a creative being in two languages, and to learn to love in both. "We are two languages./ We are lucha./ We are resilience./ We are hope." A Spanish-language version will be published simultaneously. Ages 4-8. Agent: Charlotte Sheedy, Charlotte Sheedy Literary Agency. (Sept.) © Copyright PWxyz, LLC. All rights reserved."
(c) Copyright PWxyz, LLC. All rights reserved
Additional Information