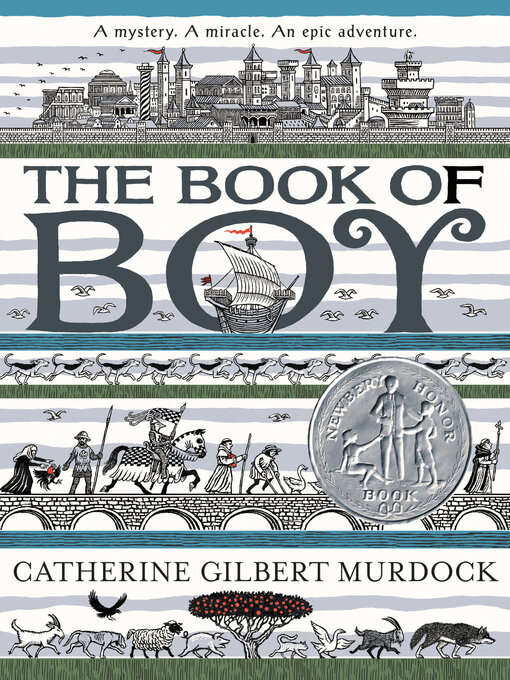 The book of boy
Format:

Kindle Book

2018

2018

Adobe EPUB ebook

OverDrive Read

Availability:

Available from OverDrive

2 of 3 copies
Summary
A young outcast is swept up into a thrilling and perilous medieval treasure hunt in this literary page-turner by acclaimed bestselling author Catherine Gilbert Murdock.This epic and engrossing quest story is for fans of Adam Gidwitz's The Inquisitor's Tale and Grace Lin's Where the Mountain Meets the Moon, and for readers of all ages. Features a map and black-and-white art by Ian Schoenherr throughout. Boy has always been relegated to the outskirts of his small village. With a large hump on his back, a mysterious past, and a tendency to talk to animals, he is often mocked by others in his town—until the arrival of a shadowy pilgrim named Secondus. Impressed with Boy's climbing and jumping abilities, Secondus engages Boy as his servant, pulling him into an action-packed and suspensful expedition across Europe to gather the seven precious relics of Saint Peter.Boy quickly realizes this journey is not an innocent one. They are stealing the relics and accumulating dangerous enemies in the process. But Boy is determined to see this pilgrimage through until the end—for what if St. Peter can make Boy's hump go away? A surprising and unforgettable tale for readers of all ages.

Published Reviews
Booklist Review:
"*Starred Review* It is 1350, the pope has fled from Rome to France, plague has ravished Europe, and Boy is sitting in an apple tree when a mysterious traveler approaches. So begins the marvelously rich tale of Boy, who has a secret; Secundus, who has many secrets; and the journey they undertake to find seven relics: rib, tooth, thumb, toe, dust, skull, and tomb. Murdock uses the conventions of the pilgrim's journey and adds enticing details that will draw in a young audience. Boy, an orphan and servant in a manor house, was told by the village priest he is a miracle, but he doesn't feel like one. He has a hump on his back, which makes him an object of derision, and he must hide his ability to speak with and understand animals. Secundus, meanwhile, is a man of mystery who stinks of brimstone, but as he warms to Boy, he also exhibits kindness and loyalty. Their epic adventures take them to Rome, where Secundus is determined to present his relics at the tomb of St. Peter. Scuffles and sacrifices, ferocious animals, and dastardly thieves abound as Boy and Secundus are slowly revealed to readers and each other. This is also a beautiful piece of bookmaking, from the woodblock-style design elements to the manuscript-like paper. A vivid, not-to-be-missed story, part The Inquisitor's Tale (2016), part Skellig (1998), but wholly its own.--Cooper, Ilene Copyright 2018 Booklist"
From Booklist, Copyright (c) American Library Association. Used with permission.
Publisher's Weekly Review:
"In a picaresque work of historical fiction set in 14th-century France, "Boy," the only name the young protagonist is given, is drafted for a transcontinental mission by Secundus, a scoundrel posing as a pilgrim. Secundus's quest is to collect seven relics associated with Saint Peter and, thereby, gain entry to heaven. Boy quickly realizes that "collect" really means "steal," and the child struggles with both the moral implications of the adventure and a desire for a miracle. Born with a physical disfigurement, Boy has lived a life of ridicule. Might Saint Peter heal the disability? In first-person narration, Boy recounts the grim realities of medieval life, leavening the telling with wonderfully funny exchanges with animals, with which Boy is able to communicate telepathically. That ability is just one of the special qualities that prompts a priest, who had mentored Boy before perishing from the Black Death, to warn the child, "never reveal yourself." Among the mostly sinister cast, Boy shines with unique, good-hearted brightness. This action-packed tale, with a luminous central character, unspools with a strong message about how appearances can deceive. Ages 8-12. Agent: Jill Grinberg, Jill Grinberg Literary Management. (Feb.) © Copyright PWxyz, LLC. All rights reserved."
Additional Information