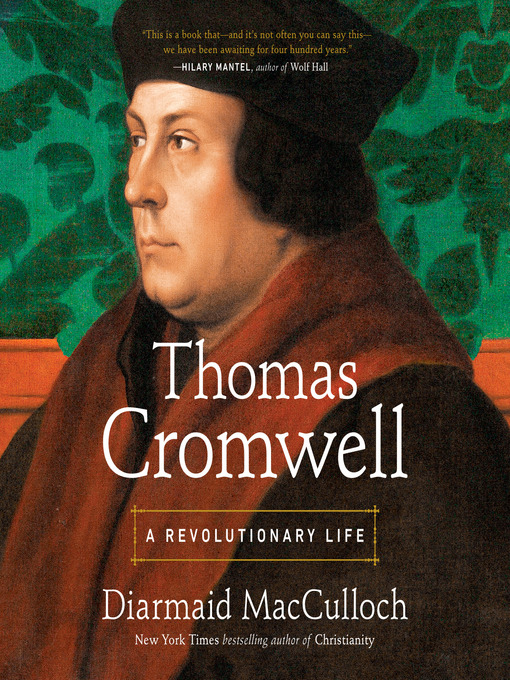 Thomas Cromwell a revolutionary life
Format:

OverDrive MP3 Audiobook

2018

2018

OverDrive Listen

Availability:

Unavailable

0 of 1 copy
2 people on waitlist
Summary
"Since the sixteenth century we have been fascinated by Henry VIII and the man who stood beside him, guiding him, enriching him, and enduring the king{u2019}s insatiable appetites and violent outbursts until Hnry ordered his beheading in July 1540. After a decade of sleuthing in the royal archives, Diarmaid MacCulloch has emerged with a tantalizing new understanding of Henry{u2019}s mercurial chief minister, the inscrutable and utterly compelling Thomas Cromwell"--

Published Reviews
Booklist Review:
"*Starred Review* If Thomas Cromwell (1485-1540) had never met Henry VIII, he might have lived the serene life of a wealthy, cultured Englishman. He had a talent for making money, a head for languages, an immoderate love of books, and many friends. But Cromwell was talent-spotted by Cardinal Wolsey, and after his loyalty to Wolsey was noted by Henry, the king pulled Cromwell into the maelstrom of Tudor politics. He survived for only a decade, but England would never be the same. Readers of MacCulloch's (Christianity , 2010) exhaustively researched account may conclude that if anything, Hilary Mantel's mesmerizing novels about Cromwell understate the drama of this story, from the king's fits of murderous rage to the horrifying torture and executions of believers both Catholic and Protestant, and the greed that fueled the dissolution of the monasteries. MacCulloch makes the case that Cromwell's moves were more than Machiavellian. He burned with a desire to spread his Protestant faith and destroy the Catholic Church. Cromwell's essence remains elusive, and MacCulloch's challenge is that most of Cromwell's correspondence to others was destroyed after his execution, leaving historians to sift for clues in letters that others wrote to him. Still, this is a landmark portrait of a complex, confounding man.--Mary Ann Gwinn Copyright 2018 Booklist"
From Booklist, Copyright (c) American Library Association. Used with permission.
Publisher's Weekly Review:
"This meticulously researched biography of Thomas Cromwell, chief minister to King Henry VIII of England, from professor and historian MacCulloch (Christianity: The First Three Thousand Years) highlights Cromwell's legal abilities and the complicated-and often fatal-relationship between Tudor advisers and king. These advisers toiled away as Henry gained notoriety for his numerous wives, removing legal and societal obstacles from Henry's path to a legitimate male heir. An astute protégé of his predecessor Thomas Wolsey, Cromwell earned royal trust by contributing to the redefinition of his monarch's religious role-ushering in the English Reformation-and helping Anne Boleyn become Henry's second wife. MacCulloch's densely packed narrative argues for a more sympathetic view of Cromwell; in his portrayal, Cromwell's personal religious views dovetail sincerely with the Reformation, and crafting legal arguments around the mercurial Henry's whims was difficult. But this characterization is undercut by Cromwell's central role in the dissolution of monasteries, the execution of dissenters, and the destruction of Anne Boleyn despite their shared theological views. Cromwell's personal thoughts are largely lost to history due to a shortage of surviving letters, but MacCulloch threads Cromwell's notes and other contemporary sources along with modern historians' work to recreate his motivations. This comprehensive biography is ideal for passionate devotees of Hilary Mantel's historical novels, which also paint Cromwell in a forgiving light, and Tudor history buffs. Agent: Felicity Bryan, Felicity Bryan Associates (U.K.). (Oct.) © Copyright PWxyz, LLC. All rights reserved."
(c) Copyright PWxyz, LLC. All rights reserved
Additional Information