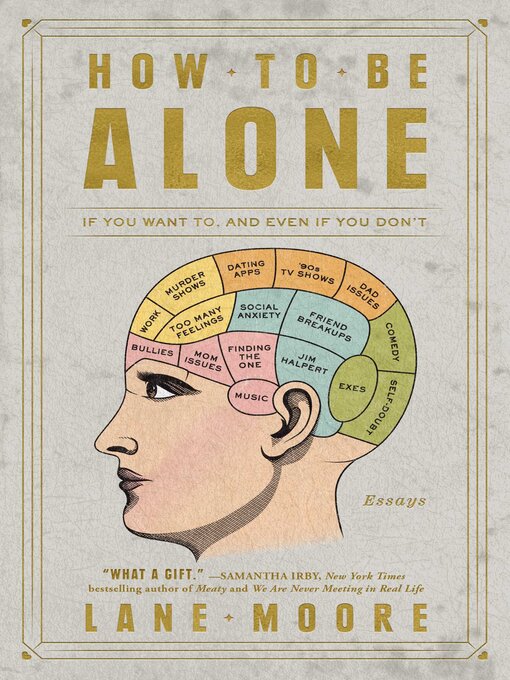 How to be alone if you want to, and even if you don't
Format:

Adobe EPUB ebook

2018

2018

OverDrive Read

Availability:

Unavailable

0 of 1 copy
4 people on waitlist
Summary
"Lane Moore is a fool for love. From her addiction to romantic comedies to her tendency to form instant soulmate connections with strangers, Lane has a way of romanticizing everything and everyone. It's no wonder the New York Times, in a review of her comedy show, 'Tinder Live! with Lane Moore,' called her 'a flirt par excellence.' But her romantic nature belies a decidedly unromantic childhood, one that sent her down a long and difficult road. Lane considers herself an orphan, though she has two living parents. After being abused as a child, bullied by her peers, and targeted by older men at a young age, she became homeless after high school and lived out of her car in Los Angeles. Lonely and afraid, it took years for her to ultimately become empowered enough to start her life over again--but start over, she did. Where others see a void, Lane sees an opportunity. Her estrangement from her family was a catalyst for her to build a new one with a community of friends, comedians, and oddball roommates in Los Angeles and then New York City. Her experience with sexual assault informed her work as the sex and relationships editor for Cosmopolitan, which turned her into a champion for young women. With an intoxicating blend of dark wit and relentless positivity, Lane sheds light on an often-stigmatized condition and reveals how she harnessed and drew strength from her loneliness to become the creative powerhouse she is today"--

Contents
The right kind of orphan, which will immediately make sense to everyone
Emergency contact left blank
Best friends forever, until forever runs out
Maybe someone else will love me and that will fix everything
Moving to New York City is not like the movies, I don't care what anyone tells you
I've always relied on the kindness of strangers, but, like, in a sad way
I liked dating you better in my head
What if this is as good as it will ever get : settling and you!
DIY support systems
Babies babysitting babies (includes "Just a few notes for our new babysitter," originally published by the New Yorker)
Am I the last hopeless romantic on Earth?
TV couples who have ruined me in the best way
Happy holidays to everyone but you, you lonely weirdo
You think you're done healing, then new wounds form and it begins again
All this pain must be worth it because you're supposed to be my soulmate
How to be alone.
Published Reviews
Booklist Review:
"Moore has been named one of the most influential indie comedians of the decade, making a name for herself as a writer for The Onion, as the sex and relationships editor of Cosmopolitan, and as creator and host of Tinder Live!, a stand-up comedy show wherein Moore matches and interacts with other users of the infamous dating app in front of a nightly audience. In this scrappy collection of personal essays, Moore opens up her psyche and personal life for fans to relate to. The title references the underlying theme of every piece, that survival is possible even without any kind of family or support system. Moore is spare with the details of her childhood, emphasizing the weight of her trauma rather than the specifics of it. She explains how to survive the holidays, how to screen a mate, and how to accept love as someone who grew up without it. The essays are whip-smart, pithy, and full of an honest, conversational charm that sets Moore apart.--Courtney Eathorne Copyright 2018 Booklist"
From Booklist, Copyright (c) American Library Association. Used with permission.
Publisher's Weekly Review:
"In these bitingly honest autobiographical essays, comedian Moore chronicles the aftereffects of being raised by emotionally abusive and indifferent parents. After high school, she left home and moved to New York, hoping to find a soulmate and hide away from anyone who might hurt her. In "So Your Family Dictates Your Romantic Future? What a Fun Punishment!", she explains how her parents displayed pride only after their kids had grown up; in "Maybe Someone Else Will Love Me and That Will Fix Everything," she writes about sexual abuse ("sexual assault is not your 'my first time' story if you don't want it to be" is the book's most heartbreaking and encouraging line) and dysfunctional adult relationships. In the title essay, about trying to find a partner, Moore writes, "Telling yourself not to look for love is like telling yourself not to look for food or air or water or clothes that fit you perfectly." Almost as if trying to bolster herself, Moore points out that being single and alone isn't a life sentence. Within this compassionately told memoir, Moore offers hard-won advice for those looking to get beyond a painful past. (Nov.) © Copyright PWxyz, LLC. All rights reserved."
Additional Information