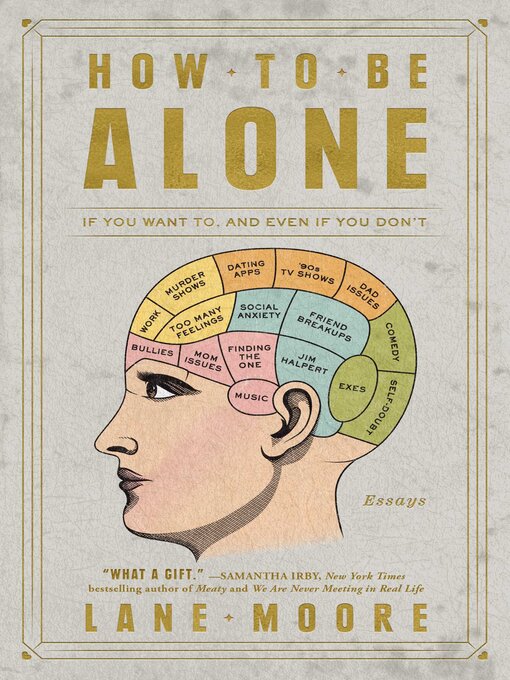 How to be alone if you want to, and even if you don't
Format:

Adobe EPUB ebook

2018

2018

OverDrive Read

Availability:

Unavailable

0 of 1 copy
3 people on waitlist
Summary
"Lane Moore is a fool for love. From her addiction to romantic comedies to her tendency to form instant soulmate connections with strangers, Lane has a way of romanticizing everything and everyone. It's no wonder the New York Times, in a review of her comedy show, 'Tinder Live! with Lane Moore,' called her 'a flirt par excellence.' But her romantic nature belies a decidedly unromantic childhood, one that sent her down a long and difficult road. Lane considers herself an orphan, though she has two living parents. After being abused as a child, bullied by her peers, and targeted by older men at a young age, she became homeless after high school and lived out of her car in Los Angeles. Lonely and afraid, it took years for her to ultimately become empowered enough to start her life over again--but start over, she did. Where others see a void, Lane sees an opportunity. Her estrangement from her family was a catalyst for her to build a new one with a community of friends, comedians, and oddball roommates in Los Angeles and then New York City. Her experience with sexual assault informed her work as the sex and relationships editor for Cosmopolitan, which turned her into a champion for young women. With an intoxicating blend of dark wit and relentless positivity, Lane sheds light on an often-stigmatized condition and reveals how she harnessed and drew strength from her loneliness to become the creative powerhouse she is today"--

Contents
The right kind of orphan, which will immediately make sense to everyone
Emergency contact left blank
Best friends forever, until forever runs out
Maybe someone else will love me and that will fix everything
Moving to New York City is not like the movies, I don't care what anyone tells you
I've always relied on the kindness of strangers, but, like, in a sad way
I liked dating you better in my head
What if this is as good as it will ever get : settling and you!
DIY support systems
Babies babysitting babies (includes "Just a few notes for our new babysitter," originally published by the New Yorker)
Am I the last hopeless romantic on Earth?
TV couples who have ruined me in the best way
Happy holidays to everyone but you, you lonely weirdo
You think you're done healing, then new wounds form and it begins again
All this pain must be worth it because you're supposed to be my soulmate
How to be alone.
Additional Information