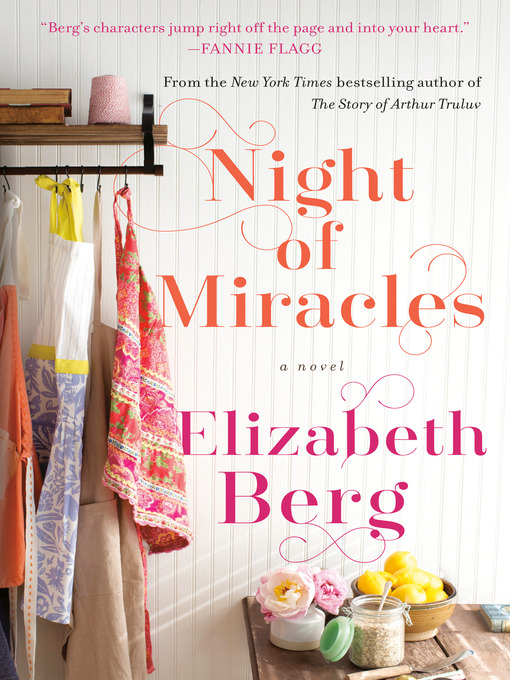 Night of miracles a novel
Format:

OverDrive Read

2018.

Adobe EPUB ebook

Kindle Book

Availability:

Unavailable

0 of 11 copies
25 people on waitlist
Summary
The feel-good book of the year: a delightful novel of friendship, community, and the way small acts of kindness can change your life, by the bestselling author of The Story of Arthur Truluv

Lucille Howard is getting on in years, but she stays busy. Thanks to the inspiration of her dearly departed friend Arthur Truluv, she has begun to teach baking classes, sharing the secrets to her delicious classic Southern yellow cake, the perfect pinwheel cookies, and other sweet essentials. Her classes have become so popular that she's hired Iris, a new resident of Mason, Missouri, as an assistant. Iris doesn't know how to bake but she needs to keep her mind off a big decision she sorely regrets.

When a new family moves in next door and tragedy strikes, Lucille begins to look out for Lincoln, their son. Lincoln's parents aren't the only ones in town facing hard choices and uncertain futures. In these difficult times, the residents of Mason come together and find the true power of community--just when they need it the most.

"Elizabeth Berg's characters jump right off the page and into your heart" said Fannie Flagg about The Story of Arthur Truluv . The same could be said about Night of Miracles, a heartwarming novel that reminds us that the people we come to love are often the ones we don't expect.

Praise for Night of Miracles

"Happy, sad, sweet and slyly funny, [ Night of Miracles ] celebrates the nourishing comfort of community and provides a delightfully original take on the cycles of life." -- People (Book of the Week)

"Find refuge in Mason, a place blessedly free of the political chaos we now know as 'real life.' In Berg's charming but far from shallow alternative reality, the focus is on the things that make life worth living: the human connections that light the way through the dark of aging, bereavement, illness and our own mistakes. . . . As the endearing, odd-lot characters of Mason, Missouri, coalesce into new families, dessert is served: a plateful of chocolate-and-vanilla pinwheel cookies for the soul." -- USA Today

"Full of empathy and charm, every chapter infuses the heart with a renewed sense of hope." -- Woman's World
Published Reviews
Booklist Review:
"Mason, Missouri, is a small town, and that's exactly what the residents like about it. The regulars at Polly's Henhouse don't need menus, Tiny Dawson's taxi business keeps him abreast of all the best gossip, and Lucille Howard's baking classes double as social hours. When Abby and Jason Summers, Mason's newest arrivals, find out that Abby has acute myelogenous leukemia, the town bands together to support their family. Though she's getting on in years, Lucille takes the Summers' son, Lincoln, under her wing. Lucille's been pretty set in her ways, but a new perspective on the difficulties facing the Summers family forces her to rethink her own challenges. Berg brings back many of the characters first introduced in The Story of Arthur Truluv (2017), though new readers won't be lost. Berg is a master of the ensemble cast, twining character arcs together, teasing knots apart, and tying the entire plot together beautifully. This will delight and inspire fans of Anna Quindlen and Amy Bloom and anyone who's ever imagined living in Gilmore Girls' Stars Hollow.--Stephanie Turza Copyright 2018 Booklist"
From Booklist, Copyright (c) American Library Association. Used with permission.
Publisher's Weekly Review:
"Mason, Mo., is the enchanting setting for a series of small but life-changing events in Berg's winning novel (following The Story of Arthur Truluv). Lucille Howard teaches a baking class out of her home, filling some of her days now that her friend Arthur has passed away. Maddy and Nola, Arthur's "adopted" daughter and granddaughter, often stop by, dotting the days with brief visits that bring back fond memories. Other characters in the ensemble cast include Iris Winters, new in town and still trying to move on from her divorce; Abby Summers, whose recent cancer diagnosis is challenging for her as well as for her husband, Jason, and their son, Lincoln; and Tiny Dawson, who can't stop going to the local diner but also can't find the courage to ask out waitress Monica Mayhew-who in turn can't stop wishing he would. The story's center, however, is Lucille, who doles out companionship to the friends and acquaintances who come and go through her kitchen. The language is smooth and the story moves along at a comfortable pace to a fitting, albeit easy, ending. This pleasant novel highlights the joys that can come from the little things in life. (Nov.) c Copyright PWxyz, LLC. All rights reserved."
(c) Copyright PWxyz, LLC. All rights reserved
Additional Information