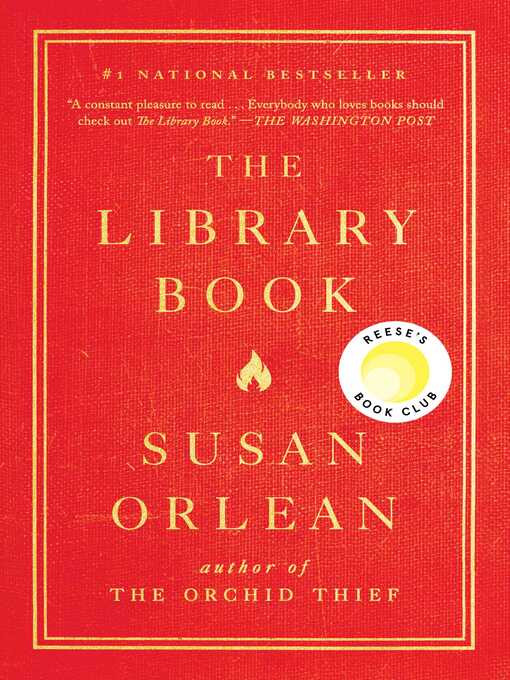 The library book
Format:

OverDrive Read

2018.

Adobe EPUB ebook

Kindle Book

Availability:

Unavailable

0 of 33 copies
173 people on waitlist
Summary
A REESE WITHERSPOON x HELLO SUNSHINE BOOK CLUB PICK

A WASHINGTON POST TOP 10 BOOK OF THE YEAR * A NEW YORK TIMES BESTSELLER and NEW YORK TIMES NOTABLE BOOK OF 2018

"A constant pleasure to read...Everybody who loves books should check out The Library Book ." -- The Washington Post

"CAPTIVATING...DELIGHTFUL." -- Christian Science Monitor * "EXQUISITELY WRITTEN, CONSISTENTLY ENTERTAINING." -- The New York Times * "MESMERIZING...RIVETING." -- Booklist (starred review)

A dazzling love letter to a beloved institution--and an investigation into one of its greatest mysteries--from the bestselling author hailed as a "national treasure" by The Washington Post .

On the morning of April 29, 1986, a fire alarm sounded in the Los Angeles Public Library. As the moments passed, the patrons and staff who had been cleared out of the building realized this was not the usual fire alarm. As one fireman recounted, "Once that first stack got going, it was 'Goodbye, Charlie.'" The fire was disastrous: it reached 2000 degrees and burned for more than seven hours. By the time it was extinguished, it had consumed four hundred thousand books and damaged seven hundred thousand more. Investigators descended on the scene, but more than thirty years later, the mystery remains: Did someone purposefully set fire to the library--and if so, who?

Weaving her lifelong love of books and reading into an investigation of the fire, award-winning New Yorker reporter and New York Times bestselling author Susan Orlean delivers a mesmerizing and uniquely compelling book that manages to tell the broader story of libraries and librarians in a way that has never been done before.

In The Library Book , Orlean chronicles the LAPL fire and its aftermath to showcase the larger, crucial role that libraries play in our lives; delves into the evolution of libraries across the country and around the world, from their humble beginnings as a metropolitan charitable initiative to their current status as a cornerstone of national identity; brings each department of the library to vivid life through on-the-ground reporting; studies arson and attempts to burn a copy of a book herself; reflects on her own experiences in libraries; and reexamines the case of Harry Peak, the blond-haired actor long suspected of setting fire to the LAPL more than thirty years ago.

Along the way, Orlean introduces us to an unforgettable cast of characters from libraries past and present--from Mary Foy, who in 1880 at eighteen years old was named the head of the Los Angeles Public Library at a time when men still dominated the role, to Dr. C.J.K. Jones, a pastor, citrus farmer, and polymath known as "The Human Encyclopedia" who roamed the library dispensing information; from Charles Lummis, a wildly eccentric journalist and adventurer who was determined to make the L.A. library one of the best in the world, to the current staff, who do heroic work every day to ensure that their institution remains a vital part of the city it serves.

Brimming with her signature wit, insight, compassion, and talent for deep research, The Library Book is Susan Orlean's thrilling journey through the stacks that reveals how these beloved institutions provide much more than just books--and why they remain an essential part of the heart, mind, and soul of our country. It is also a master journalist's reminder that, perhaps especially in the digital era, they are more necessary than ever.
Published Reviews
Booklist Review:
"*Starred Review* Libraries pulse with stories and not only those preserved in books. When creative nonfiction virtuoso Orlean (Rin Tin Tin, 2011) first visited Los Angeles' Central Library, she was transfixed. Then she learned about the 1986 fire, which many believed was deliberately set and which destroyed or damaged more than one million books and shut the library down for seven years. Intrigued, Orlean embarked on an all-points research quest, resulting in this kaleidoscopic and riveting mix of true crime, history, biography, and immersion journalism. While her forensic account of the conflagration is eerily mesmerizing, Orlean is equally enthralling in her awestruck detailing of the spectrum of activities that fill a typical Central Library day, and in her profiles of current staff and former head librarians, including brilliant and forceful Tessa Kelso, who ran into censorship issues, and consummate professional Mary Jones, who was forced out in 1905 because the board wanted a man. Orlean widens the lens to recount the crucial roles public libraries have played in America and to marvel at librarians' innovative and caring approaches to meeting diverse needs and cutting-edge use of digital technologies. She also attempts to fathom the truth about enigmatic Harry Peak, the prime arson suspect. Probing, prismatic, witty, dramatic, and deeply appreciative, Orlean's chronicle celebrates libraries as sanctuaries, community centers, and open universities run by people of commitment, compassion, creativity, and resilience. HIGH-DEMAND BACKSTORY: Orlean's best-sellers have long lives, and this well-publicized praise song to libraries will have special book-lover appeal.--Donna Seaman Copyright 2018 Booklist"
From Booklist, Copyright (c) American Library Association. Used with permission.
Publisher's Weekly Review:
"New Yorker staff writer Orlean (Rin Tin Tin) doubles as an investigative reporter and an institutional historian in this sprawling account of the 1986 fire at the Los Angeles Central Public Library. On April 29, 1986, just before 11 a.m., a fire broke out in the stacks of the main branch and burned for seven hours, destroying 400,000 books and damaging hundreds of thousands more. Harry Peak, the man police believed started the fire, was arrested but never charged. Orlean's investigation into the fire-Was it arson? Why would Peak, a struggling actor and frequent patron of the library, want to burn it down?-leads her down the library's aisles of history, as she seeks out books on the flawed science of arson forensics along with titles from California serial killer Richard Ramirez's reading list to better understand the minds of psychopaths. Along the way, she introduces readers to California Public Library system staffers, among them Arin Kasparian, on the circulation desk; Kren Malone, director of the main branch; and Glen Creason, a senior librarian whose tenure spans "the fire [and] the AIDS crisis, which killed 11 librarians." Midway through, Orlean reveals her own motivation for her return to long-form journalism: her mother's dementia has made her acutely aware of how memories are doomed to be forgotten unless they're recorded. This is a persuasive reminder of the importance of libraries, whose shared spaces house historical treasures built with the common good in mind. (Sept.) © Copyright PWxyz, LLC. All rights reserved."
(c) Copyright PWxyz, LLC. All rights reserved
Additional Information