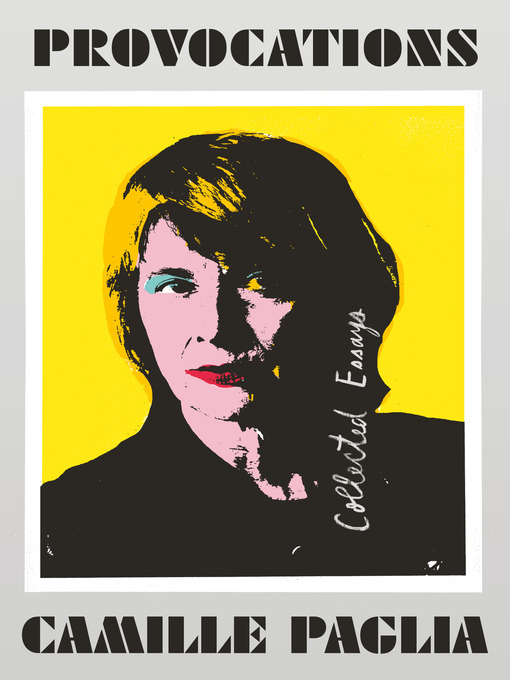 Provocations collected essays
Format:

Kindle Book

2018

2018

Adobe EPUB ebook

OverDrive Read

Availability:

Available from OverDrive

1 of 1 copy
Summary
"A lavishly comprehensive collection of essays, articles, columns, and interviews from the inimitable intellectual firebrand: tackling topics from Picasso to punk rock, from religion to Rihanna, and covering the full span of her wide-ranging and important career. Much has changed since Camille Paglia first burst onto the scene with her best-selling Sexual Personae, but her laser-sharp insight, matchless wit, and fearless commentary continue to be ahead of the curve--not only capturing the tone of the moment, but often anticipating it. Provocations gathers together a rich, varied body of work from this important public intellectual who works across a dazzling array of platforms--from the lecture halls of academia to her column at Salon to the pages of The Hollywood Reporter. Whatever your political inclination or cultural touchstones, Camille's takes on the rise of the right, the death of Prince, developing a writing style, the state of LGBT activism, and presidents past and present (to name just a few topics) are thought-provoking, compulsively readable, and not to be missed. An original introduction by the author sets a galvanizing--and inspiring--tone for the book"--

Contents
Introduction
Popular culture. The grandeur of old Hollywood ; Art of song lyric ; On Rihanna ; The death of Prince ; Theater of gender: Davie Bowie at the climax of the sexual revolution ; Punk rock ; Living with music: a playlist ; Oscar style ; A love letter to Joan Rivers ; Rock around the clock ; The Guardian questionnaire ; The death of Gianni Versace ; The Italian way of death
Film. Women and magic in Alfred Hitchcock ; The waning of European art film ; The decline of film criticism ; Movie music ; Homer on film: a voyage through The Odyssey, Ulysses, Helen of Troy, and Contempt
Sex, gender, women. Sex quest in Tom of Finland ; Women and law ; On Jewish-American feminists ; Portrayals of Middle Eastern women in Western culture ; On Ayn Rand ; The death of Helen Gurley Brown ; Legends of Diana ; Deconstructing the demise of Martha Stewart ; Feminism and transgenderism ; Movies, art, and sex war
Literature. The unbridled lust for blurbs ; Teaching Shakespeare to actors ; Scholars talk writing: Camille Paglia ; Shakespeare's Antony and Cleopatra ; Tennessee Williams and A Streetcar Named Desire ; Dance of the senses: natural vision and psychotic mysticism in Theodore Roethke ; Final cut: the selection process for Break, Blow, Burn ; Western love poetry ; "Stay Illusion": ambiguity in Shakespeare's Hamlet ; Columbia Journal interview: writing ; The death of Norman Mailer ; Dispatches from the new frontier: writing for the internet
Art. On Andy Warhol ; Millennium masterworks: the Mona Lisa ; Picasso's Girl Before a Mirror ; More much from the NEA ; Dance: the most fragile of arts ; Controversy at the Brooklyn Museum ; The magic of images: word and picture in a media age
Education. Free speech and the modern campus ; On canons ; The right kind of multiculturalism ; Cant and Fad in classics : review of Victor Davis Hanson and John Heath, Who Killer Homer? ; Intolerance and diversity in three cities: ancient Babylon, Renaissance Venice, and Nineteenth-century Philadelphia ; On genius ; The mighty river of classics: tradition and innovation in modern education ; The North American intellectual tradition ; Erich Neumann: theorist of the great mother ; Slippery scholarship: review of John Boswell, Same-Sex Unions in Premodern Europe ; Making the grade: the gay studies ghetto ; Gay ideology in public schools ; The death of Claude Levi-Strauss ; The Columbine High School massacre ; Vocational education and revalorization of the trades
Politics. No to the invasion of Iraq ; Language and the left ; Camp insensitivity ; Bill Clinton: the hormonal president ; Sarah Palin: country woman ; Donald Trump: viking dragon
Religion. Jesus and the Bible ; That old-time religion ; Cults and cosmic consciousness: religious vision in the American 1960s ; Religion and the arts in America ; Resolved: religion belongs in the curriculum ; St. Teresa of Avila.
Additional Information