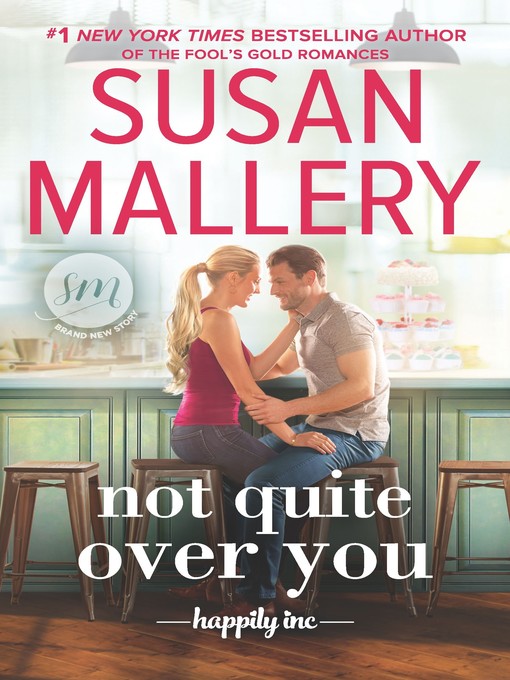 Not quite over you Happily Inc Series, Book 4
Format:

OverDrive Read

2018.

Adobe EPUB ebook

Kindle Book

Availability:

Unavailable

0 of 11 copies
29 people on waitlist
Summary
Susan Mallery, #1 New York Times bestselling author of the Fool's Gold romances, proves there's nowhere better than Happily Inc to rekindle first love.

Silver Tesdal has a head for business and a mouth made for kissing, and banker Drew Lovato has his eye on both. But ever since he was dumb enough to let her go, she's kept him at a distance. When the bank turns her down for a loan, Drew sees a double opportunity--he can finance her brilliant, unique idea to rock Happily Inc's wedding industry and win back her trust.

Despite her reputation, Silver's not as tough as she seems. Losing Drew nearly destroyed her. Still, his kisses are as tempting as his offer to invest in her business. If she can't quite get over him, maybe she should get under him and knock him out of her system once and for all.

But her best laid plans begin to unravel as Silver finds herself falling even harder than when they were high school sweethearts. Which means that she'll have to come clean about the secret she's been hiding from him for years--and risk losing him forever.
Published Reviews
Booklist Review:
"AlcoHaul business owner Silver would love to buy two vintage trailers to expand her mobile wedding-bar business in bustling Happily Inc. The only person who agrees to lend her money is Drew Lovato, the boy she loved in high school. They had a child, and she placed the baby for adoption while Drew was in college. Drew is struggling with his political parents' ambitions for him and hoping to work in his grandfather's bank and invest in local entrepreneurs. In fact, he wants to be a partner in Silver's business. She hasn't told Drew that she is in contact with their daughter, and now that Autumn is coming to visit, she realizes that he deserves to know his daughter. As for Drew, he faces the reasons he left Silver and fights for a second chance. A rare and positive look at open adoption adds dimension to another uniquely appealing Mallery romance in the Happily Inc series.--Amy Alessio Copyright 2018 Booklist"
From Booklist, Copyright (c) American Library Association. Used with permission.
Publisher's Weekly Review:
"In Mallery's middling fourth Happily Inc. contemporary (after Why Not Tonight), a poor but fiercely independent innovator goes into business with her wealthy high school sweetheart, but their differences in status and power make it hard to believe in their rekindled love. Drew Lovato is the heir to California First Savings and Loan. He's spent 12 years regretting his breakup with Silver Tesdal; when he went off to college, he left her alone, pregnant, and broke. Drew signed away his parental rights, and Silver placed their daughter for adoption. When Silver is turned down for a business loan from his family's bank, Drew sees the perfect opportunity to become a part of her life again, and conspires to buy into Silver's portable bar-for-hire business. Silver isn't quite ready to let him back in-or to reveal that she's still in touch with their daughter. Entitled, immature Drew uses his wealth and position to manipulate Silver into taking him on as a business partner, and then imagines her stripping for him while they're in a meeting. Steamy sexual attraction can't compensate for the nagging certainty that Silver could do so much better. Agent: Annelise Robey, Jane Rotrosen Agency. (Oct.) © Copyright PWxyz, LLC. All rights reserved."
(c) Copyright PWxyz, LLC. All rights reserved
Additional Information