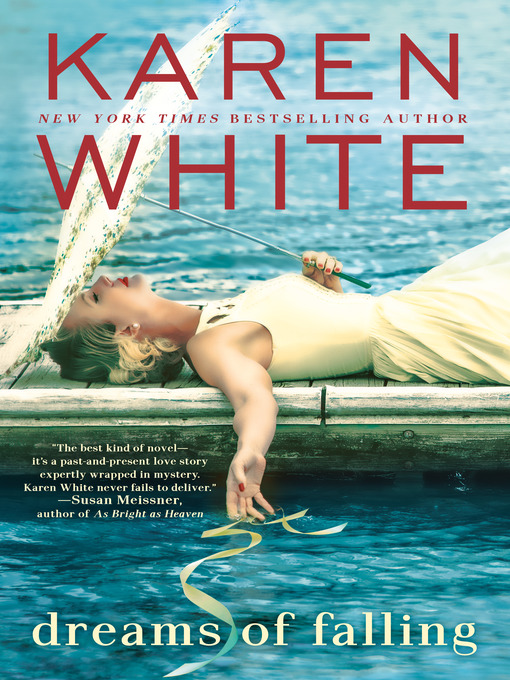 Dreams of falling
Format:

Kindle Book

2018

2018

Adobe EPUB ebook

OverDrive Read

Availability:

Available from OverDrive

2 of 3 copies
Summary
"From the New York Times bestselling author of The Night the Lights Went Out comes an exquisite new novel about best friends, family ties and the love that can both strengthen and break those bonds. New York Times bestselling author Karen White crafts evocative relationships in this new contemporary women's fiction novel about best friends who share a devastating secret, set in the Lowcountry of South Carolina. It's been nine years since Larkin fled Georgetown, South Carolina, vowing never to go back. But when she finds out that her mother has disappeared, she knows she has no choice but to return to the place that she both loves and dreads--and to the family and friends who never stopped wishing for her to come home. Ivy, Larkin's mother, is discovered in the burned out wreckage of her family's ancestral rice plantation, badly injured and unconscious. No one knows why Ivy was there, but as Larkin digs for answers, she uncovers secrets kept for nearly 50 years. Secrets that lead back to the past, to the friendship between three girls on the brink of womanhood who swore that they would be friends forever, but who found that vow tested in heartbreaking ways"--

Published Reviews
Booklist Review:
"Ten years ago, Larkin ran as far away from Georgetown, South Carolina, as she could, but a call that her mother, Ivy, has gone missing forces her to return. Locating Ivy, fallen and hurt, in an old, abandoned house once owned by her family, raises more questions than it answers. While Ivy hovers between life and death in the hospital, Larkin presses Ceecee and Bitty, the women who raised her mother, for details behind their friendship with Margaret, Ivy's biological mother. What did Ivy find out about the high-school graduation trip Margaret took with Ceecee and Bitty 50 years ago? White's (The Night the Lights Went Out, 2017) expert description of small-town southern life, both in the 1950s and in current times, will have readers reaching for fans and mint juleps. Intricate storytelling across generations and time periods, using eloquent language, makes for deep characterization alongside a brisk-paced plot. Full of family secrets and southern charm, Dreams of Falling serves equal helpings of drama and comfort to fans of Dorothea Benton Frank, Mary Alice Monroe, and Barbara Claypole White.--Babiasz, Tracy Copyright 2018 Booklist"
From Booklist, Copyright (c) American Library Association. Used with permission.
Publisher's Weekly Review:
"White (The Night the Lights Went Out) transports readers to the South Carolina low country, where a storm gathering over the small town of Georgetown erupts into a whirlwind of tragedy, betrayal, and heartbreak. Larkin Lanier, a New York City copywriter seeking to escape her past, is forced back to her hometown when she receives a call that her mother, Ivy, is missing. Ivy has been looking for information surrounding the death of her estranged mother, Margaret Darlington, and the old ruined house that is her family's legacy. At the heart of the mystery behind the burned-out house are the women who had been like family to Ivy and Larkin, Margaret's two best friends, Ceecee and Bitty. When Larkin returns home, she picks up where her mother left off and works to untangle the secrets that had been plaguing Ivy. The narrative weaves together Larkin's story with flashbacks to the summer that changed the lives and friendships of Margaret, Ceecee, and Bitty. Larkin's nostalgia for Georgetown and the people she left behind manage to charm her into staying much longer than she anticipated as she digs up old secrets and learns to forgive. White's lovely tale of enduring friendship brings coastal South Carolina to life and examines the redemptive powers of love and loss. (June) © Copyright PWxyz, LLC. All rights reserved."
Additional Information