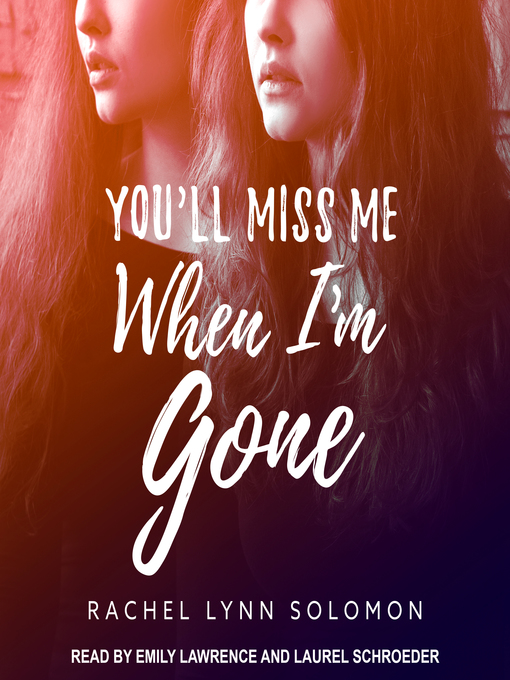 You'll miss me when i'm gone
Format:

OverDrive MP3 Audiobook

2018

2018

OverDrive Listen

Availability:

Unavailable

0 of 1 copy
1 person on waitlist
Summary
A heartbreaking and lyrical debut novel about twins who navigate first love, their Jewish identity, and opposite results from a genetic test that determines their fate-whether they inherited their mother's Huntington's disease. Eighteen-year-old twins Adina and Tovah have little in common besides their ambitious nature. Viola prodigy Adina yearns to become a soloist-and to convince her music teacher he wants her the way she wants him. Overachiever Tovah awaits her acceptance to Johns Hopkins, the first step on her path toward med school and a career as a surgeon. But one thing could wreck their carefully planned futures: a genetic test for Huntington's, a rare degenerative disease that slowly steals control of the body and mind. It's turned their Israeli mother into a near stranger and fractured the sisters' own bond in ways they'll never admit. While Tovah finds comfort in their Jewish religion, Adina rebels against its rules. When the results come in, one twin tests negative for Huntington's. The other tests positive. These opposite outcomes push them farther apart as they wrestle with guilt, betrayal, and the unexpected thrill of first love. How can they repair their relationship, and is it even worth saving? From debut author Rachel Lynn Solomon comes a luminous, heartbreaking tale of life, death, and the fragile bond between sisters.

Published Reviews
Booklist Review:
"Tovah and Adina are fraternal twins but not especially close. Adina is a gifted viola player, while Tovah is a brilliant student who dreams of going to Johns Hopkins. Tovah is a devout adherent of the family's Jewish religion; Adina isn't. Adina is beautiful; Tovah is not. Unfortunately, the twins do have one thing in common: a genetic predisposition to Huntington's disease, the incurable, fatal illness from which their Israeli mother suffers. When they turn 18, the twins take a test to determine their status, and, tragically, one of the twins' tests comes back positive. In the emotionally turbulent wake of the diagnosis and of their mother's increasing illness, the two girls have a bitter falling out that seems to defy hope of reconciliation. Though problems are too easily and abruptly resolved, Solomon's first book is otherwise a well-executed, somber study of the devastating impact of incurable disease on a family. This is one of the few YA novels to deal with Huntington's and is, accordingly, a valuable addition to the literature of illness.--Cart, Michael Copyright 2017 Booklist"
From Booklist, Copyright (c) American Library Association. Used with permission.
Publisher's Weekly Review:
"Gloomy, chilly Seattle is an ideal setting for Solomon's dark and thought-provoking debut novel. Fraternal twins Tovah and Adina Siegel found out at the impressionable age of 14 that their mother was diagnosed with Huntington's disease. At 18, the twins take a genetic test to determine if either or both of them will eventually contract HD. The results prove life-altering-one girl tests positive, the other negative-and the twins flounder in different ways. Growing up they were close, but now Tovah and Adina lash out at each other and the world, looking for an escape from heartbreak. Alternating between Tovah and Adina's perspectives, Solomon's novel is a moving glimpse into a religious family facing the effects of a tragic disease, a rocky sibling relationship, and two Jewish girls each searching for identity and security; the fallout from the diagnosis strengthens one twin's faith while the other rebels against it. It's an intense story that will likely trigger some powerful emotions in readers. Agent: 14-up. Agent: Laura Bradford, Bradford Literary. (Jan.) © Copyright PWxyz, LLC. All rights reserved."
(c) Copyright PWxyz, LLC. All rights reserved
Additional Information