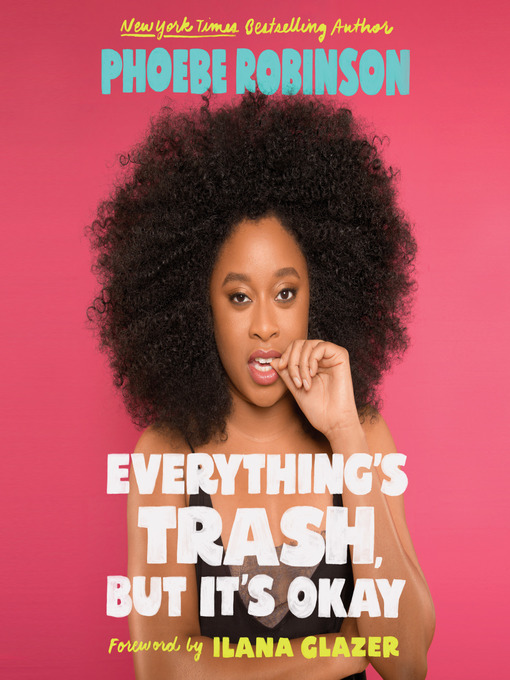 Everything's trash, but it's okay
Format:

OverDrive MP3 Audiobook

2018

2018

OverDrive Listen

Availability:

Available from OverDrive

2 of 5 copies
Summary
"From New York Times bestselling author and star of 2 Dope Queens, Phoebe Robinson, comes a new, hilarious, and timely essay collection on gender, race, dating, and a world that seems to always be a self-starting Dumpster fire. Wouldn't it be great if life came with an instruction manual? Of course, but like access to Michael B. Jordan's house, none of us are getting any. Thankfully, Phoebe Robinson is ready to share everything she's experienced in hopes that if you can laugh at her topsy-turvy life, you can laugh at your own. Written in her trademark unfiltered and singularly witty style, Robinson's latest essay collection is a call to arms. She tackles a wide range of topics, such as giving feminism a tough love talk in hopes it can become more intersectional; telling society's beauty standards to kick rocks; and demanding that toxic masculinity close its mouth and legs (enough with the manspreading already!), and get out of the way so true progress can happen"--

Published Reviews
Booklist Review:
"To quote Robinson herself from this collection's essay about workaholism, "Why publish one book in the span of two years when I could pub two?" And in those two years since releasing her instantly best-selling first book, You Can't Touch My Hair (2016), writer, actor, and podcast host Robinson has been busy. She made her feature-film debut in Ibiza; freed herself from student-loan and credit-card debt; came to terms with that previously mentioned workaholism; hung out with her idol, Bono, multiple times; and even fell in love (not with Bono!). As in her first book, Robinson maintains a baseline of free-associating, footnoting, list-making hilarity, which both disarms and readies readers for the tougher truths she tackles. Particularly poignant are her essays about money a very open piece that will speak directly to those working in creative fields and millennials, who, like Robinson, graduated into the Great Recession and about feminism: her frustrations with its lack of inclusivity and her demands for it to be and do better for women of color, queer women, and all women.--Annie Bostrom Copyright 2018 Booklist"
From Booklist, Copyright (c) American Library Association. Used with permission.
Publisher's Weekly Review:
"Comedian Robinson (You Can't Touch My Hair) spins stories that are laugh-out-loud funny yet carry an unmistakable undertone of seriousness regarding sexism and race relations. As a woman of color in stand-up comedy-often the arena of white men-Robinson has faced harassment (including fellow comedians catcalling her on and off the stage), and her anger fuels bold proclamations that should inspire women to push back against sexism and discrimination ("Women have to stop apologizing for things they don't need to apologize for"). She is especially on point when discussing the highs and lows of race relations, believing that America had changed for the better in 2008 ("It felt like a new era, and anything was possible because there was proof of it every day in the Oval Office") and then for the worse in 2016 ("We have a president... who behaves as though all African-Americans live in the inner city"). The author also touches on lighter topics as well, such as Oprah's endorsement of Robinson's first book ("Queen O continued with her message, and it was beyond lovely"), the difficulties of modern dating, and even the importance of good skin care. Robinson's side-splitting memoir will both entertain and empower her readers. (Oct.) © Copyright PWxyz, LLC. All rights reserved."
Additional Information