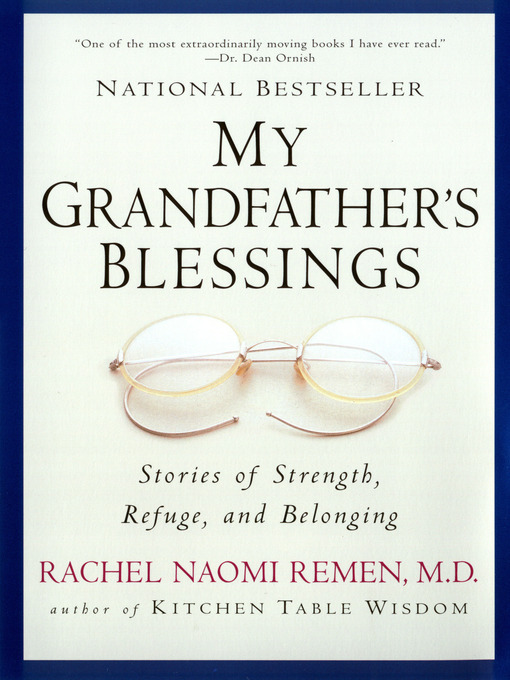 My grandfather's blessings stories of strength, refuge, and belonging
Format:

Kindle Book

2001

2001

Adobe EPUB ebook

OverDrive Read

Availability:

Unavailable

0 of 1 copy
Summary
"In My Grandfather's Blessings, Rachel Naomi Remen, a cancer physician and master storyteller, uses her luminous stories to remind us of the power of our kindness and the joy of being alive." "Dr. Remen's grandfather, an Orthodox rabbi and scholar of the Kabbalah, saw life as a web of connection and knew that everyone belonged to him, and that he belonged to everyone. He taught her that blessing one another is what fills our emptiness, heals our loneliness, and connects us more deeply to life." "Life has given us many more blessings than we have allowed ourselves to receive. My Grandfather's Blessings is about how we can recognize and receive our blessings and bless the life in others. Serving others heals us. Through our service we will discover our own wholeness -- and the way to restore hidden wholeness in the world. Book jacket."--BOOK JACKET.

Contents
I.. Receiving Your Blessings
Blessing
Wrestling with the Angel
Shell Game
Spice of Life
Lot's Wife
Having What You Have
Letting Go
Owning
Keeping It Together
At the End of the Day
Remembering
Getting Real
What Matters
Teachers Everywhere
You Have to Be Present to Win
Knowing the Heart
Counting Your Chickens
L'Chiam!
II.. Becoming a Blessing
Getting It Right
Gift
Being Used
Seeing the Buddha Seed
Simply Natural
All in the Family
Transmission
Bearing Witness
Trajectory
Holding On to the Heart
Lost and Found
Finding New Eyes
Strengthening Life
Friend
Wisdom
III.. Finding Strength, Taking Refuge
Meeting Place
Pearls of Wisdom
Way Through
Right Protection
From the Heart
Wholeness
Link
Getting Clear
Being Fed
When Somebody Knows
Place of Refuge
Coming Home
In the Gray Zone
Finding the Center
In the Beginning
Call Home
Broken
Promises, Promises
IV.. Web of Blessings
Belonging
Lifeline
Learning to Serve
We Are Enough
Finding the Connection
Breathing In and Breathing Out
Gift of Service
Fellow Travelers
Laying On of Hands
Choosing Your Battles
Heaven and Hell
Wise Man
How the World Is Made
One Little Candle
Greater Than the Sum of Its Parts
V.. Befriending Life
Game
Knowing Life
Loving Life
Eggs
Finding the Way
When It Works
Habit
Gift of New Eyes
Making a Difference
Bottom Line
Crazy Clean
Integrity
Path
Matter of Life and Death
Mirror
Who Serves?
Beyond the American Way
Emperor's New Clothes
Forgiveness
Gift of the Magi
Completion
Celebration
VI.. Restoring the World
Lineage
Beyond Words
Final Patient
Mystery
Question of Style
On the Cutting Edge
Mary
After Dark
Thirty-six
Finding Safety
Way It Is
Presence of God
Friction in the System
Reward
Real Story.
Additional Information