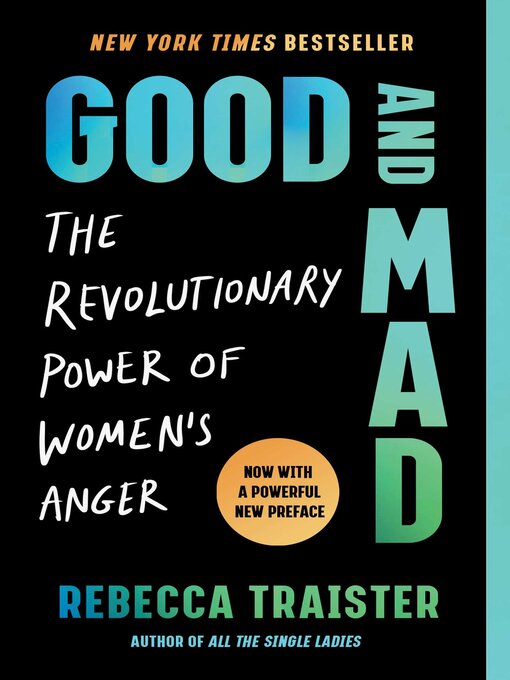 Good and mad the revolutionary power of women's anger
Format:

OverDrive Read

2018.

Adobe EPUB ebook

Kindle Book

Availability:

Unavailable

0 of 6 copies
13 people on waitlist
Summary
*** NEW YORK TIMES BESTSELLER***

***BEST BOOKS OF 2018 SELECTION BY***
* WASHINGTON POST * People * NPR * ESQUIRE * ELLE * WIRED * REFINERY 29 *

"In a year when issues of gender and sexuality dominated the national conversation, no one shaped that exchange more than Rebecca Traister. Her wise and provocative columns helped make sense of a cultural transformation."--National Magazine Award Citation, 2018

"The most brilliant voice on feminism in this country."--Anne Lamott, author of Bird by Bird

From Rebecca Traister, the New York Times bestselling author of All the Single Ladies comes a vital, incisive exploration into the transformative power of female anger and its ability to transcend into a political movement.

In the year 2018, it seems as if women's anger has suddenly erupted into the public conversation. But long before Pantsuit Nation, before the Women's March, and before the #MeToo movement, women's anger was not only politically catalytic--but politically problematic. The story of female fury and its cultural significance demonstrates the long history of bitter resentment that has enshrouded women's slow rise to political power in America, as well as the ways that anger is received when it comes from women as opposed to when it comes from men.

With eloquence and fervor, Rebecca tracks the history of female anger as political fuel--from suffragettes marching on the White House to office workers vacating their buildings after Clarence Thomas was confirmed to the Supreme Court. Here Traister explores women's anger at both men and other women; anger between ideological allies and foes; the varied ways anger is perceived based on its owner; as well as the history of caricaturing and delegitimizing female anger; and the way women's collective fury has become transformative political fuel--as is most certainly occurring today. She deconstructs society's (and the media's) condemnation of female emotion (notably, rage) and the impact of their resulting repercussions.

Highlighting a double standard perpetuated against women by all sexes, and its disastrous, stultifying effect, Traister's latest is timely and crucial. It offers a glimpse into the galvanizing force of women's collective anger, which, when harnessed, can change history.
Contents
Introduction
Eruption. Sleeping giant ; The grand illusion ; We're not cheerful anymore ; The winter of our discontent
Medusas. Hold your temper/hold your tongue ; The circle of entrapment: the heavy price of rage ; Dress up your anger ; How minority rules
Season of the witch. Getting away with it ; Trust no one ; Collateral damage ; Sympathy for the devils
The furies. The exhilaration of activism ; Restorative justice ; My sisters are here
Conclusion.
Published Reviews
Booklist Review:
"*Starred Review* Traister (All the Single Ladies , 2016) takes a deep dive into the current political climate to explore the contemporary and historical relationship women have with anger and the ramifications of expressing and suppressing feminine rage. Traister uses the 2016 election as a jumping off point, when to the shock of many, an eminently qualified female candidate was defeated by an inexperienced white male businessman who spouted off sexist and racist comments without compunction. While Donald Trump's and Bernie Sanders' angry rhetoric was lauded, Hilary Clinton was lambasted for being shrill and screechy (ditto, other female firebrands like Kamala Harris and Maxine Waters). Traister uses this startlingly obvious double standard to explore how attaching negative connotations to women's anger has always been used to silence and dismiss them. Although at times that anger boils over and energizes a movement, such as when suffragettes fought for the right to vote in the nineteenth century and when in 2017 the revelation of the depth and scope of Harvey Weinstein's crimes against women ignited the #MeToo movement. Traister doesn't shy away from the complicated issues surrounding feminine rage, exploring, for example, the ways white women have discounted and discredited the experiences of women of color. Timely and absorbing, Traister's fiery tome is bound to attract attention and discussion.--Kristine Huntley Copyright 2018 Booklist"
From Booklist, Copyright (c) American Library Association. Used with permission.
Additional Information