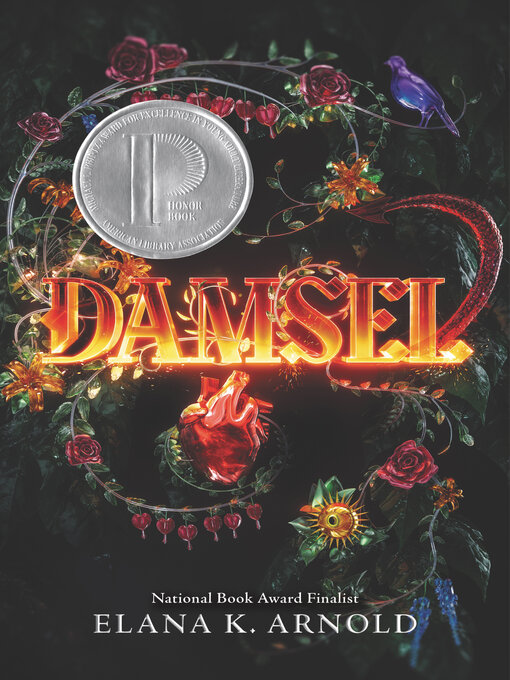 Damsel
Format:

Kindle Book

2018

2018

Adobe EPUB ebook

OverDrive Read

Availability:

Available from OverDrive

2 of 2 copies
Summary
Waking up in the arms of Prince Emory, Ama has no memory of him rescuing her from a dragon's lair, but she soon discovers there is more to the legend of dragons and damsels than anyone knows and she is still in great danger.

Published Reviews
Booklist Review:
"*Starred Review* A prince ventures into the wilderness to slay a dragon and save a damsel. When he returns home with his rescued bride, he becomes king. That is how it has been in the kingdom of Harding, and how it will always be. Sound familiar? Perhaps, but it's not how this story ends. The first thing Ama knows is waking up in Prince Emory's arms as they ride toward his home. I saved you, he tells her, and though she has no memory of the thing he saved her from, she believes him. In his castle, as their wedding approaches, she learns to become the perfect queen: calm, obedient, gentle. Ama works at becoming small, but flashes of memory are starting to return to her, and there is more in this castle and in her heart than can be contained. Arnold's (What Girls Are Made Of, 2017) pitch-black fairy tale is not subtle in its delivery, but, as its volcanic ending attests, this is not a tale that requires subtlety. It's not an easy read: physical, sexual, and psychological violence all come into play, and adults may want to be on hand for discussions. But for teens, especially girls, learning to transform sadness and fear into active, productive fury, it's an essential allegory. Eat your heart out, Sleeping Beauty: this brutal, devastating, powerful novel won't soon be forgotten.--Maggie Reagan Copyright 2018 Booklist"
From Booklist, Copyright (c) American Library Association. Used with permission.
Publisher's Weekly Review:
"This subversion of fairy tale tropes begins with familiar elements: a prince rescues a damsel from a dragon to make her his bride and prove his worth to become king, as happens with every generation in the kingdom of Harding ("I saved you," he repeats). But the damsel, whom he names Ama, has no memory of her past, her family, or her time with the dragon. And the more time she spends around her husband-to-be, learning the ways of his culture and her intended role, the more uncomfortable she becomes. King Emory is cold, strict, sometimes violent, swift to exert his authority, and eager to have sex with Ama-whether she is interested or not. As Ama struggles to unlock her memories and find her own destiny, she discovers the dark side of the kingdom's traditions. With haunting prose and lush descriptions, Arnold (What Girls Are Made Of) weaves a terrifying tale that explores contemporary conversations about rape culture, misogyny, male entitlement, female agency, and the need for consent. The message is as timely as it is vital, but frank discussions of self-harm, physical and emotional abuse, and descriptions of sexual violence may not be appropriate for readers at the younger end of the stated range. Ages 14-up. Agency: East West Literary. (Oct.) © Copyright PWxyz, LLC. All rights reserved."
Additional Information