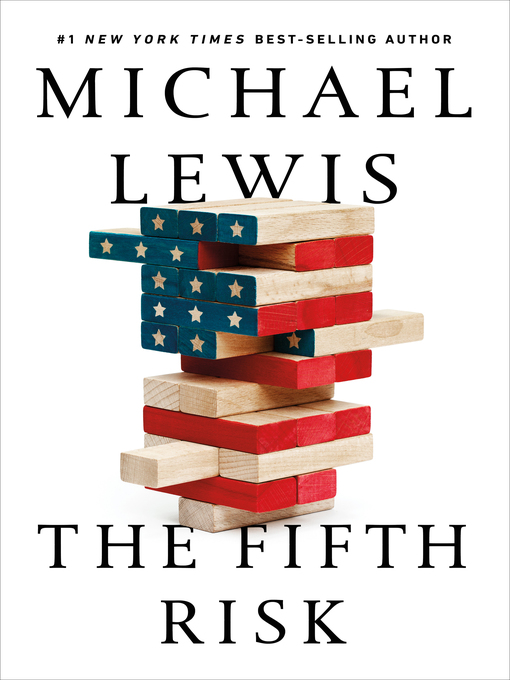 The Fifth risk Undoing democracy
Format:

OverDrive Read

2018.

Adobe EPUB ebook

Kindle Book

Availability:

Available from OverDrive

3 of 14 copies
1 person on waitlist
Summary
"The election happened," remembers Elizabeth Sherwood-Randall, then deputy secretary of the Department of Energy. "And then there was radio silence." Across all departments, similar stories were playing out: Trump appointees were few and far between; those that did show up were shockingly uninformed about the functions of their new workplace. Some even threw away the briefing books that had been prepared for them.Michael Lewis's brilliant narrative takes us into the engine rooms of a government under attack by its own leaders. In Agriculture the funding of vital programs like food stamps and school lunches is being slashed. The Commerce Department may not have enough staff to conduct the 2020 Census properly. Over at Energy, where international nuclear risk is managed, it's not clear there will be enough inspectors to track and locate black market uranium before terrorists do.Willful ignorance plays a role in these looming disasters. If your ambition is to maximize short-term gains without regard to the long-term cost, you are better off not knowing those costs. If you want to preserve your personal immunity to the hard problems, it's better never to really understand those problems. There is upside to ignorance, and downside to knowledge. Knowledge makes life messier. It makes it a bit more difficult for a person who wishes to shrink the world to a worldview.If there are dangerous fools in this book, there are also heroes, unsung, of course. They are the linchpins of the system--those public servants whose knowledge, dedication, and proactivity keep the machinery running. Michael Lewis finds them, and he asks them what keeps them up at night.
Contents
Prologue: Lost in transition
Tail risk
People risk
All the President's data.
Published Reviews
Booklist Review:
"*Starred Review* If Bob Woodward's best-selling Fear pulled back the curtain on the willful ignorance and toxic politics behind the Trump administration's brand of federal governance, Lewis reveals the frightening effects such governance could have on the massive and critically important agencies under its purview, including the Department of Energy (think nuclear), the USDA (food security), and NOAA (natural disasters). These agencies aren't abstracts, or deadweight, but are instead as Lewis lays out with characteristic detail, clarity, and pertinence essential in maintaining a safe, fully functioning civil society. As the DOE's John MacWilliams tells him, there are five major risks to the U.S.: a domestic accident with nuclear weapons, North Korea, Iran, an attack on the electrical grid, and the fifth risk failures in project management. Such failures could easily stem from an administration Lewis says has, from the outset, shown little interest in the actual workings of its federal agencies. And so, for example, former Texas governor Rick Perry, who couldn't remember the agency he wanted to abolish, the DOE, now leads it. And the newly appointed Department of Commerce Secretary Wilbur Ross, who, when informed his department, which includes the National Weather Service and the Census Bureau, is a science and technology mission, allegedly replied, Yeah, I don't think I want to be focusing on that. As Lewis concludes ominously, It's what you fail to imagine that kills you. --Alan Moores Copyright 2018 Booklist"
From Booklist, Copyright (c) American Library Association. Used with permission.
Publisher's Weekly Review:
"Lewis (The Big Short) exposes a less sensational but significant danger posed by the Trump administration's approach to governance. As he recounts in an ambiguously sourced prologue, Trump's transition team actively refused to learn about much of what the federal government does, and made ill-considered leadership and budget choices regarding three obscure, but vital, agencies: the Departments of Energy, Agriculture, and Commerce. Members of each department in the Obama administration prepared detailed briefing materials to educate incoming appointees about the agencies' missions and responsibilities, only to have their work ignored or discounted; for example, when Trump's commerce secretary, Wilbur Ross, was told that the department's mission was mainly science and technology, Ross responded, "Yeah, I don't think I want to be focusing on that." Lewis accessibly explains the important things that Energy, Agriculture, and Commerce actually do, including "reducing the world's supply of weapons of mass destruction," safely disposing of nuclear waste, administering nutritional assistance programs, and collecting data to improve weather forecasting. He also persuasively documents the dangers that result from placing people without the necessary skills in charge of these departments and from cutting funding. This is an illuminating primer on some of the government projects most crucial to the well-being of the populace, and its relevance to readers won't end with the Trump era. (Oct.) © Copyright PWxyz, LLC. All rights reserved."
Additional Information